Dal is a loosely adaptable term when it comes to Indian cuisine as it encompasses lentils and some beans. Dals play an important part in the Indian diet. Feeding millions at a much lower carbon footprint, dal always has been a staple in the vegetarian diet. Dal is valued for its high protein and low fat.
Among these, my favourite is the green moong dal. Popular in most Asian cuisines, this is a mild flavoured bean with a loving earthy green colour. I have had it all through my childhood as Kanji and payaru (congee and stir-fried moong bean). I am sure pretty much every Indian household will have one unique recipe etched in their hearts of moong bean. Today it is featuring up as lip-smacking one from the desert influenced cuisine of Rajasthan.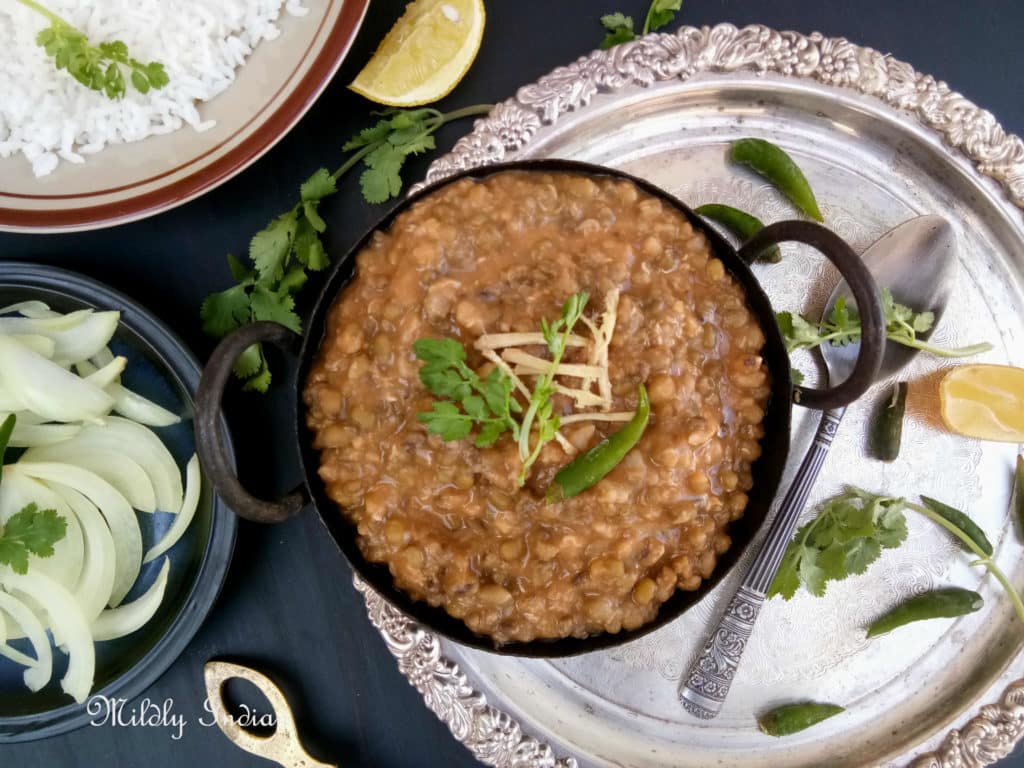 This backbone protein source is made my dinner table at least twice a week for dinner.
Many a times
its done way past the natural light vanishes and hence it has always eluded some picture taking. This time I was determined to get it done before the sun goes down. Phew… I love
dals
coz they really come to life in no time and don't need much wash ups than the pressure cooker.
Moong dal and nutrition
Moong bean or mung bean (Vigna radiata) has occupied a place in the daily meals of Asian cuisine. Popular in forms as whole dried bean, fresh sprouts, spilt beans and even skinned dry bean. They have been made from breakfast to dessert.
Moong bean is not only valued for its protein content but also the amount of fibre in it.

About 200g of cooked moong bean can provide nearly 80 %of folate need for the body.

High antioxidant levels of moong dal have been studied in these with sprouting increasing the levels.

The resistant starch helps in protecting and feeding the natural gut flora, thereby better protection for your gut.

If Asian families consume moong bean and it is in Ayurveda recorded as a cooling component it is because of its ability to reduce heatstrokes due to the presence of vitexin and isovitexin.

With a broad flavour profile depending on what is added to it moong bean, aids in weight loss.

This bean is considered saatvic (for gods)  and also quoted in Ayurveda as one for all three doshas.
So here we are with a simple traditional form of whole dried moong bean in an easy pressure cooker style production.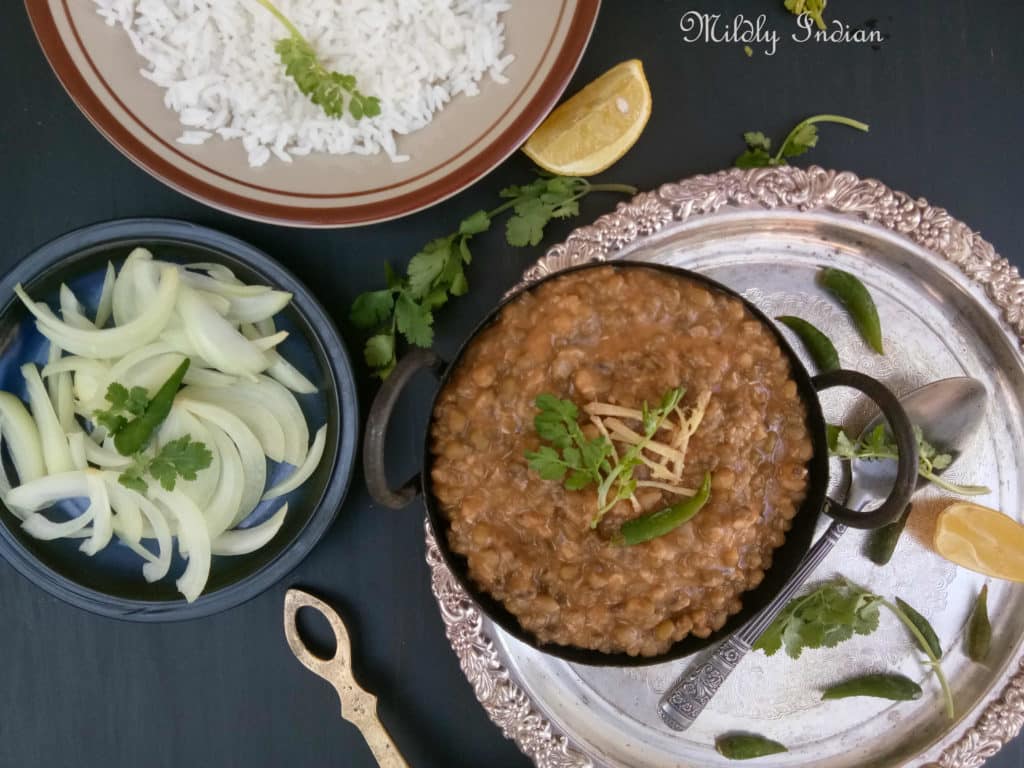 Among dal, recipes you can also check a channa dal one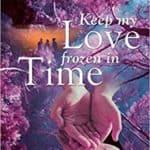 In the midst of all this, there is a brilliant book which captured my attention recently. From the debut attempt of Jayashree Srinath,  a personal acquaintance, this captivating book is my current companion. Life, generations, changes and care revolves around this story exquisitely blend. Try this for your read this week
I am tagging the Moong dal Khilma recipe to Foodie Monday Blog hop, a group of the enthusiastic bloggers who works tirelessly every week to bring forth a new one for you. This is my debut in their group to the #160 Traditional Daal recipes of India. So catch them in Pinterest and don't miss to pin you

r

favourites.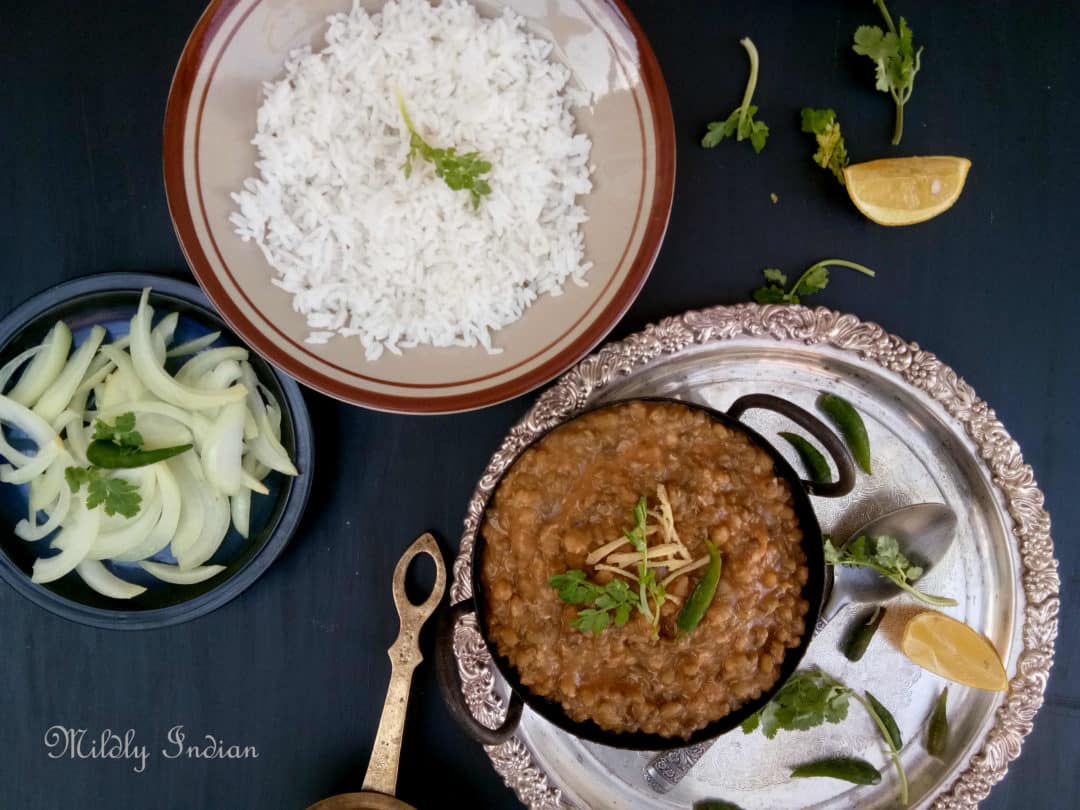 Moong dal khilma
Ingredients
to pressure cook
1

cup

Green gram

mung bean/ moong dal /pacha payar

2.5

cups

drinking water
to flavour by tempering
1

tsp

oil

or ghee

1

tsp

cumin seeds

1

tsp

fresh ginger root

grated

1

pinch

Asafoetida

1/4

tsp

turmeric powder

1/2

tsp

garam masala powder

1/2

tsp

red chilli powder

salt to taste
to garnish
1

tbsp

coriander leaves

chopped

1

tbsp

Lemon juice
Instructions
Wash and clean and green gram and add to the pressure cooker.

Add 2.5 cups of water and pressure cook for two whistles.

Let the pressure release and open the pressure cooker. Mix the cooked dal well.

In a pan add the oil and as it warms add the cumin seeds.

When the cumin becomes aromatic add the rest of the spices, ginger and salt and gently allow them to sizzle for 30 seconds.

Now add the cooked Moong dal and simmer with the spices.

Add the lemon juice and corinader leaves and mix well

Check the seasoning and serve hot with roti or rice.
Notes
Use the open stove method for cooking the green gram if you prefer that.
Nutrition
Serving:
150
g
Calories:
222
kcal
Carbohydrates:
37
g
Protein:
14
g
Fat:
2
g
Saturated Fat:
0.2
g
Polyunsaturated Fat:
1
g
Monounsaturated Fat:
1
g
Cholesterol:
3
mg
Sodium:
492
mg
Potassium:
57
mg
Fiber:
9
g
Sugar:
4
g