Both my kids were great savoury food lovers when they were toddlers. Both of them were ardent dosa (Indian savoury crepe) lovers. There is no better version of dosa without a chutney to dip in. Now let that thought wait…
Flashback to the chutney origin
When the whole of India endoreses badam milk with saffron as the best for kids, as a young mother I decided to try too for the oldest. That ended up on the floor. For the second one, I knew I may have a better chance with blanched almonds than milk coz this toddler of mine hated milk. Anyway, as all the toddler care books say…dont give up!! I tried too, both the milk and the blanched almonds. I was left with both this stuff untouched.
This particular toddler had a great affinity to the "tatunni" (toddlers speech), the South Indian coconut chutney that my mother in law makes. Being a full time working mom with two young kids, it was seriously difficult to cater to the tatunni fancy every day. One fine day, it dawned on me that I could have a solution to my almond problem here. This is the origin of almond chutney for my dosa lover kids.
The recipe has undergone spice level modifications periodically. The recipe is still a winner and works well for chutney pulao, dosa, idly or even with a bit of quinoa or millet.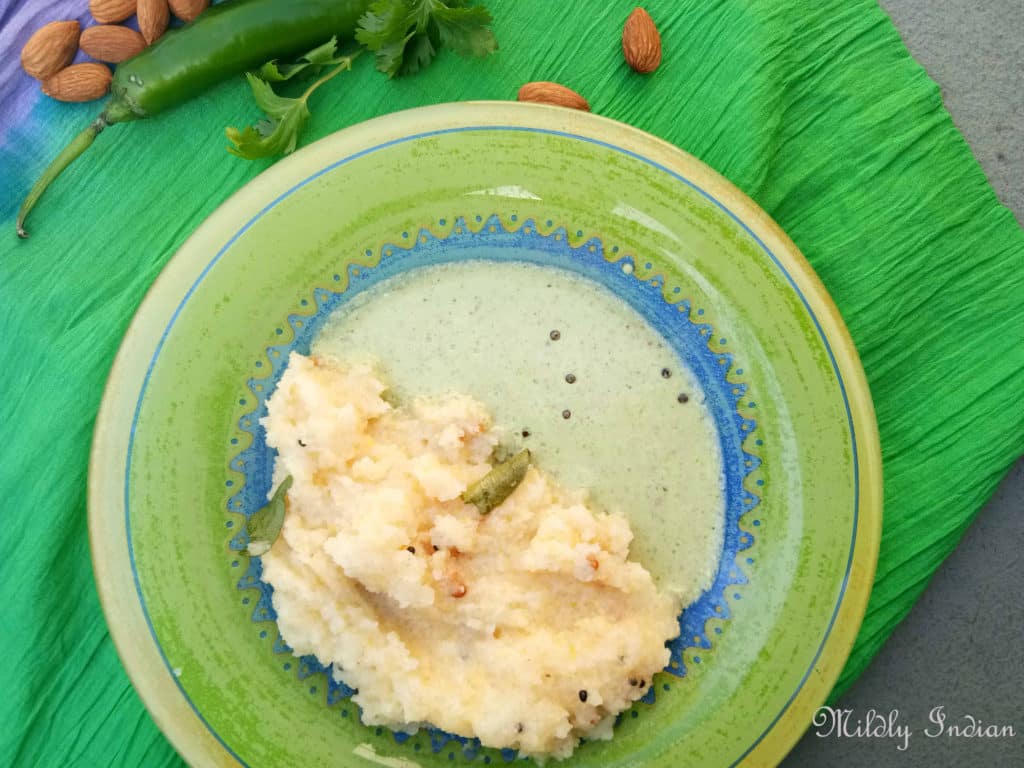 Why almonds?
As explained in the erisherry recipe, the texture of blanched almonds is the closest to coconut, which makes it easy to fool the toddler.
As they grew up it was easier to manage the protein levels with these.
And the benefits of almonds
rich in magnesium and potassium the nuts help to regulate blood pressure better.
like all nuts, a high-calorie snack is actually a good snacking addition towards weight loss
gall stone reduction has significantly proven with almond.
Vit E, with 1/4 cup of almonds providing the needed amount.
the fats in almonds help in lowering LDL cholesterol, with the powerful plant sterols.
Recipe submission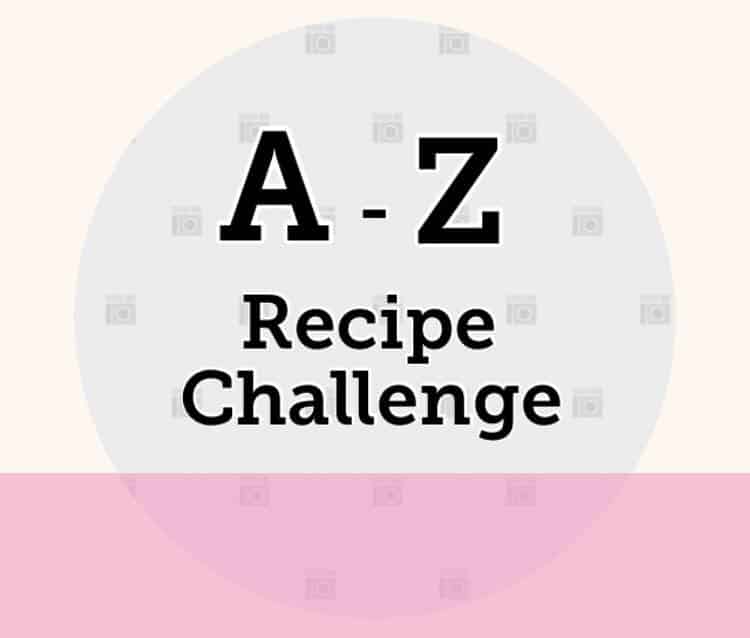 This is the recipe am sharing to the A to Z challenge. Since we are staring off with alphabet is A, the ingredient of my choice is Almonds (I bet you were about to say apples!!)
What are the other ingredients you have unique to watch out as the group comes out with more ( will post it on the FB page and Instagram, so don't miss to follow)
Here are two more with almonds in a sweeter version from my fellow bloggers
There are more chutney and dips on the blog for you to try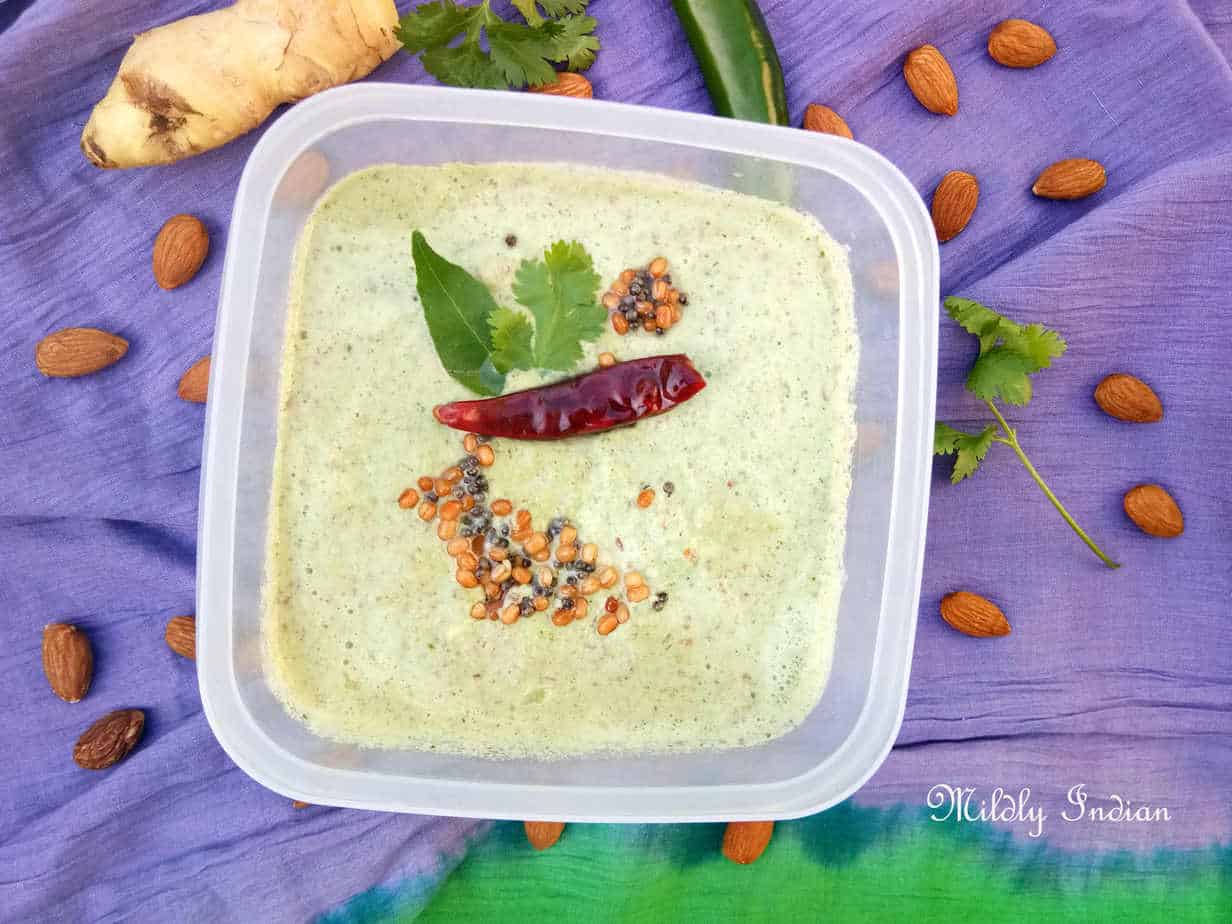 Almond chutney
how to make coconut free almond chutney?
Ingredients
for soaking
1

cup

almonds

3-4

cups

drinking water
for chutney flavour
salt to taste

2

tbsp

coriander leaves

chopped

1/4

tsp

fresh ginger root

chopped

4-5

green chill

vary according to your spice level

2-3

tbsp

Lemon juice

use as per taste
tempering
1

tsp

cooking oil

1/2

tsp

mustard seeds

1

tsp

Urad Dal

black gram dal

4-5

curry leaves

1-2

dry red chillies

1

pinch

hing/ kayam/ asafeoteida
Instructions
Soak the almonds in water for about 3 hours till they are nice and plump

Drain the excess water from the almonds and keep aside. Peel the almonds if you prefer a smooth white feel for the chutney. I have left the peel in for grinding.

Clean, wash and rough chop the ginger, coriander and chillies.

Add the almonds, coriander, ginger, chillies and salt to the blender ( or food processor) and coarse blend them

Now add 1/2 cup warm water and blend till smooth.

Add in the lemon juice and adjust the salt.

Give it one more whizz and remove into the serving dish

Heat a small pan add a tsp of oil, add the mustard seeds to splutter.

Now add the urad dal, curry leaves, hing and red chillies

Saute till the urad dal turns golden and add this to the prepared chutney for added flavour.
Notes
You can store this chutney for a week in the refrigerator.
Vary the herbs for a change in flavour.
use the chutney as a spread for wraps or sandwiches
Nutrition
Serving:
50
g
Calories:
158
kcal
Carbohydrates:
6
g
Protein:
6
g
Fat:
14
g
Saturated Fat:
1
g
Polyunsaturated Fat:
3
g
Monounsaturated Fat:
8
g
Cholesterol:
0.03
mg
Sodium:
74
mg
Potassium:
222
mg
Fiber:
3
g
Sugar:
1
g