Enjoy a classic African-style side dish, Muboora using just a few basic pantry staples and fresh pumpkin leaves. This pumpkin leaf soup is more of a gluten-free, vegan side dish that a true soup. Try it to explore the cuisine or to use that garden produce you never had a chance with.
My pumpkin vine is two years old, its flowers begin with a fruit that promptly gets in the belly of the ringtailed possum that waits for it more than me! Then, I want some too. So, the plant generously provides us with plenty of leaves. Since these are homegrown fresh leafy greens,  it gets plucked biweekly to add to our recipes. Though most have not made it to the blog, the raita with potatoes and pumpkin leaves was a big hit that received the attention of home growers who look to add variety to what they have. Today we bring you a classic African dish made with pumpkin leaves (ugu), muboora.
Are pumpkin leaves edible?
Absolutely, yes! Pumpkin leaves are totally edible.  It will surprise you how tasty these are once prepped well. Rich in vitamins and fibre, the leaves are a great source of nutrients. It is studied for everything that all green leaves are studied for. Nutritionally, it is equal to spinach or collard greens so give it a go. Add them to your soups, stews and curries as they become soft and blend in most dishes easily.
How to pluck and prep the pumpkin leaves?
Pumpkin leaves may not fall in the first group of leaves to pick. This is probably because just like most cucurbitae,  the leaves have a little soft spiny surface, creating a spongy texture. The spines and the leaves soften upon cooking so are fully edible. The leaves you want to choose eat the smaller newer leaves that are tender, than the broad big ones.
Once you wash these leaves thoroughly, pull off the stringy bits that are on the veins. Now finely chop the leaves to use in your recipes. You can use mince mode in your chopper to get a fine mix too.
If you have a picky family member you can peel off the spines by pulling off the thin film-like surface. It takes a bit of time though.
Ingredients to make muboora
Muboora or pumpkin leaf soup is a unique African preparation. This is one of the simplest stews( soup) in African cuisine. There are two versions that I have come across in this pumpkin leaf soup. One that made with a tomato onion base and the other with a peanut butter base. Both versions are easy to master. Below is the prep for both recipes. 
Pumpkin leaves – this is the main bulk of this recipe. Once the leaves are prepped, chop them as fine as you can. Mincing the leaves works well too. Check for more on how to pluck and prep pumpkin leaves above.
Onion- finely chop a small onion to add to the dish. Red or white works well.
Tomato- a small chopped tomato adds tang to the dish. It forms a good mix with the onions and chillies.
Cooking oil-the cooking oil is just a starter to get the mix of onions sauteed. You can use palm oil for an authentic flavour.
Spices- there are versions that just use salt and it still tastes great. There are others that use a bit of chilli. We have tried it with a bit of chilli. Habanero chillies are the most fragrant ones to try in this. If not use, Serrano, nagabon, or birds eye chilli peppers. All these peppers are hot, so use them to your taste.
Bicarbonate of soda- I am unsure of the real reason for a pinch of sodium bicarbonate. However, by experience, the baking soda just provides a touch more softness to the spongy texture. Only a pinch is needed. It will not significantly affect the dish if you omit it.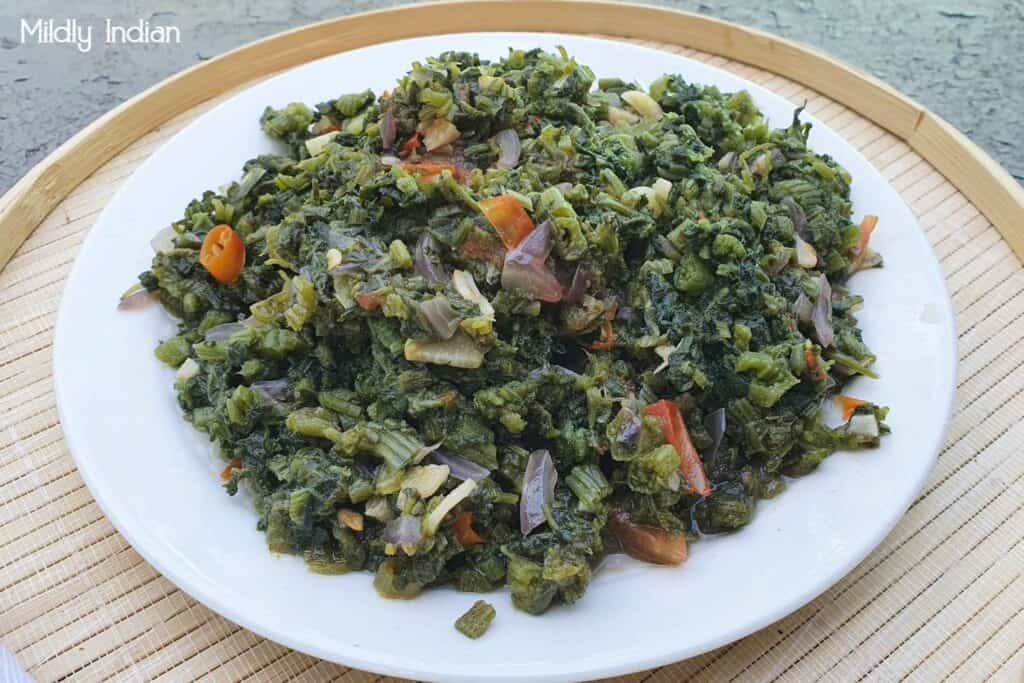 Muboora
Enjoy a classic African-style side dish, Muboora using just a few basic pantry staples and fresh pumpkin leaves. This pumpkin leaf soup is more of a gluten-free, vegan side dish that a true soup. Try it to explore the cuisine or to use that garden produce you never had a chance with.
Equipment
frying pan

Cutting board

Knife
Ingredients
15- 20

pumpkin leaves

chopped fine

salt

1/4

tsp

baking soda
To saute together
1

small

onion

chopped

1

small

Tomato

chopped

1

small

green chilli

2-3

cloves

garlic

salt to taste
Instructions
Wash and prep the pumpkin leaves.

Bring 4 cups of water to a boil.

Add the salt and baking soda. Then add the pumpkin leaves to blanch.

Once the leaves turn dark vibrant green, extract them out of the water.

Chop and prep the tomato, onion, garlic, and chillies.

In a frying pan add the oil to heat on medium.

Add the garlic, onion and chillies and saute them well.

Add the tomatoes once the onions are translucent.

Saute till the tomatoes are mushy.

Add the blanched pumpkin leaves. Saute well together.

Cook this down for a couple more minutes.

The Muboora is now ready to serve.
For the peanut butter version
The peanut butter version of this pumpkin leaf soup is even more straightforward. To the blanched pumpkin leaves, add peanut butter and salt. Cover and leave the pot. The warmth from the leave will work with the peanut butter to create a creamy texture.
What if there are no pumpkin leaves?
This recipe can be replicated using spinach, swiss chard or collard greens. however, the flavour is going to vary based on the greens you use. If you are in India, you can use sirukeerai or arakeerai too to make this preparations. The flavour changes based on the leafy green you choose.
How to have pumpkin leaf soup?
Though called a soup, the muboora is more like a side dish. You can pair it with steamed rice or fufu.  The dish tastes wonderful with steamed yams or sweet potato too. The thicker peanut butter version is perfect in sandwiches.
Stay connected
This is our first attempt at African cuisines. We would love to hear from you when you try this pumpkin leaf soup recipe. Leave us a comment with a rating when you do so. If you are interested in more pumpkin leaf recipes, leave us a comment so we can share a few more with you. 
If you have not visited our YouTube channel,  please try it out. Tag us #mildlyindian when you have a bunch of pumpkin leaves to try or share your thoughts on twitter.
We look forward to seeing you more often. Subscribe to receive updates when we publish new posts.