On my usual diet, I don't get so fired up
with  chilli
spice. On the family diet, we have preferred mild food. Once in a way we do make an exceptional treat. A spicy one to open up our sinuses.
The Mirchi nu sambharao is one I have been tempted to make many times..but put away as it gets too much in the way of a pickle and the low spice Bhavnagari chiilies were for a long time out of my reach. When I found a bunch of green Bullhorn chilli pepper, I was thinking, I could make the sambharao work without all that superkick from the spicy chillies. A win win..perfect.
This time for Chalo Gujarat @ Shhh cooking challenge, partnered up with Archana to cook up a Gujarati delight. The secret ingredients were mustard and green chilli. during our online conversation discussing the ingredients she casually mentioned what comes up in ind is a pickle… This inspired me to turn it around into a thing of delight than just a condiment on the side.
Archana is a versatile blogger  The Mad Scientist kitchen and her recipes are unique. Don't miss to give it a try especially the recipes for old age section… actually love that for myself and kids too.
Sambharo is a quick stirfry of vegetables like cabbage, carrots, raw papaya, etc, flavoured with hing and mustard.
Thr sambharao paired up with rice, creamy
khadi
and papad was a comforting meal for a busy cold evening and a super quick one.The bullhorn chilli pepper just worked perfectly with my thoughts..green chilli sambharao.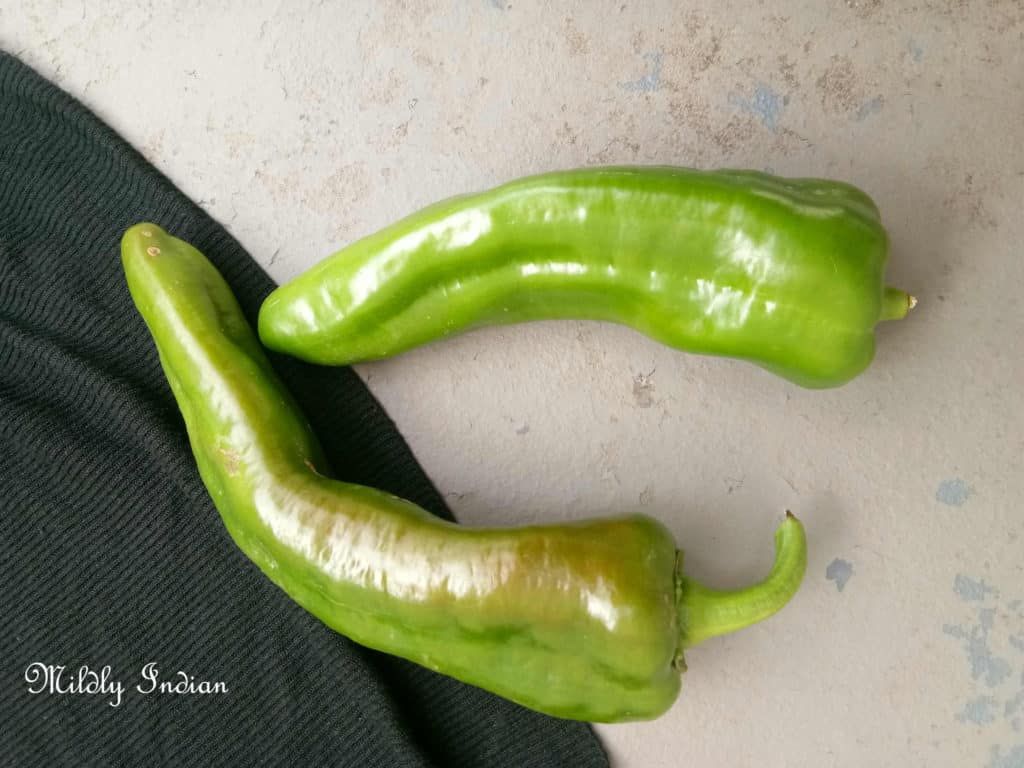 Bullhorn chilli peppers
Bullhorn chilli peppers on the contrary to just being spicy are sweet and mild peppers perfect for frying and salads.
These are excellent peppers to aid metabolism and thereby weight loss. The CH-19 sweet compound found in these peppers and capsicum peppers mobilise these benefits.

The vitamin content is easier to use when in fresh form.

The lutein content has been analysed to help in cataract and eye degeneration in older age group.
Now isn't this a great one to search out for.
Here are some more fun ones from the Gujarati cuisine
@ mildlyindian does get new posts every week so stay tuned for new interesting updates. Take care…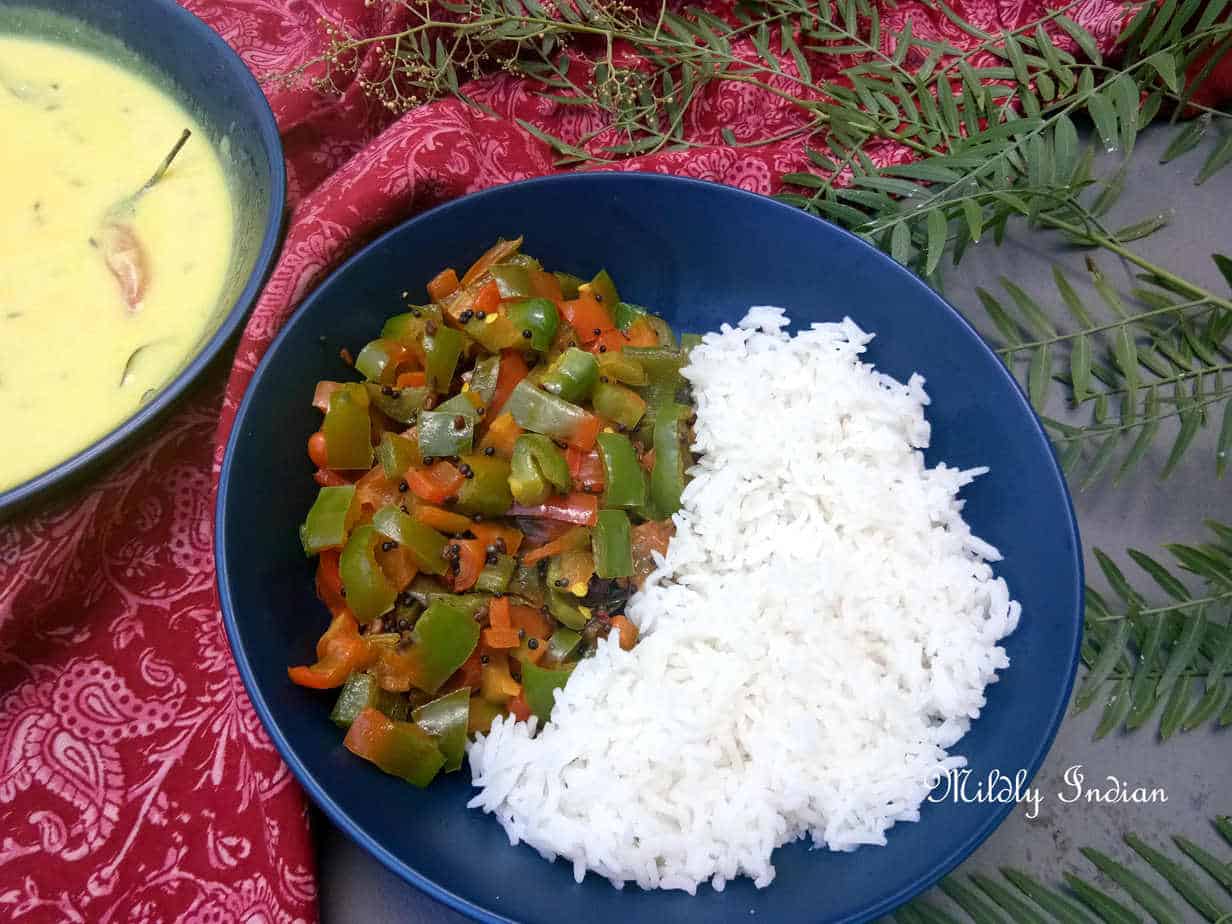 Mirchi nu sambharo
Gujarathi cuisine Chilli Stirfry
Ingredients
Main ingredient
2-3

long

chilli peppers

(bull horn, capsicum, sweet pepper, bavanagiri chilli
for seasoning
1

tbsp

cooking oil

1/2

tsp

mustard seeds

1/2

tsp

fenugreek seeds

(methi dana)

5-7

curry leaves

1

green chilli

slit lengthwise
Others
1/4

tsp

turmeric powder

1

pinch

Asafoetida

1/4

tsp

brown sugar

(optional)

salt to taste

1

tsp

Lemon juice
Instructions
Wash and dice( 1 cm) the green pepper, after discarding the central stalk and seeds.

Into a heavy wok set at medium heat add the cooking oil.

As the oil warms add the methi and mustard

When the mustard splutters add the curry leaves and green chilli. Saute for a minute till they are well roasted.

Add in the diced peppers followed by, turmeric powder, hing, salt and a pinch of sugar. mix well. Cover and cook on a low heat for five minutes.

The peppers will have enough water to steam through, yet keep an eye out to make sure they don't get burned.

Once glossy and deep green remove from heat and add the lemon juice.

Toss well and serve hot.
Notes
Sambharao recipe can be prepared with any quick cooking vegetable like grated carrots or cabbages.
You could make the same recipe with jalapeno chillies for a firey side to an Indian thali lunch.
The preparation stays well for two to three days in the refrigerator.