For the past 4 years, I keep planting pumpkin seeds. Every year they sprout, along the yard and leave with beautiful flowers. Never have I managed to get even the tiniest pumpkin out of it!! The first couple of years I religiously did not touch the plant hoping I will let it fruit. This year, I have gone straight for all the edible parts than waiting for the fruit to form!! I guess this is the better part of gardening, learning to eat what you grow. Rather than hoping just for the fruit!  Today we have paired the pumpkin leaves with some humble potatoes to make a creamy raita salad.
Prepping the pumpkin leaf for the raita salad
The pumpkin leaf is actually not often looked upon as the best of greens as they have a hairy structure on them making them feel spongy. The older leaves have a softer texture so just pick the young leaves to cook with along with tender stalk and tendrils. Wash the leaves thoroughly on both sides and chop them as thin as you can. Run the knife along to get a finer mince and pretty much you have the leaf prepped for your recipes. Chopping it fine helps to reduce the spongy feeling. You can freeze the chopped leaves if you have a lot for some stirfries. 
Other ingredients for this pumpkin leaf raita. 
Yogurt – the creamy natural set yogurt is the best to use for pumpkin leaf raita. The creaminess offsets the texture of the leaves.
Potatoes-  potatoes add volume to the otherwise limp raita. This makes it a substantial side or good summer eat. I prefer to use red potatoes in this recipe. You can choose simple white non-waxy potatoes as they hold up to sauteeing well.
Red chilli powder- the slightly spicy feel of the raita comes from the red chilli powder. Use paprika if you are trying to avoid the heat and cayenne if you like it a bit spicier. I have mixed in a bit of cayenne while making the stirfry and sprinkled paprika on top for the fiery look.
Jeervan masala powder – the generous sprinkled of the masala powder brings the flavours of toasted cumin, a bit of smokey cumin etc. If you don't have it, use chaat masala or a bit of mild heat roasted curry powder. Here is the recipe for the jeervan masala.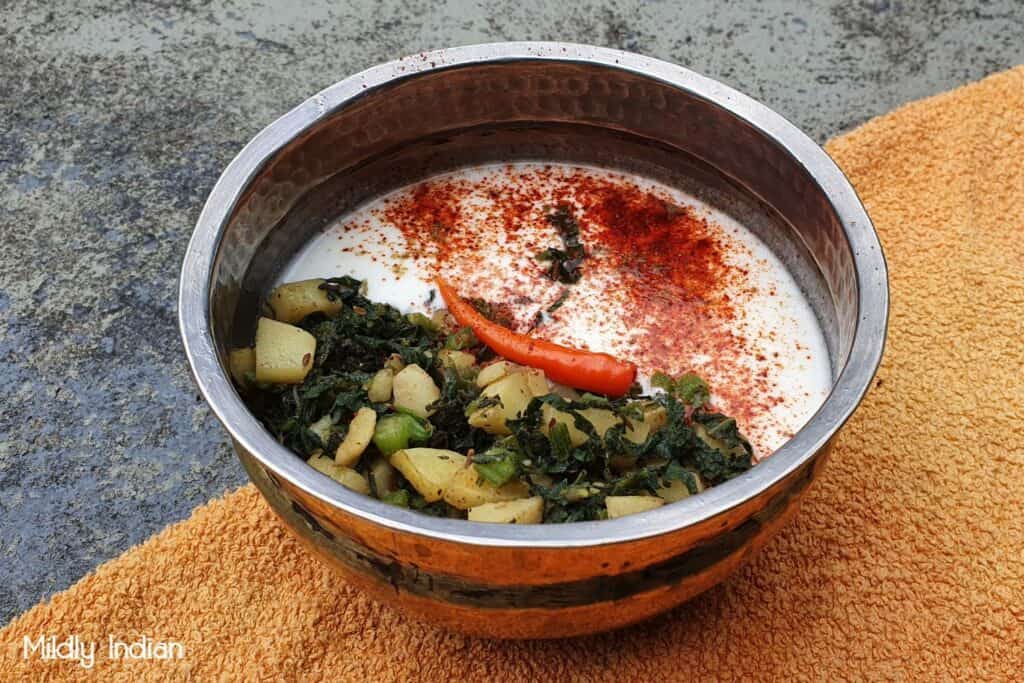 Here is a visual idea of how to make raitas in general. It is not the same recipe, but one with pomelo pearls.
   
Vegan version this raita salad recipe is easily vegan if you change the yogurt to coconut yogurt. Trust me, that combination is a bomb. You could also try peanut yogurt as peanut about tastes good with potatoes and pumpkin leaves. You can use the same option to veganise the simple cucumber raita or shahi kele ka raita.
Potato and pumpkin leaf raita salad
Potato and pumpkin leaf raita salad is a delightful summer recipe that you can make with garden-grown pumpkin leaves and spiced yogurt. Serve it as a side, a cooling probiotic-rich salad the recipe is a welcome change to summer cooking.
Ingredients
For spiced yogurt
1

cup

low fat yogurt

use coconut yogurt or peanut yogurt for a vegan option

1/4

tsp

jeervan masala

1/4

tsp

red chilli powder

1/4

tsp

salt
For the stirfry
1/2

tsp

cooking oil

1/4

tsp

cumin seeds

1/2

cup

potatoes

diced

1/2

cup

pumpkin leaves

chopped fine

1

medium

green chilli

slit

salt to taste
Instructions
Into a frying pan add the cooking oil and bring it to a gentle heat and add the cumin seeds.

Add the diced potatoes, slit chilli and spirnkle the salt.

Cover and cook for a few minutes.

Now add the chopped pumpkin leaves and stirfry.

Once the potatoes are cooked through, remove from heat and set them aside.

Mix the ingredients for the spiced yogurt into a mixing bowl and whisk them together.

Once the stirfry is cooled add it to spiced yogurt and mix it gently.

The recipe is now ready to serve.
Let's pair this raita salad
The pumpkin leaf raita with potatoes is a comfortable eat with phulkas and parathas. You could pair the salad with kalonji pulao, jeera rice or fragrant Bagara rice too. If you are making a thick version, you can serve it with chips as a chunky dip. Try hung yogurt for this version.
Storing pumpkin leaf raita salad.
If I was planning to add this salad to the meal prep list, I will keep the sauteed veggies separate and the spiced yogurt separate. Then, mix the two when I am about to serve. I find this as the easiest way to prevent the whey from separating, which ruins the flavour and creaminess of the raita. If you are going to do it and keep it for about 6 hours, it should be fine(that's the max I have tested).
Stay connected
We hope you will love to share with us your thoughts about or recipes and post. Do leave your comments for us to improve and also notes on the ones you love.  Take a moment to visit our youtube channel. Leaving you with our Facebook page  (click here) and Instagram (click here ) so you can take a peek. Don't forget to follow us as we update these to the best of our efforts. Subscribe, share, like and evermore come back
Stay safe and see you at the next post.