Ready to have a handful of the best jar snack ever? Here are namkeen oats papad chevdo that makes the best teatime snack. This Indian trail mix keeps for long and is a perfect vegan, a healthy handful. 
Towards the end of the week, the 3 o clock slump is really showing up. Though evening tea is a luxury at your desk, it is necessary to keep you going for a bit longer. When you hit this space, you crave all things sweet and loads of caffeine that make all that you worked for ahead in the week go for a toss! Working towards keeping that hard at work going, I am planning up a few jar snacks that I can quickly grab a handful and get a break. This namkeen oats papad chevdo gives me that relief without me reaching straight for the sugary thing I grab when tired.
What is chevdo?
Chevdo or Bombay mix is a popular savoury trail mix. It is a satisfying snack that is crunchy and can be made healthy and a perfect pair with many drinks and hot beverages. This snack is a taken on Gujarati style of namkeen that is served at tea time. it is a flavourful mix of puffed rice,  shredded roasted potatoes, nuts, and seeds. It has a salty, spicy, sour and sweet flavouring that makes the mix exciting and interesting.
Gather the ingredients
The namkeen oats papad chevdo is a whole lot of flavour from a few basic ingredients
Rolled oats – the main ingredient of this chevdo is rolled oats. It is whole-grain chewing that is helpful when you are trying to snack effectively. The instant oats will not work for this recipe as it is pre-cooked and will break off into a powder. Also, steel-cut oats are too hard to chew even if it gets roasted. Get a good batch of oats to make this recipe successful. The rest of that pack of oats can be used to make- Quinoa and oats idly
Papad – the classic Indian lentil cracker adds a unique flavour and crispness to this snack mix. they cut down the chewiness of the grain and add a fun twist to the mix. you will need only 3-4 papads to make this recipe. Save up the rest to make the yummiest – Masala papad.
Curry leaves the flavour of the chevdo is largely from the fragrance of the roasted curry leaves. This provides that classic Indian snack flavour. I do not have swaps for this, so you will have to source some. PS, frozen ones are fine too.
Nuts and seeds – here is your choice unlimited. Depending on what you have at hand choose some nuts and seeds. I have gone for classic peanuts and cashews in this namkeen recipe.
Spices – in chevdo it is a medley of spicy, salty, sweet and sour mix. This is what makes it exciting. Accordingly, red chilli powder, salt, a bit of turmeric, some homemade chaat masala, powdered sugar and citric acid combo give this flavour mix.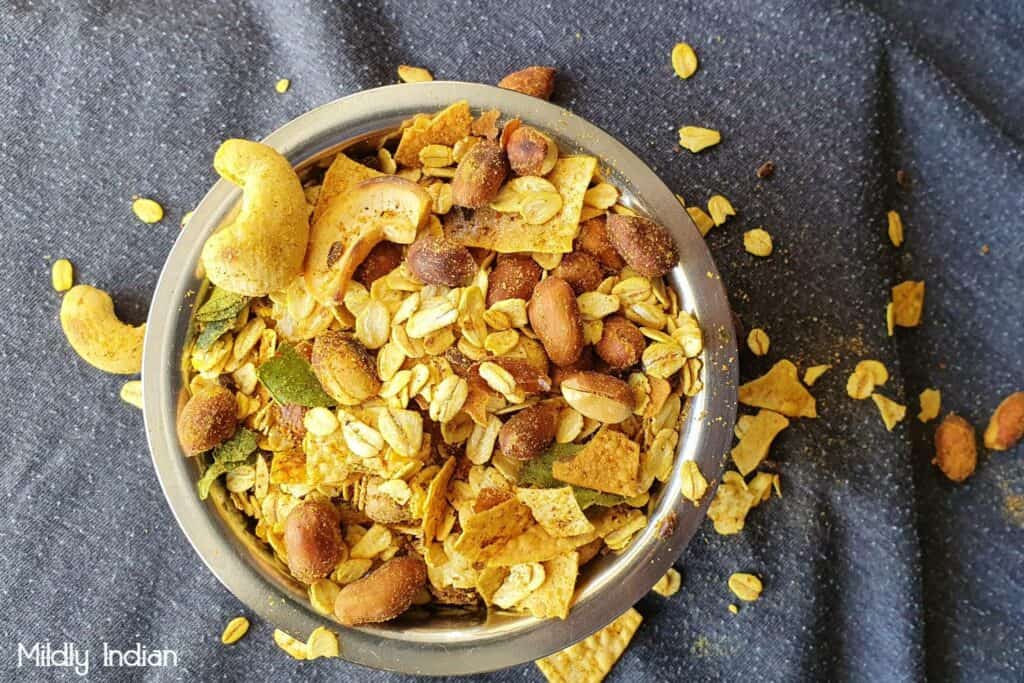 Add in some variety each time.
This namkeen oats recipe is totally customisable trail mix. Depending on what I have in the pantry a handful of popped quinoa, hemp seeds, sesame seeds, nuts pepitas, and dried coconut flakes all make their way into it. Each combination brings a slight variation to flavour, but overall the namkeen stays the same. So go with what you have and evolve it to suit your family. As long as you keep the main ingredients in proportion the recipe should work out.
Let's get making
The namkeen oats trail mix is a beginner's recipe as long as you can dry roast some grains and seeds patiently. This is the recipe that I chose to add to A-Z collection for the letter O as oats To start off roast the nut is a bit of oil ( check the recipe card for exact measurements). Follow this up with roasting papad in the residual oil. Further dry roast the rolled oats, sprinkle the turmeric powder and then till they are crisp. Add all this to the mixing bowl and add the spices like chilli powder, citric acid powder and chaat masala. Sprinkle the salt and toss them all together. Now, wait for it to cool a bit and sprinkle powdered sugar. toss well again. That is your chevdo ready, cool it to room temperature and store in airtight bottles.
Here is the recipe card with proportions and step-by-step instructions. Pin the recipe onto our board till you are ready to make this exciting Namkeen.
Namkeen oats papad chevdo
Ingredients
1

tbsp

cooking oil

10 -15

cashew nuts

1/4

cup

peanuts

2-3

papad

10-12

curry leaves

2

cups

oats

Rolled oats
For the flavours
1/4

tsp

turmeric powder

1/2

tsp

red chilli powder

1

tsp

chaat masala

1

pinch

citric acid

or use aamchur powder

salt to taste

2

tsp

powdered sugar
Instructions
Roasting the mix
Add the oil to heat in a heavy bottomed nonstick wok.

Roast the peanuts and the cashew nuts till crunchy.

Remove and add to the mixing bowl.

Tear the papad into pieces, and roast in the leftover oil that coats the wok.

Add this to the same mixing bowl.

Once they have small bubbles and turn crunchy, remove and add to the curry leaves to roast.

Add to the mixing bowl and toss it around. Sprinkle the turmeric powder as it coats better now.

Now slow roast the rolled oats till crunchy.

To the roasted oats sprinkle red chilli powder, chaat masala, citric acid and salt and toss the mix well.

Add the nuts and seeds roasted to this mix.

Cool the namkeen chevdo till room temperature and then add the powdered sugar.

Now mix all roasted ingredients together.

Once cooled store in airtight jars for a snack.
Storing the chevdo
Since chevdo is a dry jar snack it can effectively  be stored for almost a month (well, if it lasts that long!!) Make sure it is an airtight jar and free of moisture. Each time you remove some to eat, don't add the rest back so you maintain the freshness of this namkeen oats papad chevdo.
Making a chaat with this chevdo
The school hunger pangs are worse than the ones at work. So here is my quick hack. I keep a basic tomato onion salad in the fridge that doubles up for dinner or lunch. A good scoop of the salad topped with this crunchy chevdo and an extra sprinkling of chopped coriander makes it for a happy oats chaat that is filling and nutritious. This idea is perfect for borderline diabetics too.
Stay connected
I am sure you have such easy chevdo ideas in your collection too. Share with us what you eat for that evening slump. We enjoyed making this papad chevdo with oats,  nuts and seeds and had it with masala tea. I hope you will enjoy the recipe and tag us @mildlyindian  when you make some. If you haven't checked our YouTube channel please do so and subscribe. Share with us your thoughts and views as you go through our blog.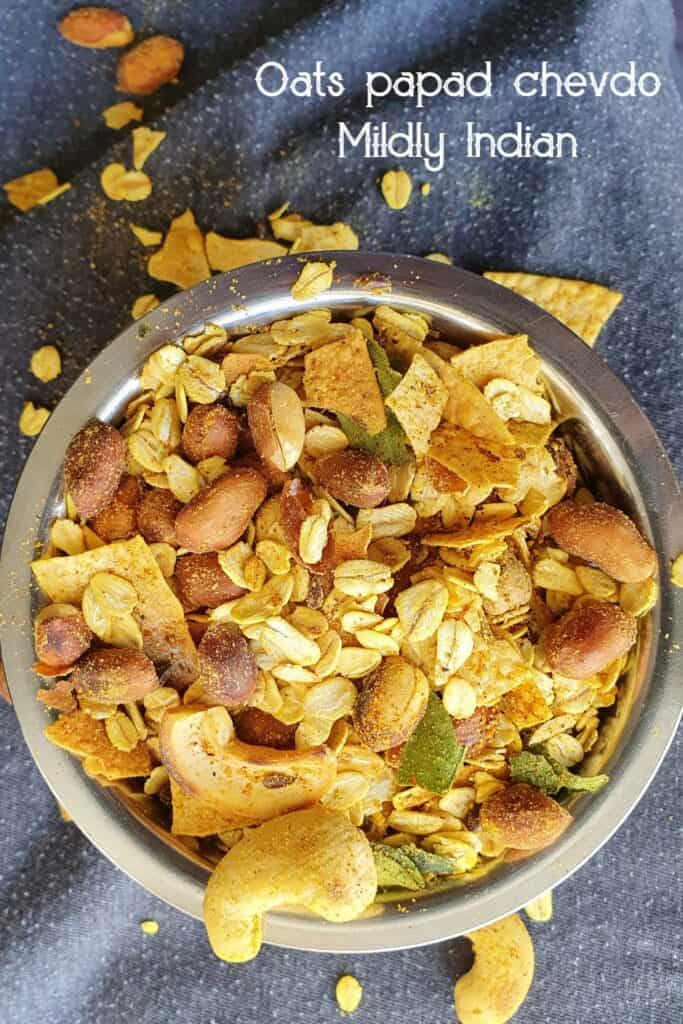 Catch up soon on the next post.