Masala papad is a quick appetizer you can create with the classic Indian lentil cracker, the papad. Topped with tongue-tickling sprouted moth bean salad, this easy-to-prepare, vegan snack is a perfect crowd pleaser.
The masala papad
The masala papad is the go-to appetizer in most Indian restaurants. It is not the mango chutney and crispy papadam that are common but the first one that pops up when you open the menu. The recipe is very simple and quick to assemble with a few Indian pantry staples. It is one of the easiest low-oil,  snacks you can assemble to have with a cup of masala chai or to start off your dinner party. In our house, this is the go-to when it is a cricket match or following a hard week at work.
The sprouted moth bean salad
Commonly the masala papad is topped with kachumber salad and some sev. It is a bit more filling with the sprouted moth bean salad which still carries the flavours. As the salad is predominantly fresh sprouts it has a good crunch that makes everything taste so much better. The sprouts get a quick blanch to make them more palatable (optional). The masala powders and lemon juice make the salad light and delightful. For an easy lunch, serve the salad on a bed of mixed salad leaves or spinach. You could just make a platter with the salad, easy moong dal fry and some homemade rotis too to add to your main meal.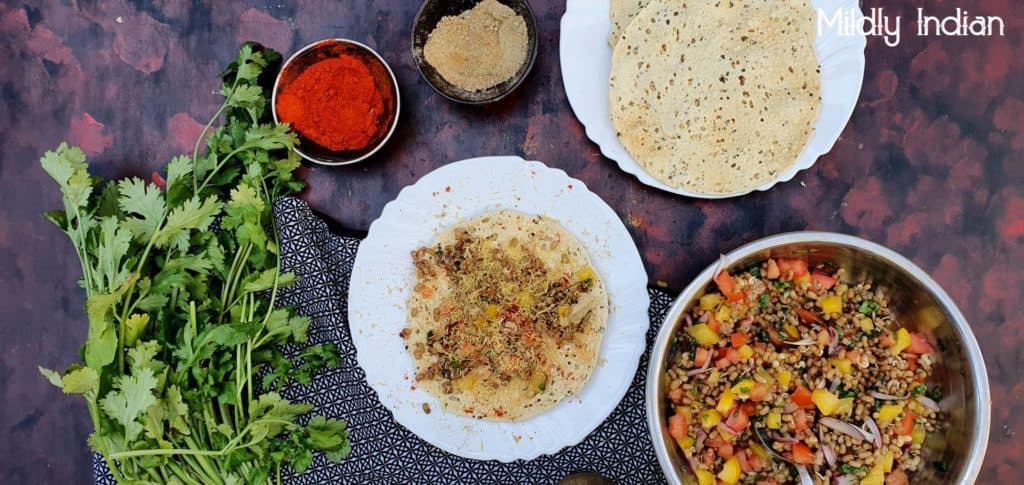 Ingredients  to assemble this masala papad
The papad base
 The lentil cracker that I prepare to use for this masala papad is the Lijjat papads. It is a common brand available in most Indian grocery stores.  You can choose cumin-flavoured, plain or peppered ones based on your tastebuds. See below for suggestions Other than these papads.
For the salad
The salad is an easy mix of sprouts and fresh salad veggies.
Sprouting the moth beans
The moth beans though small are very easy to sprout. Soak them overnight, drain the water and wrap them in a cheesecloth. Place them in a salad spinner or a bowl and place a loose lid over it. In about 24 hours you will have them all break out into sprouts. If you like the sprout longer, spray a touch of water to keep it moist and leave the wrap for another 24 hours.
The salad veggies
I love colour capsicums (bell peppers ) to add to this recipe with the tomatoes and onions.
The dressing for this salad is very simple. Lots of lime juice, chaat masala and coriander leaves. To adjust the flavours use salt or black salt. If you love a bit of heat add cayenne to your tolerance.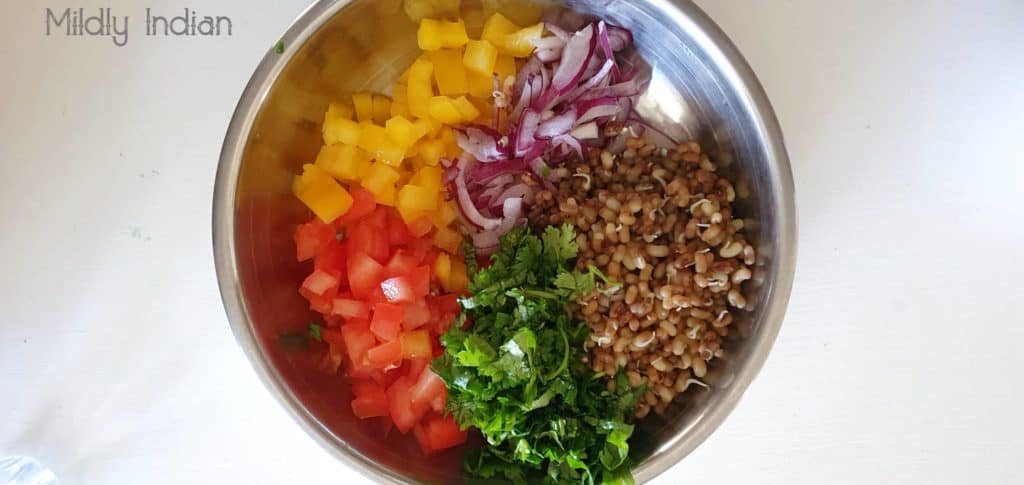 To sprinkle on top
 This is where you get the second layer of crunch. The thin sev or omapodi, a sprinkling of extra chaat masala and cayenne, keep that ready and as you layer up create that messy yet classy look. Take a bite without waiting, coz it is irresistible!  Yum, now I need one!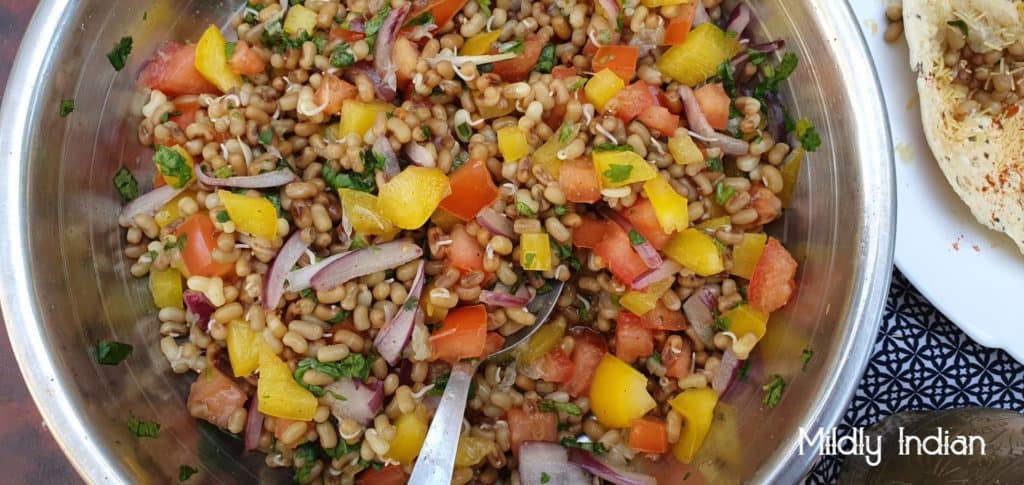 Fry or microwave the papad?
Actually, this depends on the type of papad you use! The North Indian papads usually taste wonderful when you roast them in a pan or microwave. However, the South Indian appalam or papadam tastes far better deep fried.
No papad? Here are the alternates
At times you may not have handy papads so here are a few alternates you can try. The familiar store-bought water cracker or wafer cracker has a good crunch to pair with the salad. If you have rice paper, you can roast that and then spread the salad on it. Often we make the sago papads which double up in the place of the lentil crackers. If nothing, bake a tortilla to crispness and enjoy the salad.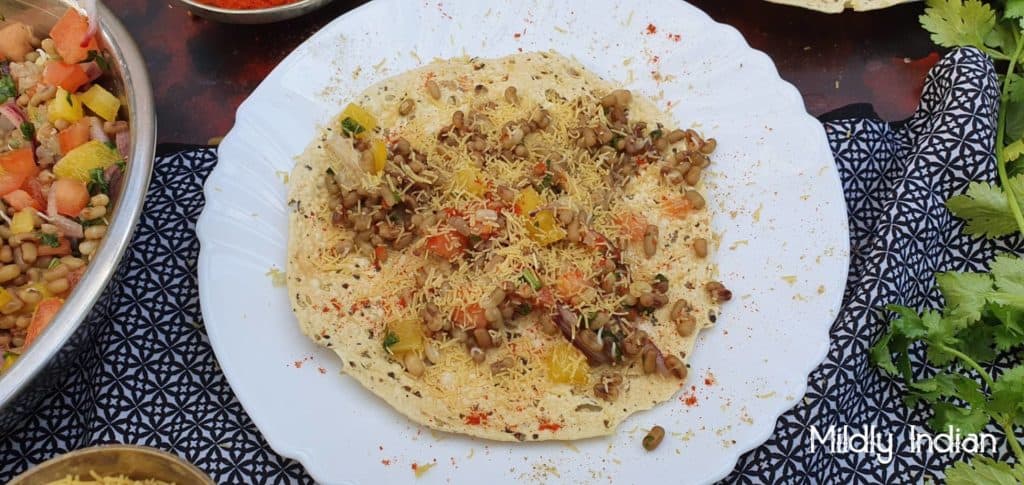 Masala papad
Masala papad is a quick appetizer you can create with the classic Indian lentil cracker, the papad. Topped with tongue-tickling sprouted moth bean salad, this easy-to-prepare, vegan snack is a perfect crowd pleaser
Equipment
microwave

mixing bowls and spoons.
Ingredients
for moth bean salad
1/2

cup

sprouts

( i have used short tongue, moth bean sprout)

1/2

cup

yellow bell pepper

use green or red if you like, chopped small

1/2

cup

red onion

chopped small

1/2

cup

Tomato

chopped

2

tbsp

coriander leaves

1

small

green chill

chopped

1

pinch

black salt

2

pinch

chaat masala

2

tbsp

Lemon juice
for roasted papad
1

pack

papad

Store bought, I used pepper spiced one.
to assemble the masala papad
1/2

cup

sev

1

tsp

Kashmiri chilli powder

1

tsp

chaat masala

1

tsp

roasted cumin powder
Instructions
Moth bean salad
Wash the moth bean sprout under running water and set aside to drain.

Into a mixing bowl add the chopped tomatoes, green chillies, bell pepper, onion, coriander and moth beans.

Add chaat masala, black salt and lemon juice and mix the salad well.

Set the salad aside till the papad is ready. IF assembling the salad earlier, add the chaat masala and black salt just before serving and keep the salad chilled.

The salad is perfect to be served as such too.
to assemble the masala papad
Microwave the papad for 30 seconds each. Some papad take lesser time based on the thickness and the power of the microwave. So adjust time accordingly.

Keep this in an airtight box till needed, without crushing.

When ready to assemble. Place the papad on the plate and top with 2 to 3 tbsp of salad.

Sprinkle a pinch of the red chilli powder, a pinch of cumin seed powder and a pinch of chaat masala.

Top it with a tbsp or more of thin sev.

Serve immediately, to retain the crunch of the papad.
Notes
Check the post for details on how to sprout the moth beans.
Collaboration
This is my very first collab with the group of bloggers under Sunday Funday. Sunday sure is family day so it also gets the best of the recipes made. Sharing this with the group is a perfect idea.  This time contributing to the theme Sprouts.
Other common Indian appetizers
Aloo ramdhana tikki
Spinach pakodas
Baked Sheek kebabs
Breadfruit fry
Tomato slice chaat
Stay connected
I hope you have subscribed to our blog to receive regular updates. We thank you for staying with us and encouraging us at every step. We would love to have you visit our Youtube channel that we recently updated. Please subscribe, like and share these videos and recipes and let us know what you like and dislike about them. If you are fond of Indian cuisine, share with us some vibrant appetizer recipes you like from the restaurant that we can recreate at home. Tag us #mildlyindiankitchen or @mildlyindian when you post your lovely remakes of our recipes.
Stay safe and keep reading.