As long as I can rewind the vendakka  mezhukkuperatti  (okra stir-fry) always was there in the weekly menu right from my days as a child.  It is one of the vegetables  that received least resistance  from me making my mom's life a bit easier.
With a simple salt seasoning she always made it so delectable. It was non stick and still non greasy.  When I started cooking,  I have made multiple attempts to get this back to her way. I used tips which literally every Tom dick and Harry gave me. Drizzled yogurt,  drizzled tamarind water,  added more oil,  added a combination  of ghee and oil… So on and so forth. There was a time I almost gave up.
Then over my big ego,  I asked my dear mommy  to explain the technique. Her instant reply was… "Like everyone less dear. " Well.. this really couldn't explain how that was not like every one else's. With utmost calm she explained her secrets.  As soon as I heard it I said.. "You are cheating!!! That's it??"
Honestly didn't believe. This time during my short stint back in my house, I observed her technique..really it can't get any simpler.
Secret to the okra stirfy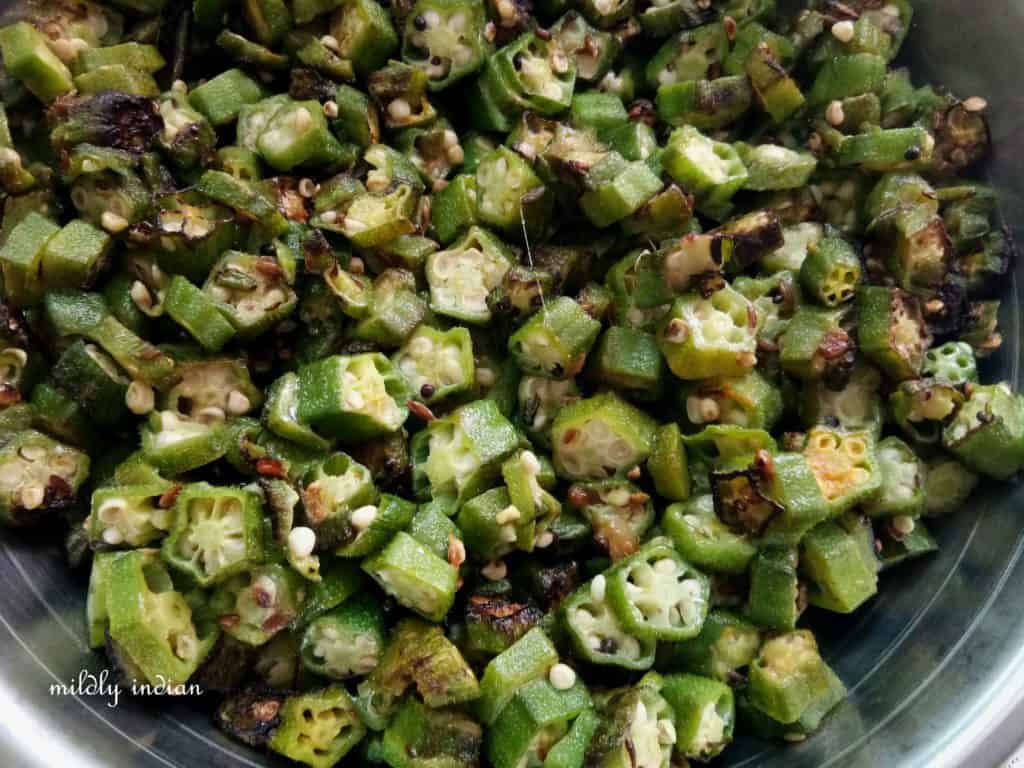 The way she selected the pan,  The way she added the sliced okra and finally the easy way it all came together. I really was astonished. There after I really try it her way week after week.  Heard my kids say over dinner last week.. "Mom it's really like ammamas one. " Yeah… Now that's a very Happy me
I couldn't wait to share it with you all.
You should really try this ..just for the simplicity of the recipe
No more sticky slimy okra…. Yeaaaahhh!!!!
Scroll down to the notes for those special tips i received too.
 Check out more based on your diet patterns at the special diets page.  Check it out:
Don't  forget to follow us @mildlyindian for more recent updates.
Print Recipe
Vendakka mezhukkuperatti
Yum
Select a heavy bottomed pan, grease the pan well with a bit of the oil and set to heat up.

Sprinkle salt, add the curry leaves and leave it open for about two minutes in the heat.

Towards the end of 15 minutes cover the pan for two minutes..just so that they steam well. make sure the okra doesn't burn
Tips to a non slimy version
Choose fresh and tender okra. Ensure its tender by snapping off the tapered end.
Never refrigerate the okra , it turns more slimy.
Slice the okra into 1 cm pieces, do not slice too thin.
Choose a heavy bottomed cast iron or nonstick pan.
Ensure uniform spread of oil to coat the okra, the the overall oil needed can be reduced.
cook on a low heat and longer time to roast well.