With the weather swinging between rains and heat it is becoming hard to predict what it will be like for the day.hence, my cooking is pretty much now dependent on the sky for the day. With these immense fluctuations bought and cold are surely coming up, so my current mission is to provide the family with some protective Vit C boost. This is quickly achieved by the sweet tart kiwi fruits in the recipe.
Kiwi is an interesting fruit
I love the combination of fruit with salad as it balances the flavours and no refined sugar is needed in the dressing. Plus, it is incredibly satisfying to have a bit of sweetness run through the salad. Saying that,  Kiwi is a fruit of a lot of good put together with a hairy peel.
With one kiwi being able to provide 273 per cent of your Vit C needs for a day, you certainly don't have to look further.
Just like any other fruit, the dietary fibres in kiwi helps in proper bowel movements.
Regular intake of kiwi helps in proper lung functions
Zeaxanthin and lutein found in kiwi helps in proper eye functions
The actinidin enzyme in kiwi helps to breakdown proteins.
Kiwi has been experimented in lowering blood pressure and has shown positive results
However allergic reactions to kiwi from itchy throat to hives have been noticed. So if you are allergic to them stay away from this kiwi salad recipe.
The peppercorn dressing.
The pickled peppercorns are a cherished yet simple recipe from my family and have been on the blog for a long time.
Pickled peppercorns
I have been using this in salad and as burger topper as it has a flavour that can easily adapt to east or west. the dressing made with this peppercorns is simply delicious. The dressing created below keeps well for a week in the fridge… so enjoy the flavours on other salads too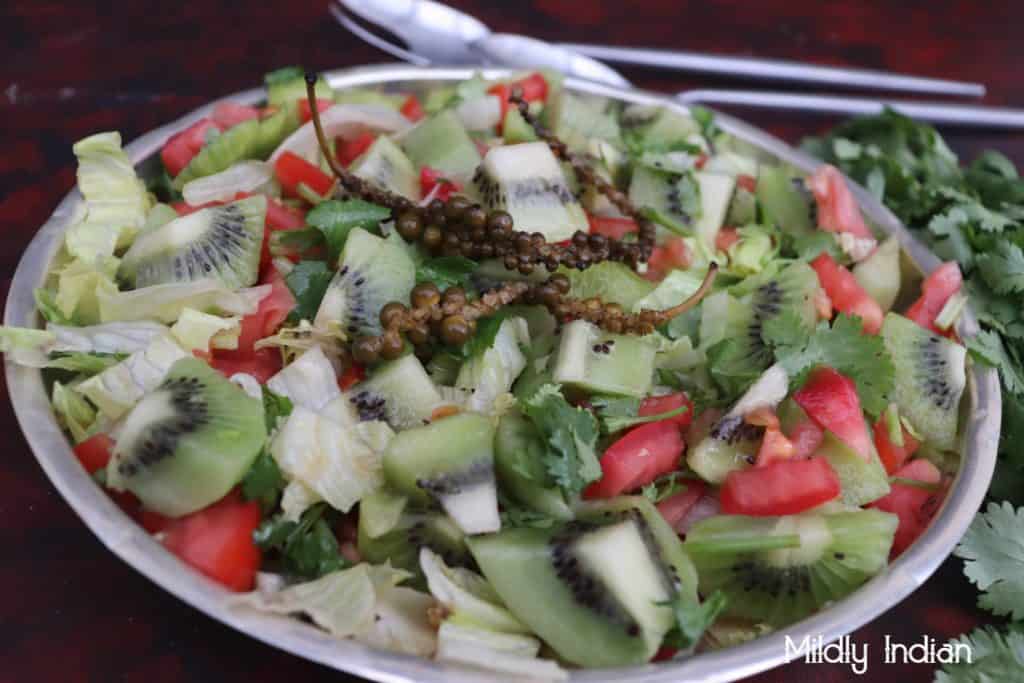 Hope you enjoy this  kiwi salad and let us know how you find the combination. Catch you soon.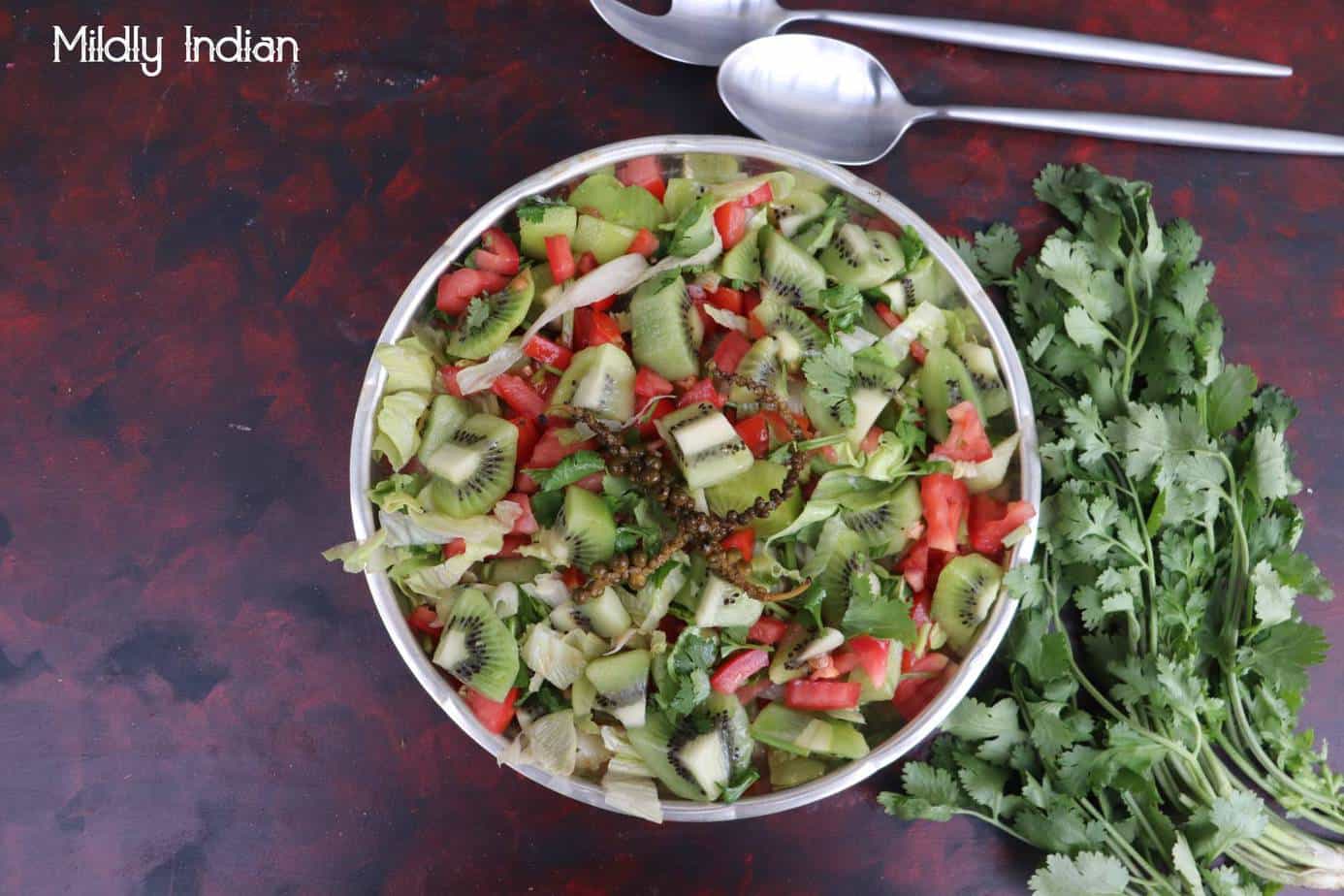 Kiwi salad
with pickled peppercorn dressing
Ingredients
for peppercorn dressing
1

tbsp

green peppercorns

( pickled)

1

tsp

pickle juice

( from the green peppercon pickle recipe)

1/2

medium

kiwi

chopped roughly

1

tsp

olive oil

(salad grade)

1/2

clove

garlic

grated

salt to taste

1

handful

fresh herbs

chopped, I have used a mix of parsley, chives and coriander
for the salad
250

grams

cherry tomatoes

cut in half

3and 1/2

medium

kiwi

peeled and diced

1

small head

lettuce

torn roughly, I have used iceberg lettuce
Instructions
for salad
Wash clean and cut the tomatoes, Wash peel and dice the kiwis and add them both to a mixing bowl

Rinse the lettuce leaves and pat dry or dry them in a salad spinner.

Tear them into bits and add to the mixing bowl as well
for dressing
In a small bowl crush half the kiwi and add in the grated garlic, olive oil, peppercorns, the pickle juice and muddle them up well.

Add the cleaned and chopped herbs and the salt if needed and mix well.

toss the salad veggies in the bowl and pour this dressing over it.

Mix gently and transfer to a salad plate to serve.

Enjoy the sweet-tart spicy mix of flavours.
Notes
You can choose other salad greens to complete this recipe. Try beet greens or rockets to alter the profile of the salad as well.