An oatmeal bowl is a simple breakfast which I share with my daughter who likes to wake up early with me.  Thanks to the dislike from the others… don't have to share it with anyone.
A simple rolled oat grain cooked in milk and topped with all things beautiful.  It's an delicate lovely think which sparks up the creativity in the little one.. Who loves to decorate the bowl. A cup of coffee  for me,   glass of juice for her… And wow!! It's a big breakfast, a queen style one.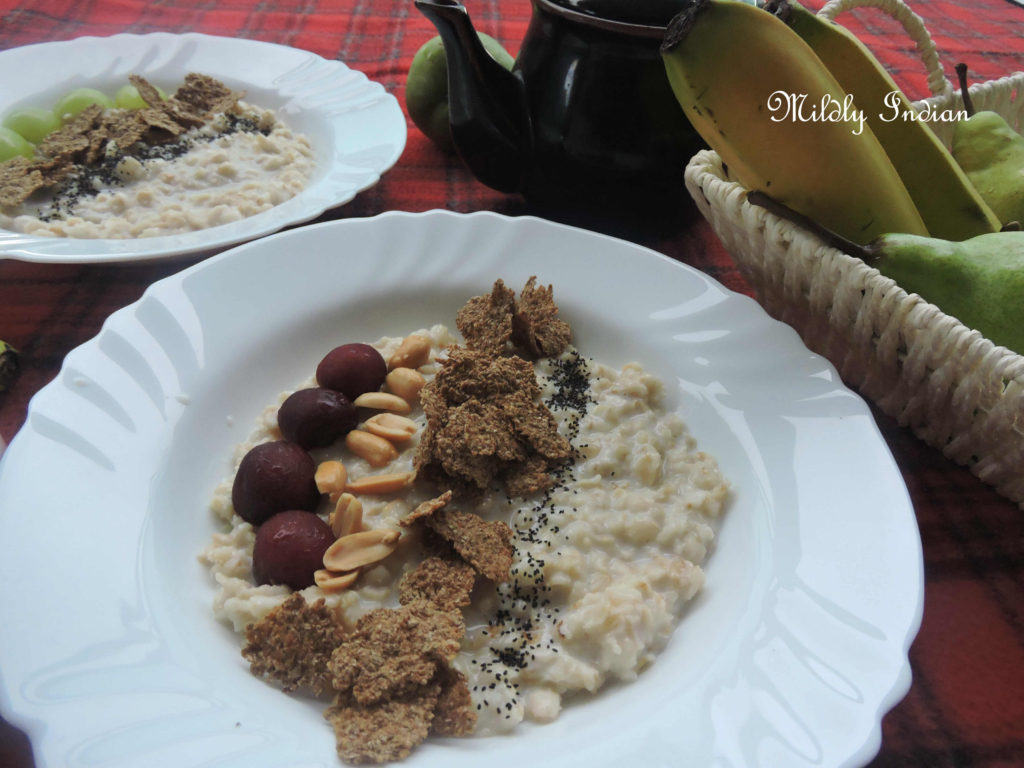 It's far better than the flavoured instant ones.. Which may be pure convinience…I like to take this time as I stir this pot of oat meal and sing with her and we wait for it to cool a bit. Cant get a better Sunday treat.. Easy and slow nd no compromise on health.
And hey,  don't spoil it by adding all that sugar.. Just add in fruits for the sweetness and some honey.
Sharing our easy one today styled by the little hands and ready to dig in…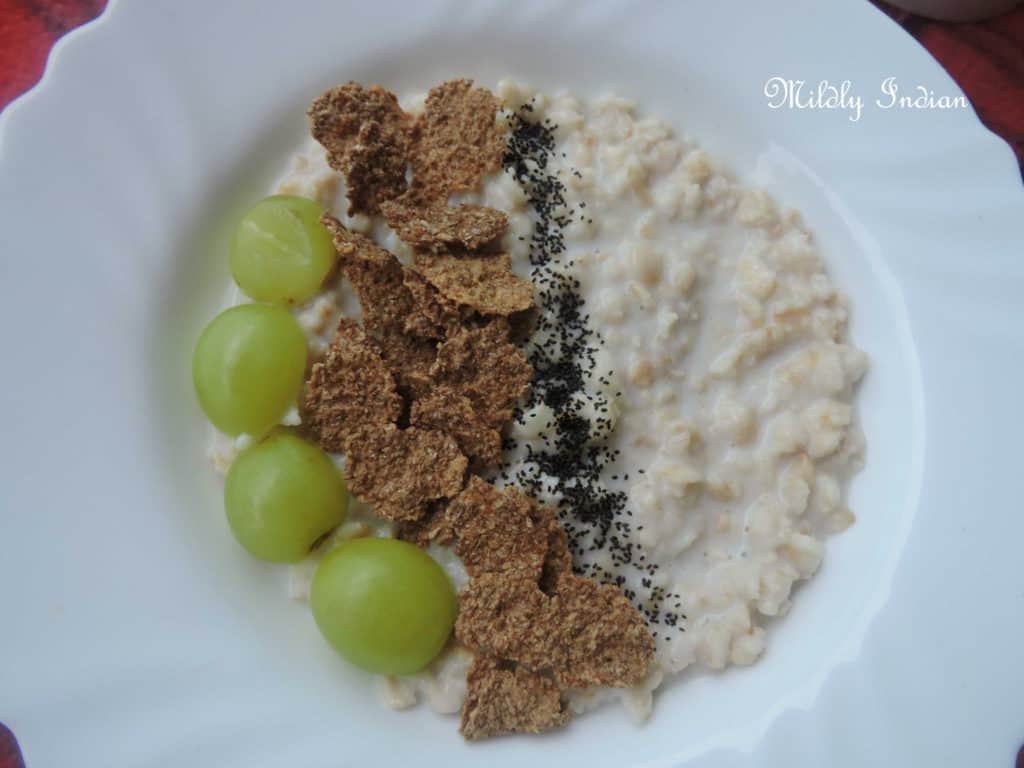 Leave your favourite combinations to the oatmeal bowl in the comments for us to try too.
Here are more oatmeal recipe for you to try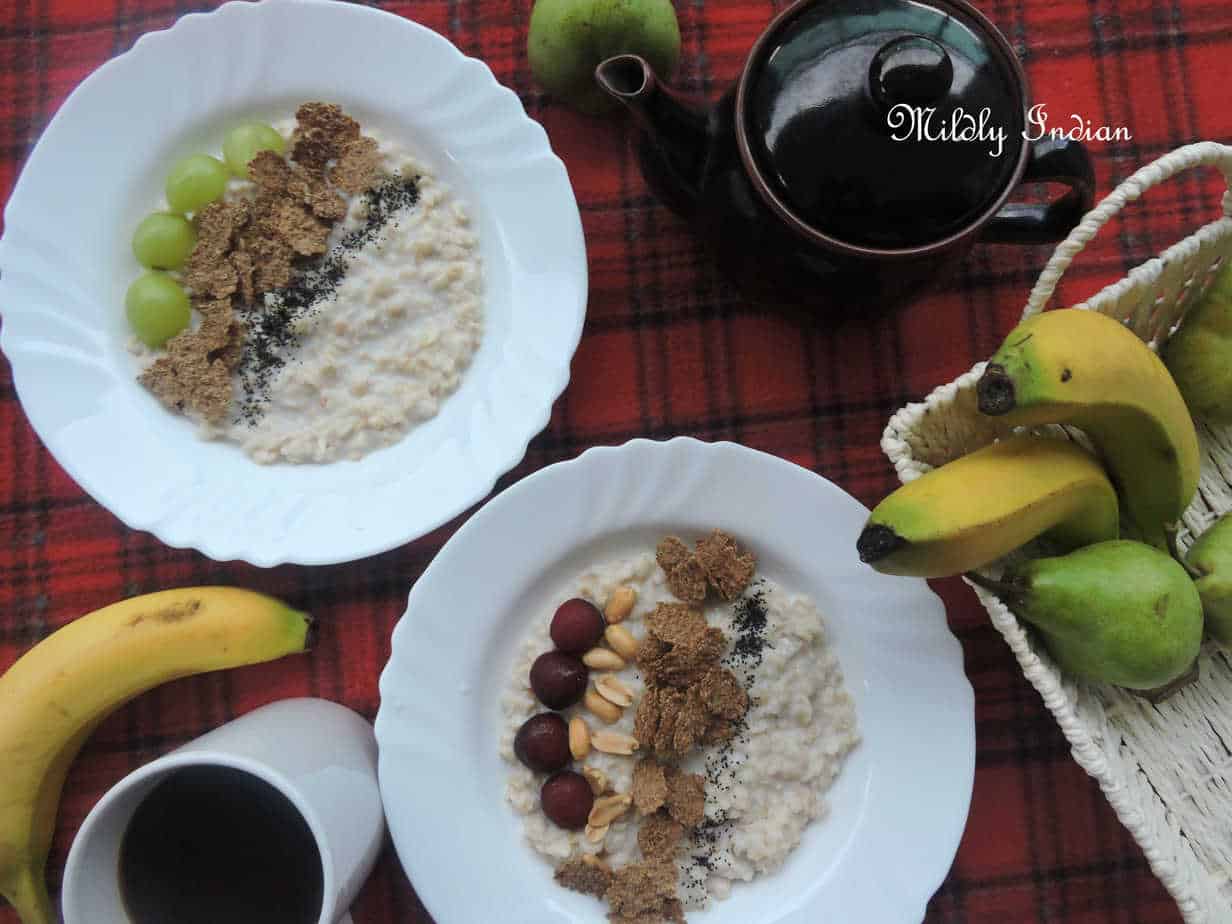 Oatmeal bowls
Wholesome breakfast bowls.
Ingredients
For the oatmeal
1

cup

oats

(rolled)

2

cups

low fat/ full cream milk

2

cup

drinking water

1/4

tsp

cinnamon powder
For toppings
1/2

cup

fruits

diced or seed removed

1/4

tsp

chia seeds

or flax or basil seeds

1/4

cup

nuts / dry fruits

of choice

1/4

cup

bran flakes

( optional)
Instructions
On medium heat, boil milk with two cups of water.

Stir in the cup of rolled oats.

Cook about 5 to 7 minutes over medium heat, stirring occasionally.

Turn it off  and let it cool for a while. Ladle up into the bowls

Decorate with favourite fruits, seeds and nuts. Enjoy your breakfast