Topped with honey mustard dressing the simple spinach starfruit salad is one of the easiest recipes you can put together with starfruit or carambola.
It is not often when my teens talk about a salad. Well, that is quite a phenomenon by itself. If they rave about a salad and flavour, you get to make it again, isn't it? I am a huge dred perfect sure that the whole reason for this salad to be yummy would be the beautiful stars of the carambola salad, but hmmm never tell them.
That is the story of this carambola salad.
Understanding starfruit
Averrhoa carambola or star fruit is a sweet and sour fruit that has a good 5-point structure. When sliced across they look like stars which derive the common name. Unlike the bilimbi (same family), the fruits are sweeter and milder, that the sharp tang. The fruit usually comes in a bright yellow or a light green colour. As fruit salads, juiced, on its own as fresh fruit or if you have a lot make some jam, these are a few ideas with this fruit. Starfruit is 90 percent water so reduces considerably upon cooking.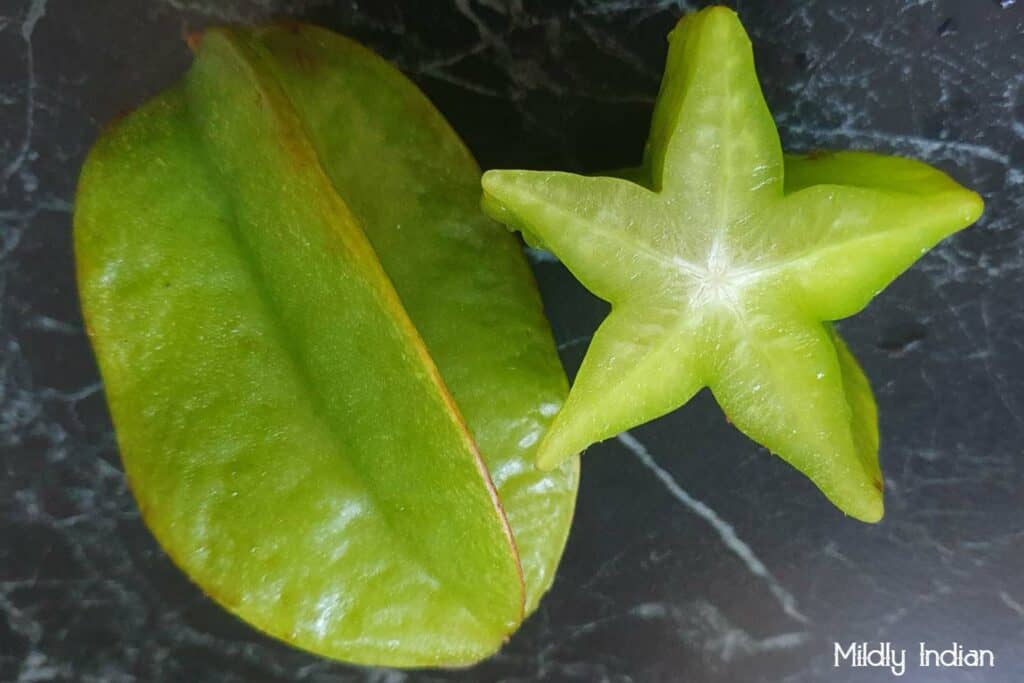 Ingredients to make the starfruit salad
Starfruit: is the star of that salad. They not just add a beautiful look but contribute to the sweet tang that the salad. Since the peel is thin and edible
Black bean: I love to add some cooked beans to most of my salads. The soft bites of beans don't feel heavy, but rather a light yet filling salad.
Spinach: the soft crisp spinach is just that green addition most necessary for this salad. I love my green but if you prefer iceberg or arugula leaves, go for it. It doesn't hugely alter the flavours of the salad.
Cabbage: I have used shredded purple cabbage as I find this visually so beautiful. The cabbages are crunchy and love them in any salad.
Honey mustard dressing: ever since I discovered how easy it is to make honey mustard,  I have loved having them in salads. Along with the honey mustard, a bit of vinegar, salt, olive oil and black pepper makes this dressing come together.
Let's get some carambola salad on the plate
The carambola salad is so easy to make.
Prep the veggies: Once you wash and chop the veggies add them or layer them on a salad plate. I love to have the starfruit a bit thicker and the cabbages finely shredded. baby spinach leaves fills up the base of the platter. Drain and rinse the black beans and then sprinkle them on the cabbage layer.
Make the dressing: Whisk together the olive oil, salt, vinegar, black pepper and honey mustard to form a smooth emulsion. You can do this in a small bowl or pour them into a tight-lidded bottle and give them a good shake.
Put the salad together: in this salad image, I have layered the salad and then drizzled the honey mustard dressing over it. If that is your preference start with the spinach at the base, then the shredded purple cabbage, the black beans and the starfruit. then drizzle the dressing over it and not drench it. You can serve the extra dressing on the side if you prefer.
Variations
This salad is open to a lot of variations.
Grilled starfruit: if we get starfruit in winter, I love to make the salad mix and then add grilled starfruit to it. In this way, there is a bit of warmth to add to the salad. The starfruit becomes more juicy and is best if you have a slightly young starfruit.
Salad leaves: based on the salad mix you have, you can quickly change the look of this salad.
Lemon lime dressing: ooh now you got me…if I don't have honey mustard I go with my first love, lemon-lime dressing. It intensifies the flavour of the carambola.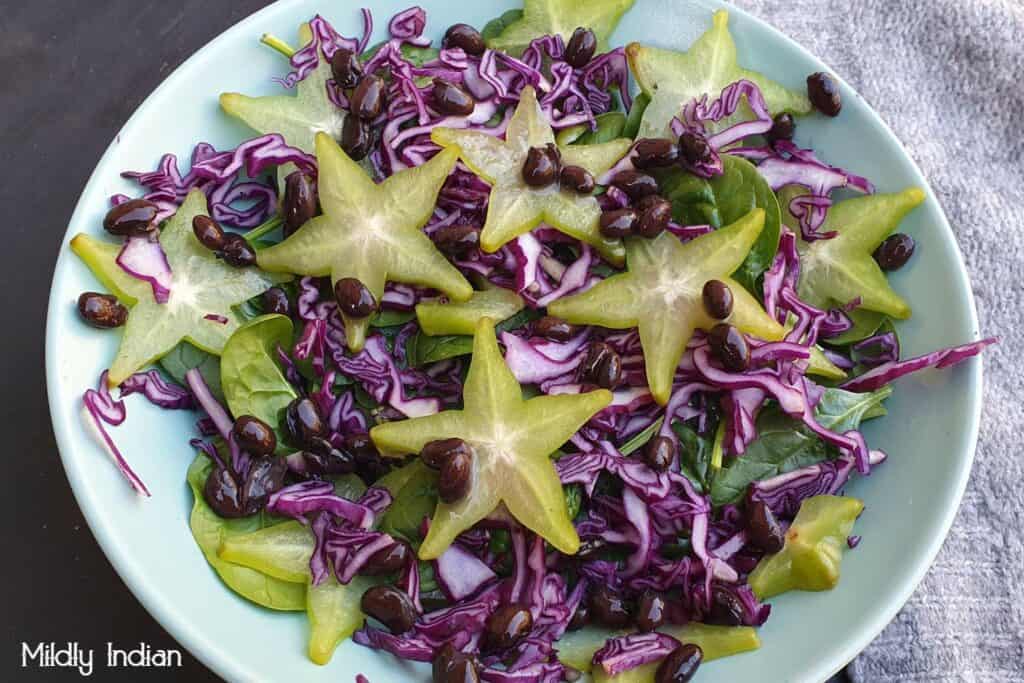 Carambola salad
Topped with honey mustard dressing the simple spinach starfruit salad is one of the easiest recipes you can put together with starfruit or carambola.
Equipment
mixing bowls and spoons.

Cutting board

Knife
Ingredients
For the salad
2

medium

starfruit

(carambola)

2

handful

Spinach

1/4

small

Cabbage

purple

1

cup

black bean

cooked and drained
For the dressing
1

tsp

mustard

dijon

1.5

tsp

honey

1.5

tsp

vinegar

1.5

tsp

olive oil

salt to taste

1/4

tsp

crushed black pepper
Instructions
In a small bowl add the salad dressing ingredients.

Whisk them well till they form a smooth emulsion.

Wash and chop the purple cabbage.

Wash and run the spinch through the salad spinner.

Slice teh star fruit and set it aside.

Drain and wash the cooked black beans ( or from a can).

Now on salad plate, place the spinach, purple cabbage, balck beans and teh star fruit

Drizzle the dressing, just enough to coat the salad.
Meal prep the salad and lunch boxes
Other eye-catching salads we have 
Cucumber kohlrabi salad
Yellow tomato salad
Blueberry arugula salad
Edamame lettuce salad
Cranberry white bean salad
Stay connected
Whether you make this starfruit salad during Christmas or Christmas in July, it feels really special to see the beautiful natural product. With ample opportunities to make this recipe in your own style carambola Salad is just for you. Share with us what you think I'm the comments and rate the recipe. Stay on with us by subscribing or connecting with us on Facebook, Twitter or Instagram.