Many a times when using oats I have heard people say I don't like to cooked sticky porridge. .so I don't use it.On the contrary to this thought, I would say learn to substitute instead of rice or wheat in tryout regular diet. One such major change I do is an easy one.  A simple essential curd rice where you can easily  substitute the rice with millet or oats.
Now, with a fancier name  "bagalabath" borrowed from the maharashtrian platter  the humble yogurt and oats transform into a sought out dish from my kitchen.. I like it too.  Somehow the addition of grapes or pomegranates brings in a sweeter element to the otherwise simple combination.
Why oats?
I am sure by now… By every alternate hour of advertisements our children also subconsciously register… We all know this is heart healthy because it has fibre. Let's look for some more…
Oats was predominantly  cultivated as fodder. For livestock.

 It is low in calories

Oats is gluten free if processed in factories that do not process wheat. Watch out for avenin  sensitivity though.

This grain boost the growth of beneficial bifidobacteria  in the intestines.

It  doesn't leave much room for craving as it swells up.. Yes, because of the fibers in it

The balance between fiber and complex carbs helps slow release of sugar and hence useful for diabetics

It contributes to beauty by supplementing the daily requirement of biotin for great looking nails and beautiful hair.

The beta glucan helps reduction of cholesterol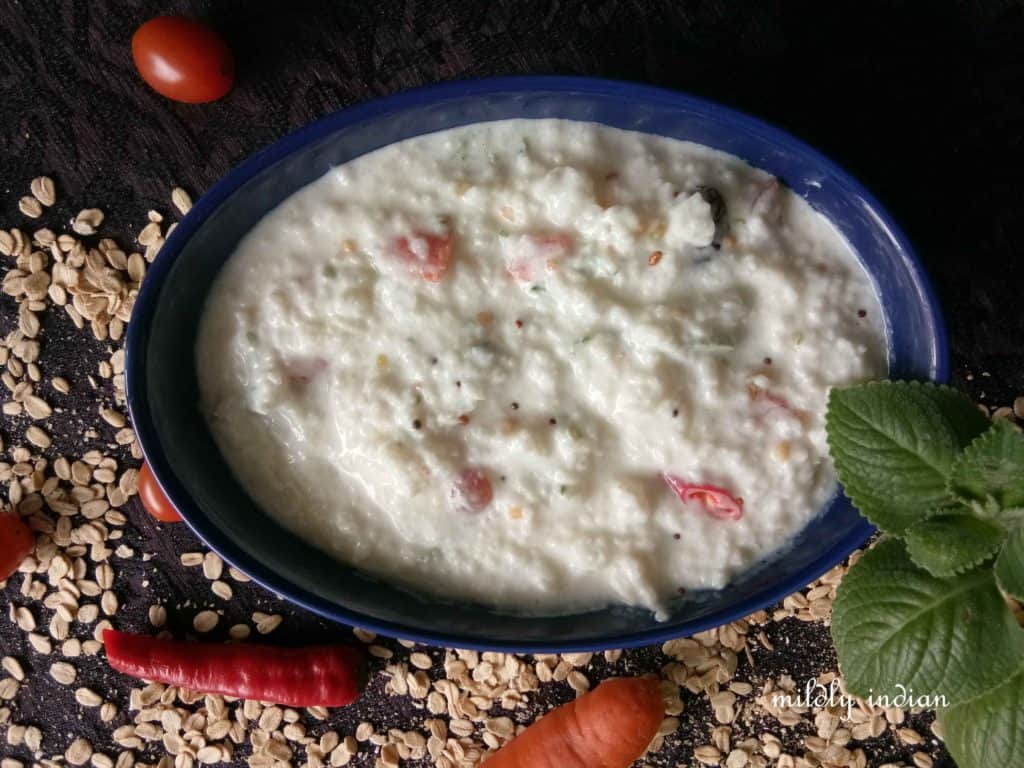 How  do I use oats in Indian cuisine?
A simple sweet or savory porridge

Bisibelebath

Dosa

Idly

Fritters

Pancakes

Upma

Pongal… The choice is endless.  Swap some rice to oats and see ..you will surely be amazed by the  loving response at home. Try out the recipe below for a quick start.
Here area few more yogurt based recipes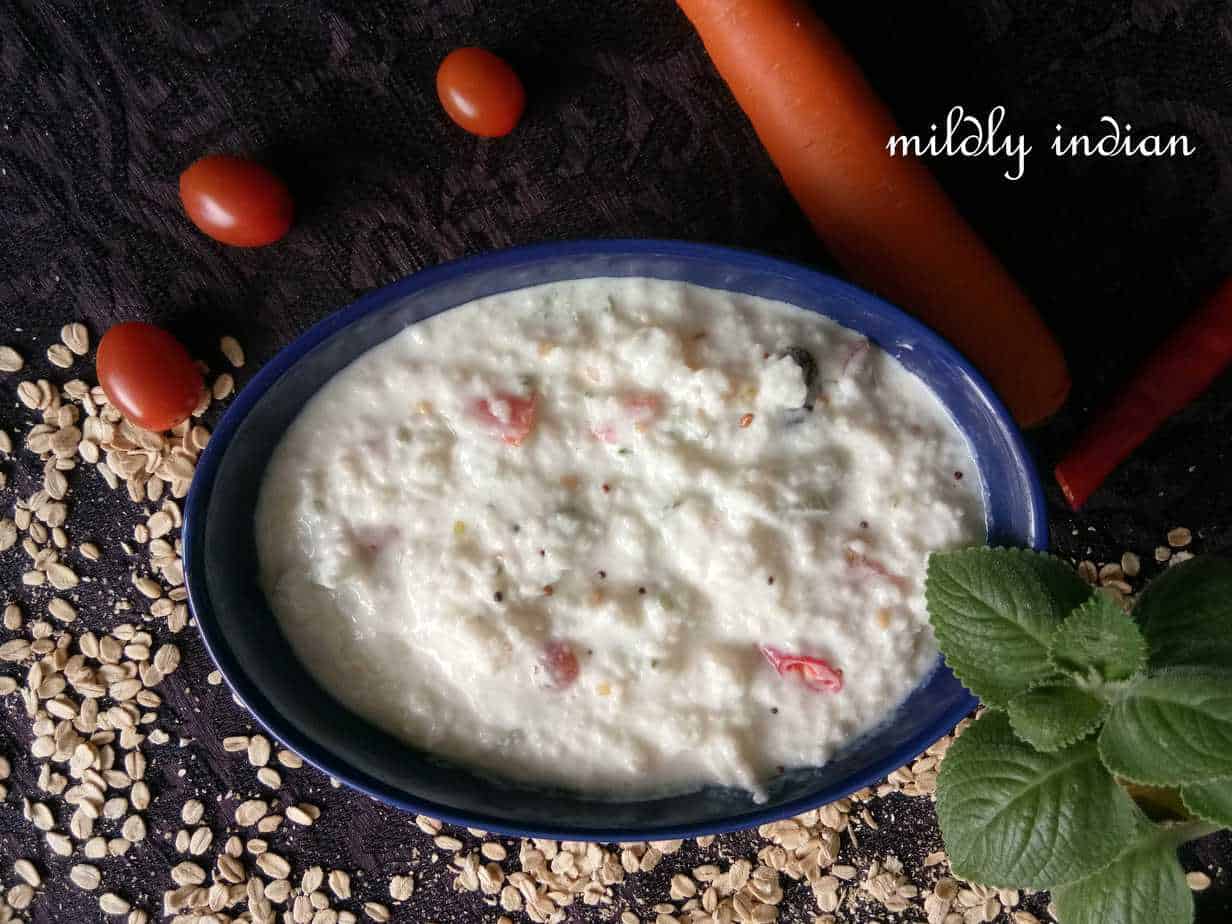 Oats bagalabath
Maharashtrian cuisine
Ingredients
1/4

cup

oats

rolled or steel cut

2

cups

drinking water

1/2

cup

low fat yogurt

1/4

cup

low fat milk

salt to taste

1

tbsp

carrot

grated

3-4

cherry tomatoes

sliced

1

tsp

cilantro

chopped fine

5-7

grapes

sliced
Tempering
1

tsp

cooking oil

or ghee

1/2

tsp

mustard seeds

1

green chilli

slit

1/4

tsp

fresh ginger root

grated

1

sprig

curryleaves

1

pinch

Asafoetida
Instructions
Into a cooking pot add 2 cups of water and bring to a bubble on medium heat.

Add in the rolled oats and stir well. if using steel cut it is better to soak for an hour before cooking

Set it for cooling.

Meanwhile, grate the carrot, chop the herbs and cut all the other vegetables and set aside.

In a small pan prepare the tempering by adding the oil followed by the mustard seeds. When it splutters add the rest of the ingredients and saute well. remove from heat and set aside.

When the cooked oats is completely cooled mix it with yogurt and salt. if too thick add a little milk at a time and adjust thickness to a semisolid state or like mashed potatoes.

Add in the vegetables of choice, grapes , herbs, and the tempering.

Add salt, mix well and check for proper seasoning. Enjoy a cooling bowl.
Notes
For this recipe use rolled oats or old fashioned steel cut oats. It is preferable not to use the instant version as it may not contribute to all the health benefits too.
You can alter the veggies based on choice.
You can use any herbs of choice too. I have used Indian Borage leaves.