After a successful stint of homemade vattals and vadams last year, I am looking forward to this summer of new ideas for keeping some extra ones that can easily be made and stored between running to work and keeping up my interest in food. This is the conversation I had with my mum and her reply was "quick aval vadam pottudu".
Here is the result sundried avalakki sandige or aval vadam ready for all the South Indian thali fillers or namkeen with coffee and tea.
Ingredients for this aval vadam.
The avalakki sandige or aval vadam is by far the simplest vadam/vattal I have made. 
Aval – Flattened rice grains are used a lot in South Indian recipes. It is easy to cook and delicious to eat. They come in white, brown and red flakes. I have currently used brown rice flakes for this recipe. Any of the colours will work to make this aval vadam.
We have a whole collection of aval based recipes that you can try out Aval Thali.
Warm water- the warm water helps to soften and cook the flattened rice and this is the only cooking method used in this recipe.
Spices- Chilli, Salt, Cumin are the flavours of this aval vadam recipe.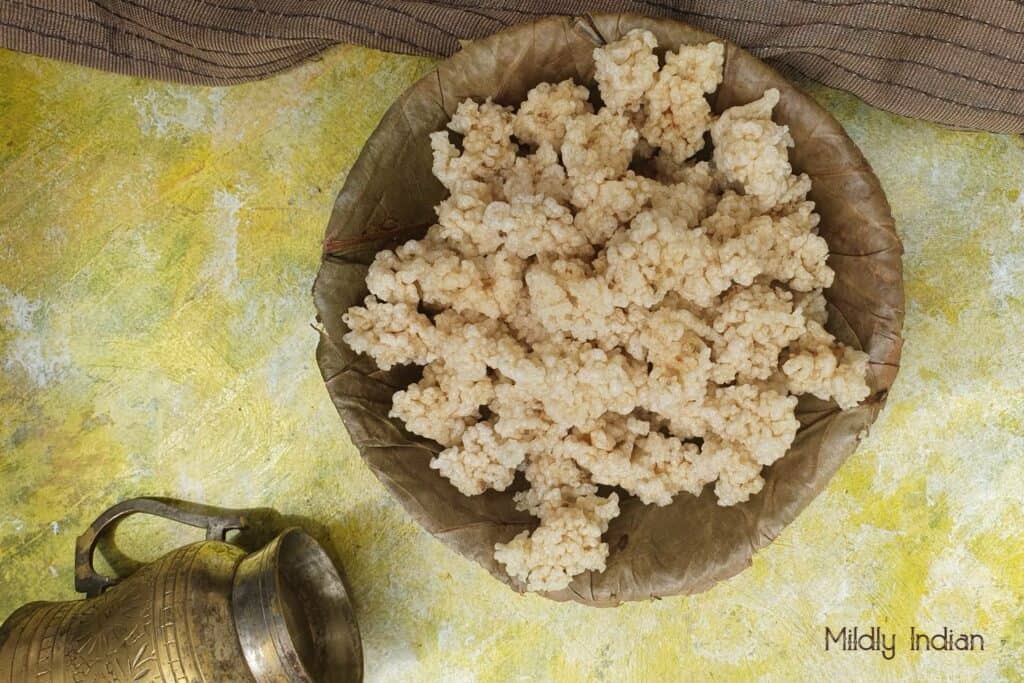 Avalakki Sandige
Equipment
1 measuring cups and spoons

1 mixing bowl.
Ingredients
2

cups

rice flakes

use brown rice aval.

1.5

cups

warm water

1/2

tsp

salt

1/2

tsp

cumin seeds

1/4

tsp

red chilli powder

1/4

tsp

Asafoetida
Instructions
Collect and measure about 2 piled cups of avalakki

Add the warm water and mix it up.

Add the salt, cumin, asafoetida, red chilli powder.

Mix well and set aside for 5- 10 minutes.

Pinch bits of the dough and place a plate.

after day 1, move the sandige around as they would have shrunk.

Dry for one more day and the vattal should be ready to store.
For cooking the vadam
Heat the oil to medium heat and fry up small batches of the sun-dried sandige.

Once the bubbles around the now crispy sandige are diminishing, drain onto adsorbent paper.
How to store these vadams?
As I am practically a globe trotter I hardly have plenty of traditional steel boxes and bottles, so I store them up a bit simpler. I pack the fully dried ones in a double layer of food-safe pouches that is airtight. Then pop them into an airtight box and there it stays.
Once a couple of months, I sundry them again on a hot day and repack. Well, so far they haven't lasted longer than that!
How to use this avalakki sandige?
When you like to pair it with a meal of naivedyam thali, deep fry a handful of these aval vadam, till they turn crispy. Watch out for the bubbles to disappear from around it indicating the crispiness.
You can alternatively microwave them. I prefer to do them on medium wattage as high tends to burn the centre. It is a bit harder than the deep-fried ones, however, there is no oil used in this method. This stays good for a week in an airtight bottle, so you can use it for teatime or a quick crunch for snacks too. Air frying them also works, again it doesn't puff up as much as the deep-fried ones and are a bit firm.
I wish mum told me about these a bit earlier !! This avalakki sandige are the simplest ever. When it is summer don't miss making some.
Here is a collection of vattals and vadams we have tried and tested so far.
Arisikaruvadam- is a bit more elaborate process than this sandier but truly the one to make in bigger quantities.
Kumbalanga kondattam –makeover the peels into tasty crunchy sides a meal.
Leftover rice fryums– never waste leftover rice in summer, turn them into fryums with solar power.
Thamarakizhamgu vattal-sundied wheel like fryums is lovely as a side for most meals.
Sago papad- absolutely delightful crunchy sago papad tastes brilliant with any meal or on its own. Don't miss to make some.
Stay Connected
As a usual share, your thoughts and experiences with this recipe in the comments below. If you happen to make this recipe, don't forget to rate it.
Sign up for the free updates on new posts that come directly to your inbox. Don't forget, you can always stay in touch with us with our Facebook, Instagram or YouTube account.
Here is the latest from our YouTube account.
Hope you have a great summer, stay safe and see you again.