Paneer Cheese sandwich
I wanted to make Paneer cheese sandwich, and I have been experimenting making paneer at home for some time now.  For those unfamiliar with this cheese, Paneer is prepared by adding acidic food, such as lemon juice, vinegar to hot milk to separate the curds from the whey. The resulting curds are drained in muslin or cheesecloth and the whey is pressed out. The resulting paneer is dipped in chilled water for 2–3 hours to improve its texture and appearance.
Paneer cheese sandwich is an easy source of proteins from the milk solids. Addition of cheese to wholemeal bread makes it a fulfilling snack. This open sandwich is therefore an easy sandwich or toast option…..quick and filling….healthy too.
This is perfect for the lunch box with a side of colorful salad or as  an after school snack. So try this recipe and let me know what you think.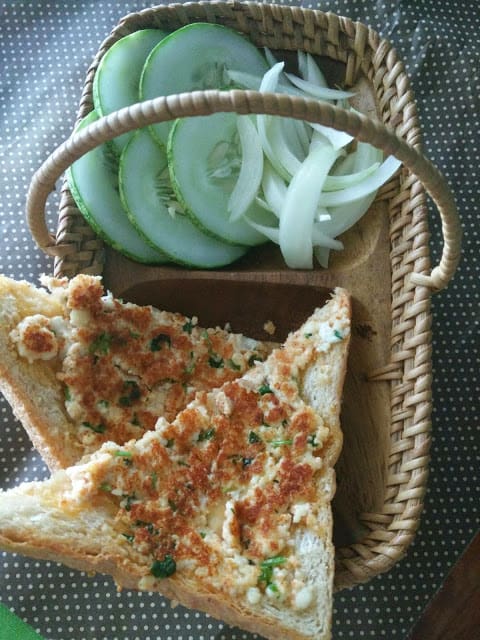 Paneer / cottage cheese open sandwiches
Fulfilling after snack
Ingredients
0.5

cup

paneer / cottage cheese

crumbled

1

tsp

coriander leaves

cleaned and chopped

0.5

tsp

Kashmiri chilli powder

mild variety.

salt

to taste

12

Slices

Whole meal bread

butter

As necessary
Instructions
In a mixing bowl , add the paneer with coriander, chilli powder and salt. Mix and muddle them together. This is the filling .

Press this down on to one side of the bread slice.Press it down tight so that it doesn't fall off.

Heat a flat pan / tawa and smear a bit of butter on it.

Put the fillings down of the bread and roast on a very low heat. Give it a minute on the low heat.

Flip over and roast the other side too... . be careful. it can be a bit sticky if under done.

Toast the other side of bread to your liking.

Remove and serve with a dip of choice.
Notes
The chillipowder is for a tiny bit of heat only. You can swap it for black pepper or spiceier variety of chili.
Nutrition
Serving:
25
g
Calories:
187
kcal
Carbohydrates:
24
g
Protein:
8
g
Fat:
7
g
Saturated Fat:
3
g
Polyunsaturated Fat:
1
g
Monounsaturated Fat:
2
g
Trans Fat:
0.1
g
Cholesterol:
13
mg
Sodium:
386
mg
Potassium:
130
mg
Fiber:
2
g
Sugar:
3
g