Indian festivals are incomplete without a "halwa". It is a historically interesting preparation showing a cultural span towards a number of countries in the Middle East and Europe , percolating all the way to India and its neighboring countries. Invasion or travellers could  have spread this soft candy throughout the region. This lovely sweet is flour based, nut based or fruit based, sweetened with raw sugar or honey.
With the 13th century arabic  cookbook as its historical base, halwa, continues to be tried with every possible vegetable, fruit, nut, and flour. As, a foodie I believe this treat is best celebrated during festivals Bringing it down to Indian festivals, it has to be during this season of Diwali. Halwa calls for one of the simplest celebration. Paired with a poori is already a celebration.
Guest post
So, this Diwali, pairing up with a smart blogger, Anjali Dhawan as a guest post for her blog,  'It's all about food' Anjalidhawan.wordpress.com , it brings me joy abound to share my recipe for 'Papaya Halwa'.
I particularly like this one coz it is not so high in the sugar ( the fruit will give out a lot of sweetness) and the color that the halwa affords is unique, it makes me feel very festive.
The main ingredient being the fruit papaya with the addition of almonds makes the simple preparation lean a bit more towards health. in the current preparation I have used Unrefined sugar.  You may use jaggery or palm sugar in place of it which makes it lean a bit more towards a dark brown colour.
Check out this step by step preparation and do pingback when you try it out.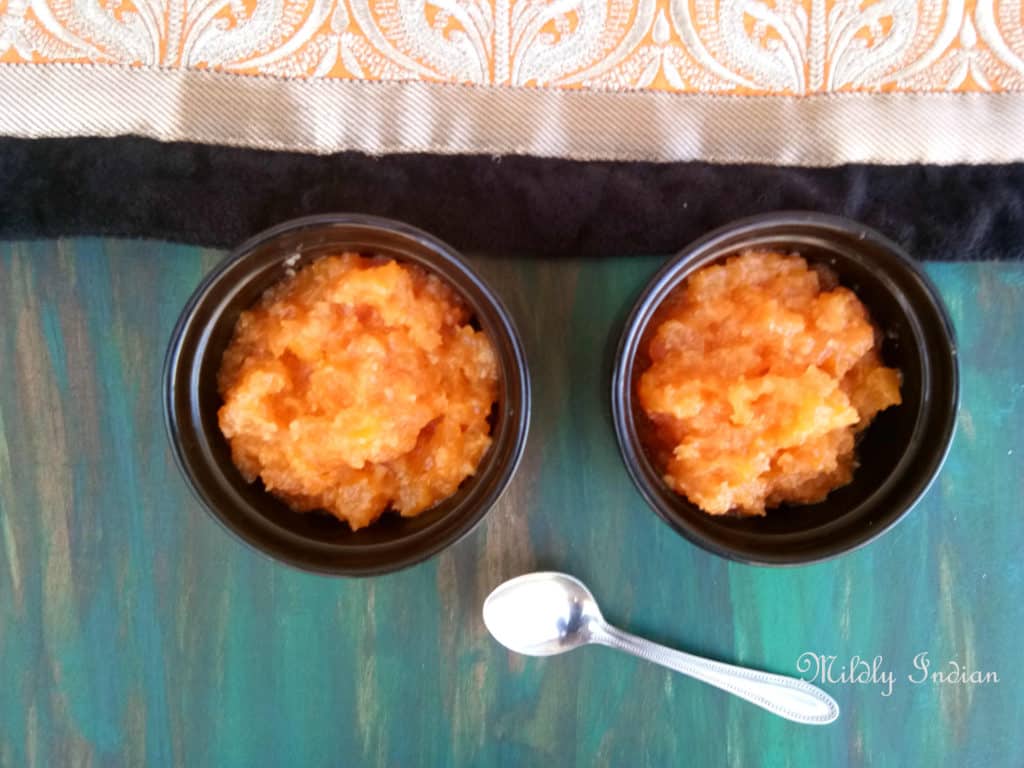 Meanwhile, you could get our recent updates via twitter or instagram @mildlyindian. Follow up for more festive treats soon.
Check out some more easy dessert recipes for Diwali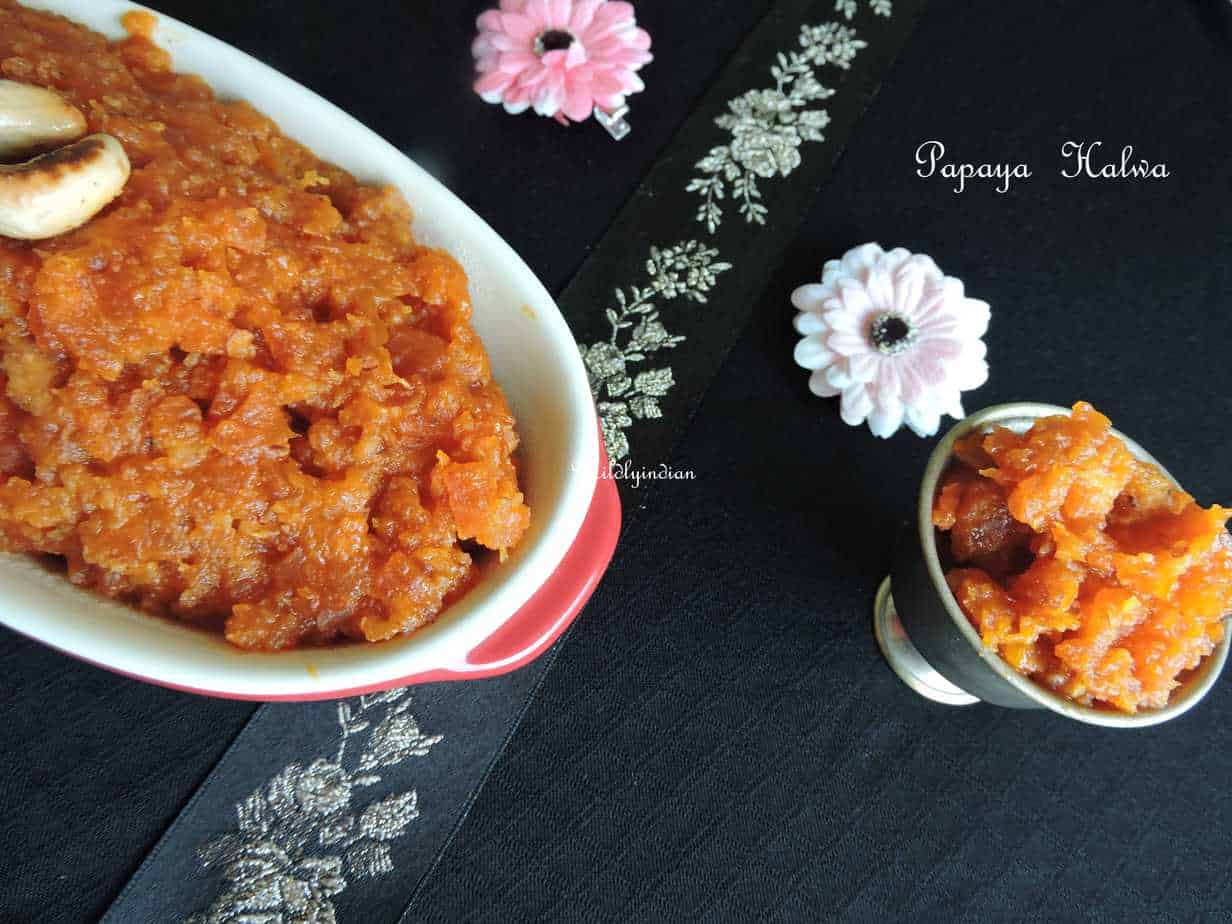 Papaya halwa - Fruit Dessert
The Indian fruit halwa
Ingredients
3

cups

papaya

soft, ripe, rough chopped

1/2

cup

unrefined sugar

( use jaggery or palm sugar instead)

1/2

cup

almonds

3

tbsp

ghee

( use cocnut oil for vegan)

1

tsp

cashewnuts

broken bits

saffron

few strands
Instructions
Wash and cut and core the papaya. Peel and remove the edible flesh. Rough chop and obtain three cups of the fruit cut.

Pulse the almonds to a coarse powder and set aside.

In a small pan roast the cashews in a tbsp of ghee, till golden and set aside ( take care not to burn)

Sprinkle in the threads of saffron in the warm ghee and let the golden smell infuse.

In a heavy bottomed pan (well seasoned is better), heat the ghee and saute the papaya in it. Keep at a low heat, as you stir you Notice the papaya pieces start to mash and become soft, they also release enough water. allow it to simmer with occasional stirring for 5 minutes.

Add in the sugar and continue stirring. The liquid content will increase. Do not increase the heat.. Allow it to bubble away and evaporate slowly. Stir at 3 minute intervals, so as not to catch the bottom. keep up with this for about 7-10 minutes.

As the mixture begins to thicken add the coarse almond powder prepared and stir in well. this will absorb the rest of the liquid and the mixture will thicken faster.  Do not stop stirring.

As the mixture begins to leave the sides of the pan add in the ghee roasted cashews along with the ghee. Mix well.

Swirl in further for a few more minutes. Transfer to a serving dish and enjoy Papaya Halwa with Poori or Rabdi