Being the largest grapefruit has its own advantages. It is not very common and this creates unique regional recipes. Being regional it takes various names in the local languages. 
Kambili naranga in Malayalam, Robab Tenga in Assamese, Bablimas in Tamil, Batabi Lebu or Jambura in Bengali, Bogate in Nepalese and chakotra in Hindi. They are all the same pomelo.
Today we have three varieties of the Indian pomelo salad, chakotra chaat. All three are gluten-free, grain-free, nut-free and zero oil.
Uttharakhand Chakotra chaat
Though there are not many ingredients in this regional chaat recipe that is a highlight during the winter months. The fresh green garlic pounded with spicy chilli and black salt creates a distinct flavour. The burst of sweet tangy juice from the pomelo pearls seals the love for chakotra chaat. This is the recipe in the recipe card
Assamese Robab Tenga
Another version of this is the Assam style preparation. Robab Tenga or pomelo is simply the arils drizzled with mustard oil with crushed chillies, a pinch of sugar and chopped coriander leaves.
Make it the Bengali way Batabi lebu makha
The difference with this version is the use of kasundi or mustard sauce. At first, segment the pomelo, say about a cup.  Crush salt sbd Green chillies together and mix them in. Add a tsp of sugar and about a tsp of kasundi. Mix well and batabi lebu makha is ready.
We have a couple of Bengali recipes in this blog that may interest you.
Plastic chutney – Candied raw papaya  chutney.
Dudh shukto – Mixed vegetable curry with milk.
Here is a bit more about the ingredients
Pomelo – Citrus maxima, is the largest grapefruit variety in the world. The flesh comes in two colours- Pink and yellow. Unique by flavour with grapefruit-like taste, yet milder this fruit has been a favourite if ours. Read more about pomelo in this post – Pomelo.
Black salt – with a sulphurous pungent smell, the Himalayan black salt is an essential ingredient in chaat recipes. The iron compounds in it give a deep colour to this rocks salt, which upon grinding becomes a pink powder.
Green garlic – the young, not mature garlic is the green garlic. It is a winter harvest and used a lot of Pahadi cooking. I did not have access to green garlic so have substituted it with garlic scapes.
Green chilli – the heat from the chilli is essential to this chaat recipe. So use Serrano or Bird's eye chilli to make this recipe. If you are not a fan, remove the seeds from the Serrano pepper and use it.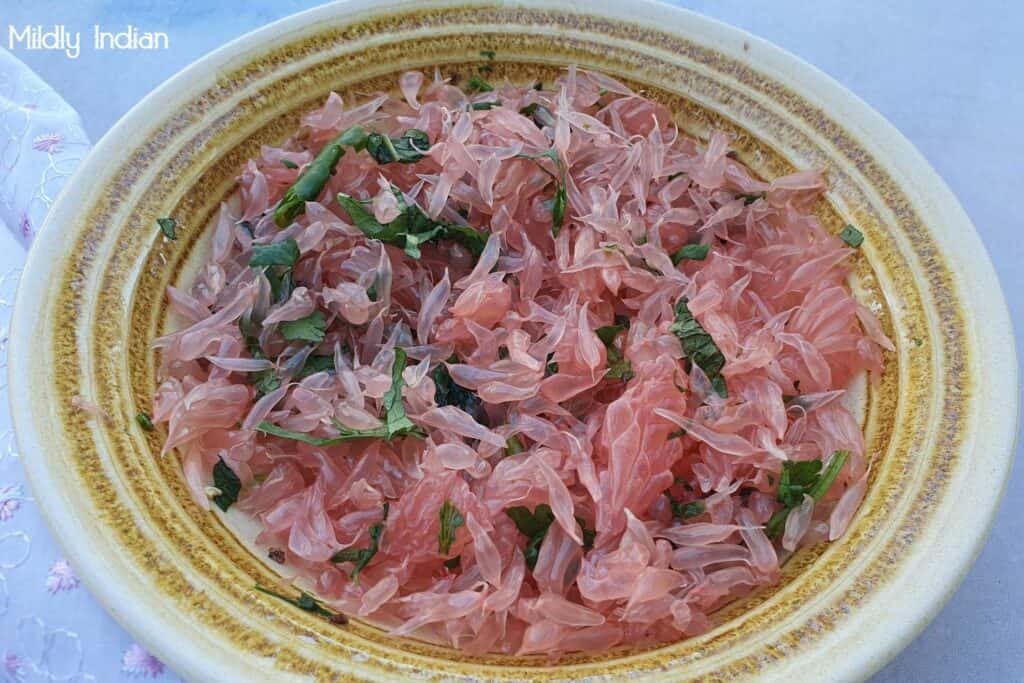 Chakotra chaat.
Spicy chaat with pomelo and green garlic is a no oil added, gluten free, citrus salad.
Ingredients
2

cups

pomelo

1

medium

green chilli

2-3

pieces

black salt

4-5

garlic scapes
Instructions
Seperate the pomelo segments and remove the pearls.

Separate out the pearls as much as you can and not have clumps.

Pound together the black salt, green garlic scapes and the green chillies.

Mix this with the pomelo.
Expert tip to get the perfect chaat each time
The key point in balancing the flavours in all these recipes is to first taste the pomelo and decide how sweet it is. You should also note the tangy taste and the bitter flavours. This is what we are looking at to create a balance when we make the Indian pomelo salad.
More recipes with pomelo
Pomelo raita – the cooling combination of pomelo in spiced yogurt.
Kambili naranga achar – A spicy pickle with pomelo.
Citrus punch – Get the best of juiced pomelo in this citrus blend.
If you are looking for a chaat recipe here are a few.
Pineapple chaat- Bengaluru style pineapple with sweet and spicy notes.
Tomato slice chaat – Slice up some tomatoes ad add all the chaat elements to make a quick snack chaat.
Strawberry bhelpuri – A unique blend of sour strawberries and crunchy murmura.
Connect with us
Hope you like and enjoy reading through our posts. We have a few recipes on our youtube channel as well. Take a look. 
Leave us a comment on how you made the recipe if it was successful or not if you like to offer any modifications.  Subscribe to our blog to receive regular updates on our new recipes and adventures. Tag us #mildlyindian or @mildlyindian, when you make this recipe. Stay for a while and check a few more ideas too.
See you at the next post, stay safe.