If you have kids I am sure you have experienced this. Every car trip that takes a little longer than the usual gets " are we there yet?". Now, I am like that with the mango season. Throughout the year, I just love to wait for this one jam-packed season where mangoes are in plenty. What do I do with them first, Mango lassi!!
This year, while we wait and I annoy my kids with are we there yet!, let's make some strawberry lassi. The strawberries are certainly in plenty right now. So make the best of both worlds.  With just 4 ingredients and under 5 minutes this delightful drink is perfect for any time of the day. 
What is a lassi?
Lassi is nothing but a yogurt smoothie. It is a popular Indian beverage, thanks to many Indian restaurants. Easily prepared, flavoured with cardamom or rosewater, it can be made with many fruits. The most popular one is with mangoes or rose syrup, though berries are equally refreshing. You can even make a spiced salty version similar to masala chaas. Lassis are one of the best when served with spicy hot sheek kebabs for the barbeque days.
Let's make some strawberry lassi.
Since strawberries are in season, let's get a berry-based one. It is a refreshing change to classic lassi.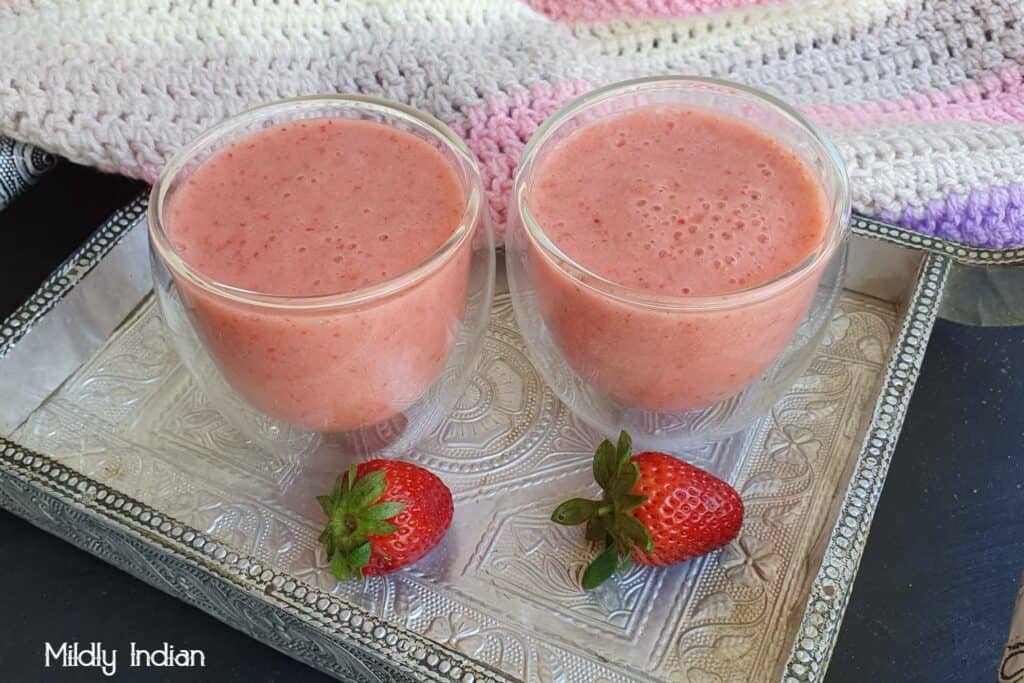 Strawberries – fresh or frozen?
Both fresh and frozen strawberries work equally well in the recipe. If you don't have any of this- a tbsp strawberry jam can be made use ( adjust the sweetness). If you have a lot more strawberries left, make this too- strawberry bhelpuri.
No strawberry don't worry.
The recipe is adaptable to blueberries,  mulberries, raspberries and blackberries. A combination of these works well too. So if you don't have strawberries, try it with just about any berry that you may have. Let us know if you have tried new combinations. We would like to try them too.
What yogurt to use for this vegan lassi?
Basic flavour free natural set yogurt is what traditionally is used to make lassi. We have used coconut yogurt in this recipe. The coconut yogurt is a bit sweeter and hence need very little sweetness added to it.
Sweetening this lassi?
Not much sweetness is needed if you are having this vegan lassi as a breakfast smoothie. I have actually used none as the strawberries are sweet enough. Use any form of sugar or coconut sugar if you desire.
For the details of quantities of the ingredients check this recipe card.
Strawberry lassi.
a refreshing Indian beverage made with coconut yogurt and fresh strawberries.
Ingredients
20

medium

strawberries

( keep chilled)

3/4

cup

coconut yogurt

( chilled)

1/4

cup

drinking water

( onlu to help it blend smooth)

1/4

tsp

green cardamom powder

1-2

tbsp

unrefined sugar

( if you like it)
Instructions
Wash , clean and pat dry the strawberries.

Trim the tops and slice them.

Add this to the blender with yogurt, water, sugar ( optional) and cardamom powder.

Pour in glasses or keep chilled till ready to serve.
Serving and storing the strawberry lassi.
The strawberry lassi is best chilled. Since it can be a breakfast smoothie or a snack you can bring about a few varieties here. If the kids are having it as a snack,  a dollop of vanilla icecream or nice cream on a hot day makes you the best mummy.  Add a handful of nuts and raisins to this lassi for the morning breakfast to be a bit more filling.
Personally,  I don't prefer to make a vegan lassi ahead of time. It just takes a few minutes and works with fresh or frozen berries. So just blend and enjoy instantly. If you do have leftovers, freeze them as popsicles. It tastes fantastic on a hot summer day.
With this cup of lassi in my belly, and before I go back to "are we there yet!", Subscribe and stay with us. We love to hear from you when you make this recipe. Tag us #mildlyindian or @mildlyindian to let us know your lassi is up. Share with us what you changed in this recipe in the comments.
See you at the next post.