The lunch menu from Karnataka is never complete without a side of kosambari. This delectable salad mix of lentils, cooling cucumber and fresh coconut is as refreshing and a palate cleanser amidst the sweet-sour and spicy curries which surround it.
Kosambari in Udupi
I loved the idea of kosambari when I first had them in Udupi. Though the sadhya menu confused me with multiple sweets, snacks rice and curries which kept endlessly coming. This was very different from the South Indian Sadhya I was used to. Over a period of time with my husband, I have learnt to put my hand out to say no to the sweets that keep loading up during the sadhya,  just in time before they are dropped on to the huge banana leaf and that saves me from struggling to finish them.  This trick doesn't work if the serving person really knows you, say for me, my brother in law!!
Well, at the sadhya like that I will never say no to two items – kosambari and paalpeni. They are my favourites every time I visit Udupi.
Hesarubele kosambari
Hesarubele kosumalli or  koshimbir is one soothing recipe that I learnt first from the Udupi cuisine. There is nothing complicated about this lentil salad, yet it is keeping that simplicity in balance with the flavour that makes the recipe perfect. The split mung bean or hesarubele, soaked has the best crunch factor in a salad. The same recipe can be made with cucumbers, snake gourd, grated carrots or like me use watermelon rind. You can use split chickpea like the carrot kadalebele kosambari. Don't forget a few pomegranate arils when they are in season. the tempering and freshly grated coconut make this salad truly remarkable.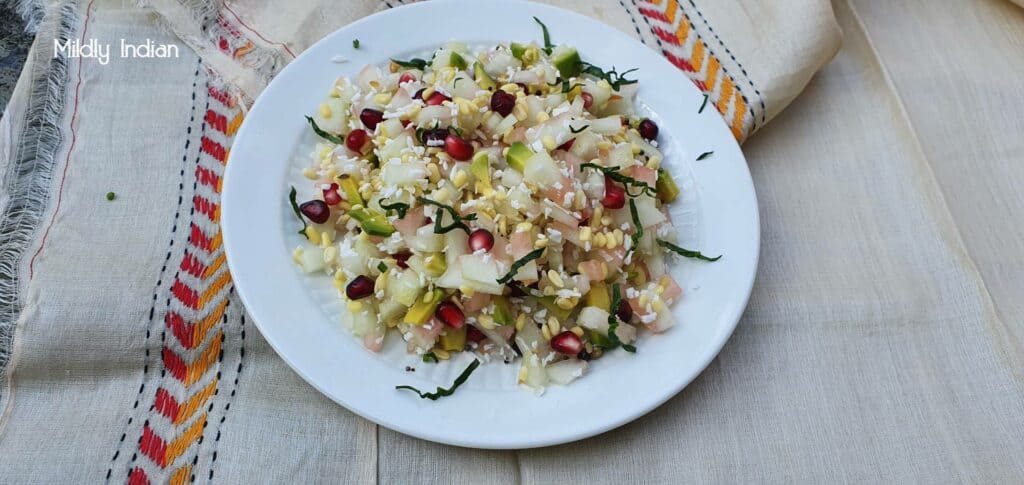 To watch how that balance is achieved using mung beans and cucumbers, try this video and scroll down for the proportions in the recipe card.
For Ramanavami
During Ramanavami, a very simple offering of this Kosambari with Neermooru and Panakam is done. It is considered highly auspicious. It is in fact a perfect detox menu to have on that day of simplicity. Since these three are the easiest to make, why not!!
Enjoy the salad and see you next week.
 Hesarubele kosambari salad
Udupi style , grain free salad.
Ingredients
1/2

cup

Green gram dal

(moong dal, hesaraubele)

1/2

cup

cucumber

(diced small or watermelon rind )

2

tbsp

mango

(raw mango)

1/4

cup

pomegranate seeds

2

tbsp

grated coconut

(fresh prefferable)

2

tbsp

coriander leaves

(chopped fine)

Lemon juice

(of half a lemon)

salt to taste
For temepring
1

tsp

coconut oil

1/2

tsp

mustard seeds

1

tsp

Urad Dal

1-2

dry red chillies

1

sprig

curry leaves
Instructions
Wash and soak the moong dal for one hour.

 Clean and dice the cucumbers and set aside.

Peel the pomegranates  extract the pearls and set aside  

Crack open the coconut and  grate the flesh. Do not get any brown part. 

In a small pan add the ingredients for tempering except the curry leaves.  As the mustard seeds splutter add in the curry leaves and take off the heat.  Set aside. 

Into a mixing bowl add in the cucumbers,  pomegranates  and coconut. 

Drain the soaked moong  dal  and add that to the mixing bowl. 

Add salt and lemon juice . Mix the salad together. 

 Now top with the tempering  and gently toss again.  It's ready to serve.