Blackcurrant bread loaf is a sweet yeasted bread loaf that is perfect for breakfast or a snack. Try out this delicious recipe with a very basic yeast bread base.
I have one of my sis in law in Sydney. Though the explanation for how she is related will take immense twists and turns, what unites us is our love for cooking. She is a fabulous home cook who gives me so much confidence in how to bake bread. This yeast-based blackcurrant bread loaf is the result of her confidence. I call it my foolproof bread coz as long as you follow the steps and timing on a sunny day, you really cannot go wrong.
Ingredients for this blackcurrant  bread
Bread flour -bread flour is flour that has a protein content of 12 to 14 per cent. This ensures more gluten and chewier bread. I have used storebought bread flour. I guess you can use all-purpose flour too, but I am unsure of the outcome.
Yeast- I have used dry yeast in this recipe. I have used the leftover fast-acting yeast from making Foccacia bread in this recipe.
Sugar and salt- the yeast needs a substrate and the sugar provides that nourishment. The end bread will not be sweet because of this as it gets broken down to form the carbon dioxide (check proofing below). The salt is the one that flavours and tightens the gluten to create the pockets.
Blackcurrants -the sweet tiny blackcurrant was a lovely addition to this yeast bread. I have used dried blackcurrant in the recipe. To plump them up I soaked them in warm water. You can soak them in apple juice instead for a subtle fragrance.
Of course, you need lukewarm water to knead the dough and activate the yeast.
Proofing the blackcurrant bread
I have followed the two-step proofing process for this blackcurrant bread loaf as it is a yeast bread. This is a part I can confidently talk about thanks to my microbiology background.
The dry yeast packs are actually dried yeast buds. When yeast is fed sugar water,  it starts replicating and growing. This process releases carbon dioxide. The released carbon dioxide is captured in the wheat dough to create the air pockets, which in turn makes the bread airy and light. This process however takes time and is dependent on the room temp. Hence proofing time gives the necessary slow time for the yeast to grow through this process.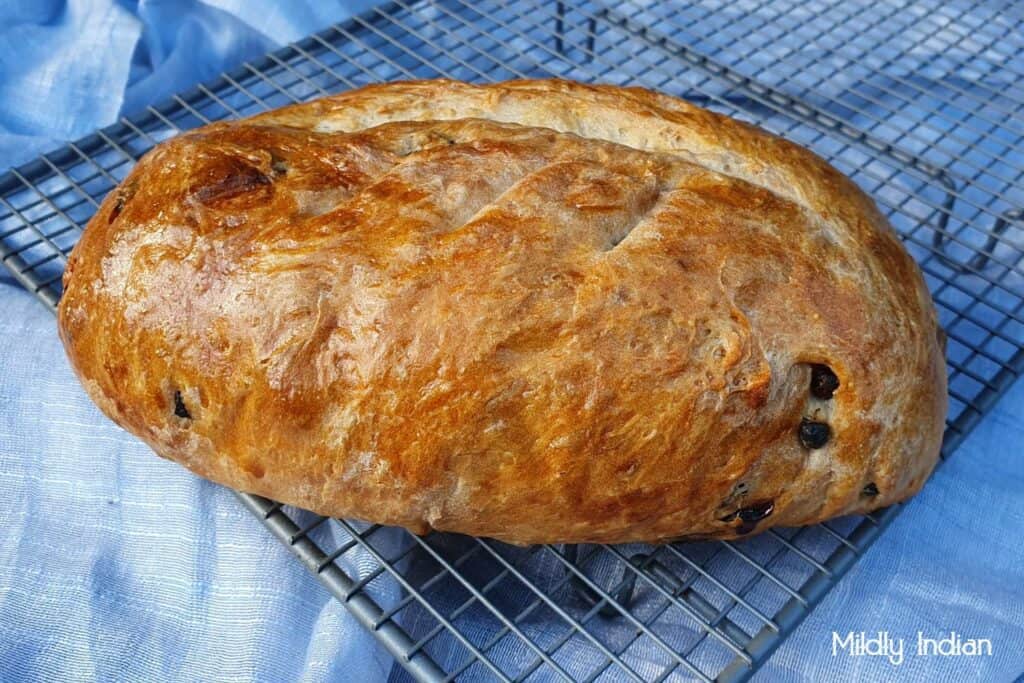 Blackcurrant bread loaf
Blackcurrant bread loaf is a sweet yeasted bread loaf that is perfect for breakfast or a snack. Try out this delicious recipe with a very basic yeast bread base.
Equipment
measuring cups and spoons

mixing bowl.

Baking tray

oven
Ingredients
3

cups

bread flour

7

grams

yeast

2

teaspoon

unrefined sugar

2

teaspoon

salt

330 ml

drinking water

lukewarm.
For the blackcurrant
2

tablespoon

blackcurrants

3

tablespoon

drinking water

luke warm
the vegan eggwash
1

tablspoon

maple syrup

1

tablespoon

soy milk
Instructions
Into the mixing bowl, add the flour, salt sugar and the yeast.

Mix well and make a well in the centre.

Into this add the lukewarm water

Combine the flour and water to form a sticky mix.

Knead this dough well for about 10 minutes. the dough starts off as very sticky and then turns a bit easier to work with as gluten forms.

Place this dough in a greased bowl and cover with a moist cloth.

Leave the dough in a warm place to rest and double in size. The yeast works its way and doubles the dough in about 30 to 45 minutes under warm conditions.

Remove the dough onto a floured board and punch down the air. Flattened the dough a bit and add the drained blackcurrants.

Roll back the dough and shape it into a loaf. Place this on a greased tray.

Cover with a moist cloth and leave it to rise again for 30 minutes.

Mix th ingredients for the vegan egg wash.

Brush the loaf with it and make a slit.

Set the oven to 200 degrees fan-forced oven and preheat for 10 minutes.

Bake the loaf 35 minutes or till golden brown.

Remove and cool the loaf before slicing.
Is this bread vegan?
Yeast is a part of fungi and is not considered animal in nature. Hence yeast and yeast-based products are vegan. Therefore this yeast proofed black currant loaf certainly is vegan
The recipe is adapted from the basic bread recipe that she provided. The details of promotions and step by step images are in the recipe card.
What I missed in this recipe?
When I make this loaf again, I will love a dusting of cinnamon before I roll to give it a sweet aroma. Otherwise, it paired wonderfully with a cup of black pepper milk tea.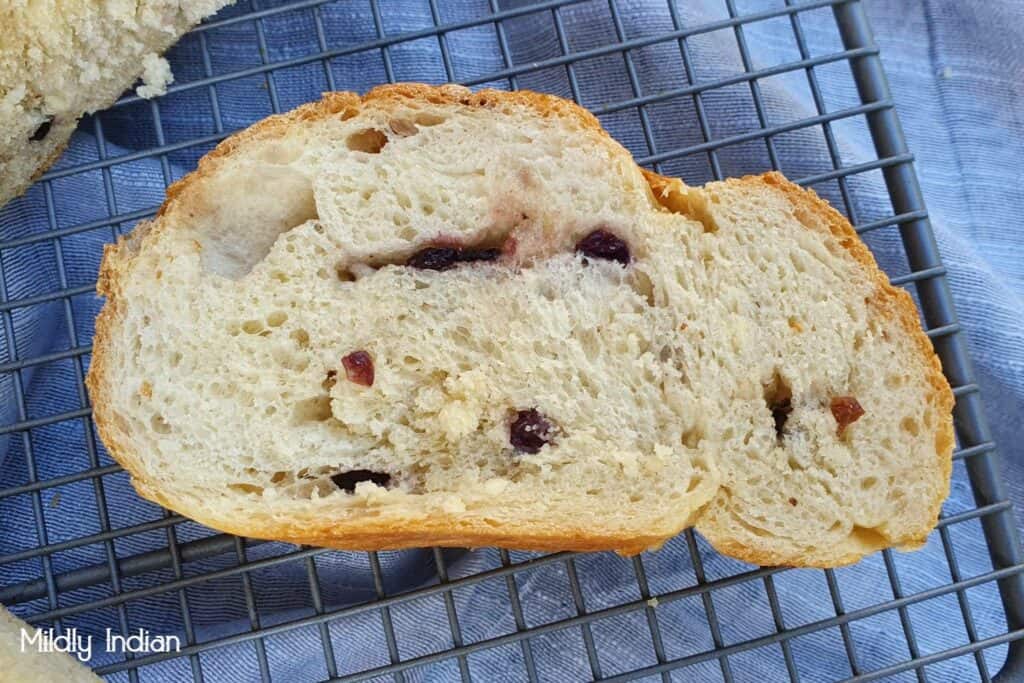 Storing this bread
It was a small loaf that I attempted so we had the bread just for two days. It stayed perfect in an airtight breadbox on the countertop catering to our tea needs. If you are storing it longer, store it for up to a week in the refrigerator. I seriously doubt if it will stay that long though when people are nibbling throughout the day.
Stay connected
I actually enjoyed making bread this time and constantly reflected back on the tips and tricks she shared. The loaf was perfect for tea and the leftovers made it to the best ever bread pudding. The rest of the blackcurrants made it to the blackcurrant chutney. 
We are always all ears to hear your reviews, twists and turns.  Let us know if you are making the Black currant loaf too. While you are here, do subscribe to get updates as regular as we can post them for you. Tag us @mildlyindian or #mildlyindian with your version of these recipes on all your social media accounts.
See you at the next post and stay safe.