A thin watery preparation from traditional buttermilk is called as sambharam. With a mild hint of crushed curry leaves, ginger and chilies is the most common one in South India. This sambharam preparation is often stored in clay pots which adds to the cool feel. This is served to guest who come in the hot tropical sun or as a lunch drink.
Traditional buttermilk Vs cultured milk
The liquid left over after removing cream from the fermented milk curd (yogurt) is called as traditional buttermilk . This makes it effectively low fat. Especially relevant is that the benefits remain as the whey proteins and the lactobacilli remain in the left over liquid.
Acidified milk is milk with acidifying agents in it leading to coagulation of the proteins. As opposed to,  cultured buttermilk from homogenized milk or acidified milk  the traditional one fermented by bacteria contributes gut friendly flora to the intestines.
This,  traditional buttermilk further thinned down using water is a free food for the diabetics.  The addition of  herbs like curry leaf and crushed chillies with salt makes it more palatable.
Memories
I was never fond of the yogurt or buttermilk, from my childhood,the only version I would have was this sambharam. The specialty of this was that that it had crushed crushed kaffir leaf, as done by my maternal grandmother. Somehow,  the sourness disappeared with the kaffir lime leaf and the curry leaves making it smell more aromatic and citrusy which helped my flavour buds to mask the yogurt feel.
Today,  I am sharing this recipe with you.
You can  comment how you like your sambharam / neer moru flavored in the comment section or send us some pictures of yours.
Furthermore you  can check out other probiotic rich recipes here.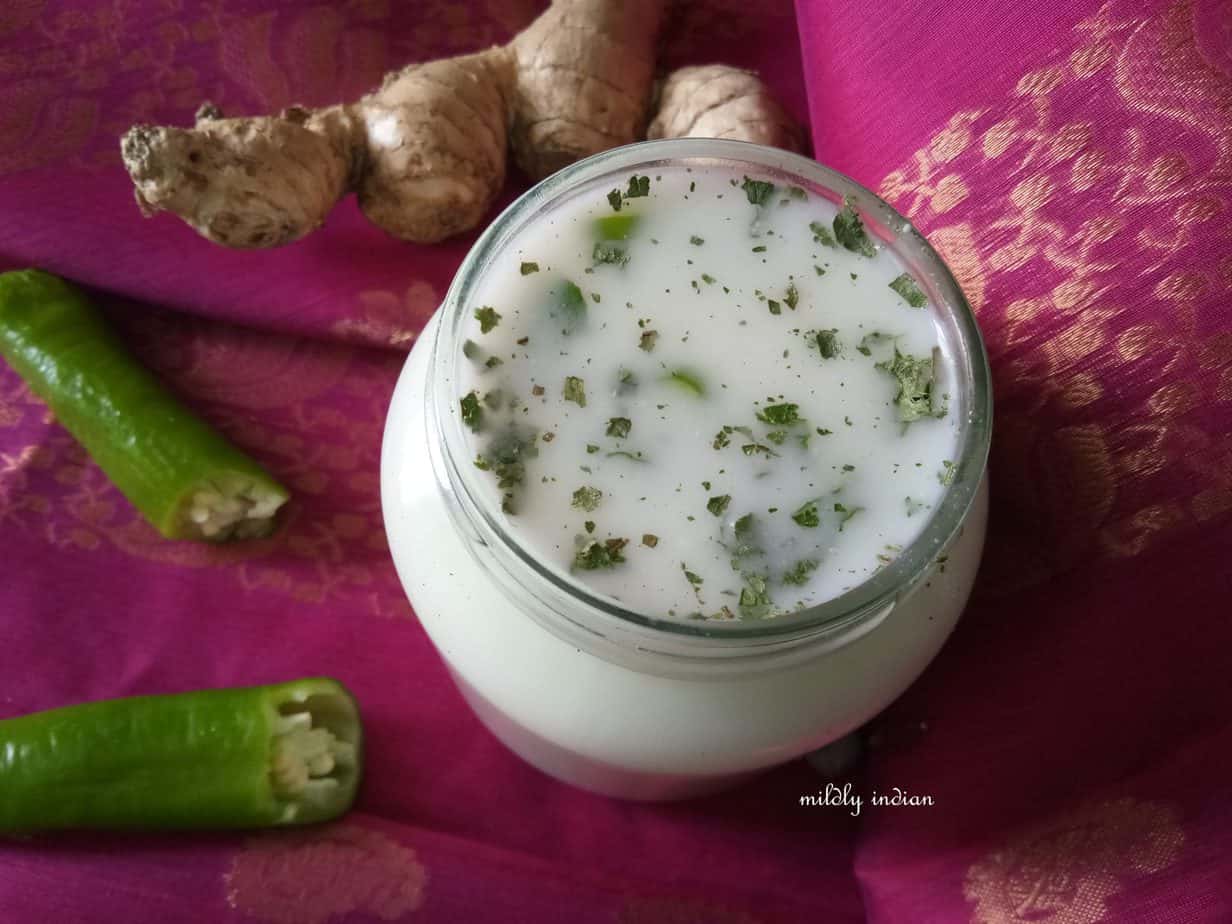 Sambharam
Spiced buttermilk
Ingredients
2

cups

traditional buttermilk

2- 3

cups

drinking water

2

kaffir leaves

1

tsp

ginger

grated

6-8

curryleaves

1

tsp

green chilli

chopped ( optional)

salt to taste
Instructions
Whisk together the butter milk and water to create a thin watery solution.

Pound the kaffir leaves, ginger, chilles and curry leaves gently to release the juices .

Add in the pounded fresh herbs and spices to the thinned out butter milk

Add salt to taste and mix well.

store in claypot for the day or in the refrigerator. Consume within a day or two.
Notes
You can alternate the spices to coriander leaves  or even give a mustard seasoning to this mixture.
Occasionally I do add fenugreek powder to this, it is highly useful for blood sugar control.
Nutrition
Serving:
100
g
Calories:
48
kcal
Carbohydrates:
6
g
Protein:
4
g
Fat:
1
g
Saturated Fat:
1
g
Polyunsaturated Fat:
0.04
g
Monounsaturated Fat:
0.3
g
Cholesterol:
5
mg
Sodium:
127
mg
Potassium:
183
mg
Fiber:
0.02
g
Sugar:
6
g