One of the first baked recipes that I got right was the basic banana bread. Progressively I worked on a whole wheat version that we have here on the blog. It has been a successful recipe with many wonderful reviews and success stories. From then to now, making banana bread has been the easiest ever. I can get that done anytime I have a few bananas deciding to go dark. We even worked out a variation of the banana bread and sweetened it with blueberries and stevia. As we work through the various types and styles, Marbled banana bread seemed like a great option. In addition, we have this version completely vegan and low in even the coconut oil that we used.
Why vegan marbled banana bread is perfect for weekends?
Sweet tooth satisfaction with a simple recipe is always the best form of perfection. With multiple weeks now at home sometimes it is necessary to remind ourselves that it is the weekend! Strange indeed, but true. So we came up with a simple solution if we do baking towards the end of the week, We could remind ourselves that we have the weekend brunch going. With a bit of chocolate in the bakes, it feels like we stepped out into a cafe. SO baking this on Sunday mornings seemed like a great option. Now the marbling was a fun crazy project that we took up. We could go any way we liked with our doodles and see how it baked up. with these simple yet fun ideas, it got us back to feeling like a weekend.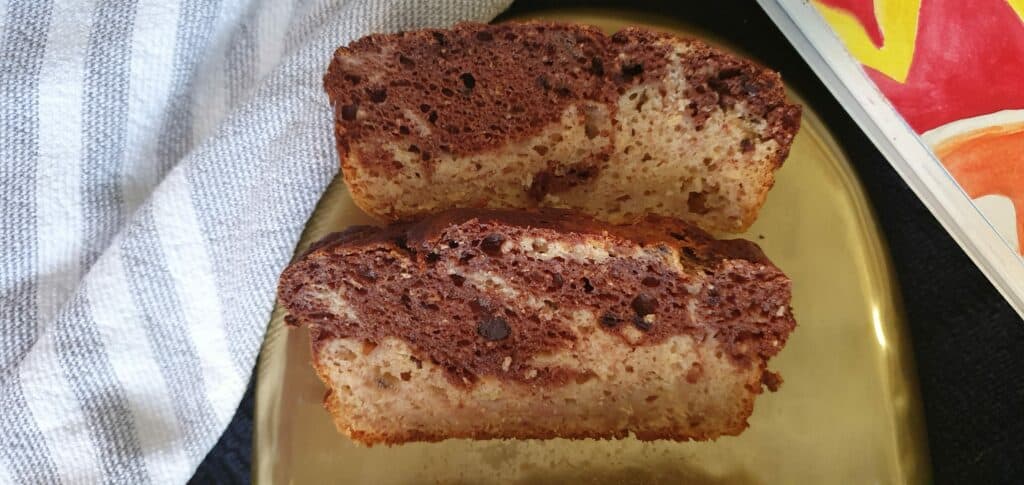 Tip- The trick to the marbling is of course to resist the temptation to keep swirling and not end up with chocolate bread. Check this recipe card for quantities and ingredients.
Marbled banana bread
Vegan marbled banana bread is one of the best weekend projects. Enjoy this nut free recipe.
Equipment
mixing bowls and spoons.

loaf tin
Ingredients
Wet ingredients
1.5

cup

Banana

mashed , over ripe the better.

1/4

cup

coconut oil

1/2

cup

unrefined sugar

1/3

cup

almond milk
Dry ingredient
1/2

cup

whole wheat flour

1/2

cup

oat flour

1/2

tsp

baking soda

1/2

tsp

baking powder
Instructions
Preheat the oven to 180 degrees for 10 minutes

Line the loaf tin and dust with a bit of flour.

Into the mixing bowl add the wet ingredients and whisk well together till smooth.

Sift in the dry ingredients.

Mix well but dont whisk it a lot.

Divide the mix into two halves.

To one half add the cocoa powder and mix well.

Pour half of the plain mix into the prepared loaf tin.

Form a line with the cocoa batter.

Alternate with the two batters till they are finished.

Now, using a skewer, gently doodle the tor batter together to crate the marbling effect.

Bake at 180 degrees for 15 minutes or till the skewer comes out clean.

Remove and place on the cooling rack for about 10 minutes.

Once cooled the loaf is ready to be enjoyed.
How to use frozen bananas in banana bread?
Never toss a speckled banana. Peel it, slice it and stick it into the refrigerator. It works perfectly in smoothies, nice cream or banana bread. As you thaw the frozen bananas, it tends to turn a grey colour. This is my trick to avoid it. A couple of drops of lemon juice on the frozen bananas before you defrost them keeps them paler. Once defrosted use them as usual in the vegan banana bread recipe.
Try these recipes as well with the leftover bananas.
Unni madhuram- Sweet banana dumpling recipes
Grilled strawberry banana sandwich.
Street food style Kela aur Kachalu Chaat 
Shahi kele ki raita, a delicious banana yogurt cream. 
Storing the marbled banana bread.
Since I do a lot more baking in the winter, I love to freeze a couple of loaves of banana bread. This is my fallback for the hiking weekends or just laze days. As of now, we have eaten through all our stock as we are staying at home all the time!! So, what gets baked gets eaten right away. But if you are doing a meal prep here is how to store it.
The marbled banana bread stays in the refrigerator for up to a week easily. When freezing, Slice the bread, wrap the bread in a couple of layers of baking paper, and then foil. This prevents it from drying out. To thaw, unwrap and zapp in the microwave. Take out only the number of slices that you need to thaw, wrap them back and put it back. Don't refreeze the slices you have thawed, it turns rubbery.
Hope you have fun making this recipe. Reach out to us when you try this version and let us know how it went. We will love to hear from you or tag us #mildlyindian.
Catch you later.