Now we have work from home!!!
I was thrilled with the idea that I do not have to worry about one travel agenda and one set of lunch box this week as work from home was announced. Just a couple of days into it, I have come to the conclusion that this is another trap. My snack reserves are vanishing rapidly.
Why?
When at home it is easier to reach that snack stack. So,  I am on the mission to make stuff that lasts longer than you can out-eat them.
Reaching out for that protein mix.
Proteins naturally have a satiating effect. This is very useful when you are a diabetic do you are not looking to load up on the carbs. This is the very effect I am pitching on today to keep that hand out of the cookie jar. This Sattu paratha recipe is perfect for lunch or breakfast as keeps you filled for much longer.
Sattu
Sattu is the powder made from roasted bengal gram. essentially porikadalai or pottukadalai powdered. The Bengal gram is dry roasted on a bed of sand. This makes them easy to pound. This powder is called stattu. Sattu is known to have easily assimilate protein with low glycerin index.
Here is another recipe, a sweet jar snack using sattu if you want to try some after making the sattu paratha
Sattu ladoo
Continuing on a lighter vein
I have a justifiable reason for the panic buying (in good humour) they are dreading how much we will eat if stuck at home
.  I can see the signs in my household evidently now..
Do come back to read the blog often as I may help you plan some more sneaky meals, like this sattu paratha to just survive this time of uncertainty.
Overall shop wisely and think of that person who cannot get to the stores and reach out for them too. Stay safe… Stay safe.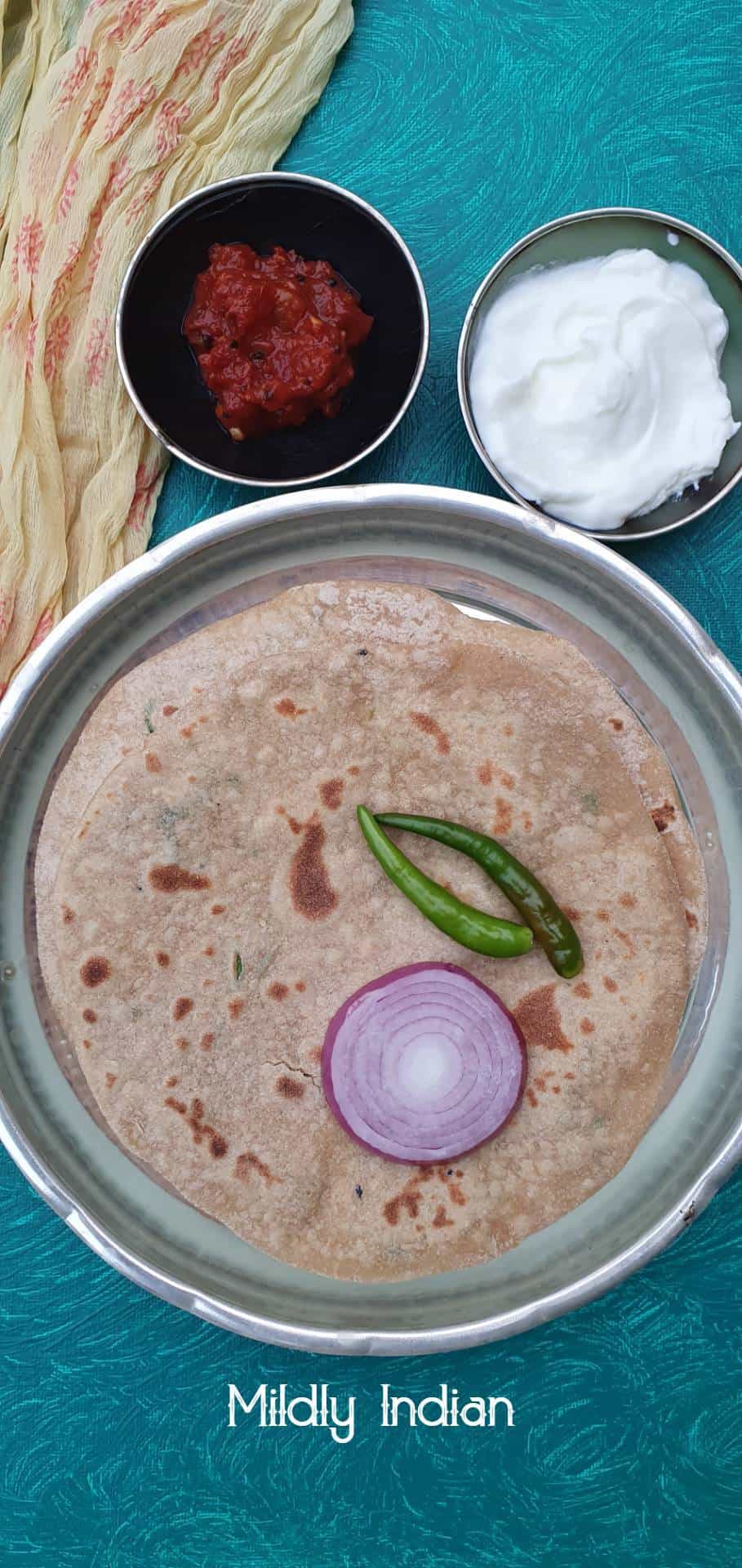 Sattu paratha
gramflour stuffed bread
Ingredients
for the dough
3

cups

whole wheat flour

( stone ground gives the best result)

1

pinch

Sea salt

1.5

cups

warm water

( use as required)
for the stuffing
1

cup

sattu flour

1

inch

fresh ginger root

( grated)

1-2

small

Green chillies

( use serrano or jalapenoes based on the heat you like0

1

medium

red onion

( grated)

2

tbsp

coriander leaves

( chopped)

1

tsp

roasted cumin powder

salt to taste
to serve
1

small bowl

fresh yogurt

1

tbsp

mango pickle
Instructions
for the dough
Add the whole wheat flour into a mixing bowl and sprinkle the salt.

Add a 1/4 cup of water at a time and mix the dough. The dough absorbs water to swell the gluten differently from each whole wheat brand.

knead the dough well and make it into a ball. Cover it with a damp kitchen cloth and set it aside for 20 minutes
for the filling
Peel clean and grate that onion, chopped green chillies,chop the coriander leaves and add all into a small mixing bowl

Add the sattu, roasted cumin powder and salt and mix it well.

the juice from the onion will bring the mix together, set it aside for 5-7 minutes
to make the paratha
Make small lemon sized balls of the dough.

Make smaller balls of the filling, set them aside.

Flatten the dough and then use the dough to cover the ball of filling.

Flatten and roll using a dusting of whole wheat flour to abut 1/2 cm or lesser thickness.

Heat the flat pan and place the paratha rolled out on the warm pan.

Gently cook the flatbread on both sides by flipping the bread when necessary.

When slightly brown specks appear on both sides the bread is nearly cooked, smear a bit if ghee and cook both sides again.

Remove from heat and serve with pickle and fresh yoghurt.