If the tourist brochures tell you that Rajasthan is the land of colours and palaces, do not have any second thought. They will live up to your dream. The golden three zones of Rajasthan are perhaps the best preserved of the grandeur of the long-lasting empires. One of the best seasons to do so is during the months from August to Nov. This is also the most pleasant climate and the best of festivities. So plan your travels.
Festival of Teej
Every region in India has festivals to remind the strength and importance of marriage in society. The bond which is beyond just a man and a woman and about two families is celebrated in each festival. The most colourful Rajasthan seeped in rich Rajput tradition has a very pleasing Teej to celebrate this too.
Marking the heavenly reunion of Lord Siva with goddess Parvathi, this festival begins the colourful festival seasons of India. Richly adorned in colours of marriage, the yellow, reds and pinks,  the women prepare themselves well ahead. the deep dark yet intricate tattooing of the henna followed by the glass bangles to adorn mesmerises the husband. Added to the bride like dressing, dancing and singing is all a way of reigning in happiness. Keeping a fast is the way a wife expresses her wish for his long and healthy life. The husband, on the other hand, gets gifts for her.
Following prayers and blessings the husband feeds the wife a small portion of the sweet sattu with a coin to help her break her fast. Isn't that sweet
So hold up a ladoo to all the marriage sacrifices you both have done and enjoy.
The designer Sattu
The designer sattu of the decoration of the sattu ladoo on a platter instead of the usual roundlets is entirely up to you. This is again very elaborately done by the mithaiwalas for weddings and celebrations. Don't miss to get a pic as you travel. Done in edible colours, nits and dry fruits they really will look like work of art.
We had fun attempting the same as a small platter with some pumpkin seeds. You can just make it as a ladoo as well.
Here is a link of  a similar style of ladoo being made with whole wheat flour
The roasted gram flour sattu is what I have used today along with ghee and jaggery ( unrefined Raw sugar). You can add a healthy amount of cashews to the same recipe too.
 Here are some more ladoo varieties for you to try.
 Don't miss to tag us as you travel or do a great ladoo recipe. Check out our Instagram updates and keep following.
This recipe research was a part of the Shh cooking Challenge group of blogger initiative towards Rajasthan. Initiated by Priya, this group focuses on creating a bit of excitement by exchanging a couple of ingredients and working with them for a predetermined theme. This time I had the ease of working with
Renu
, who provided Sattu (roasted gram flour) and a sweetener as my key ingredients. I have worked with Renu earlier as well and it is an absolute pleasure to see her blog grow day by day. Take a look at the simple fare she creates with such dedication and the ultimate melt in the mouth bakes.
See you next week.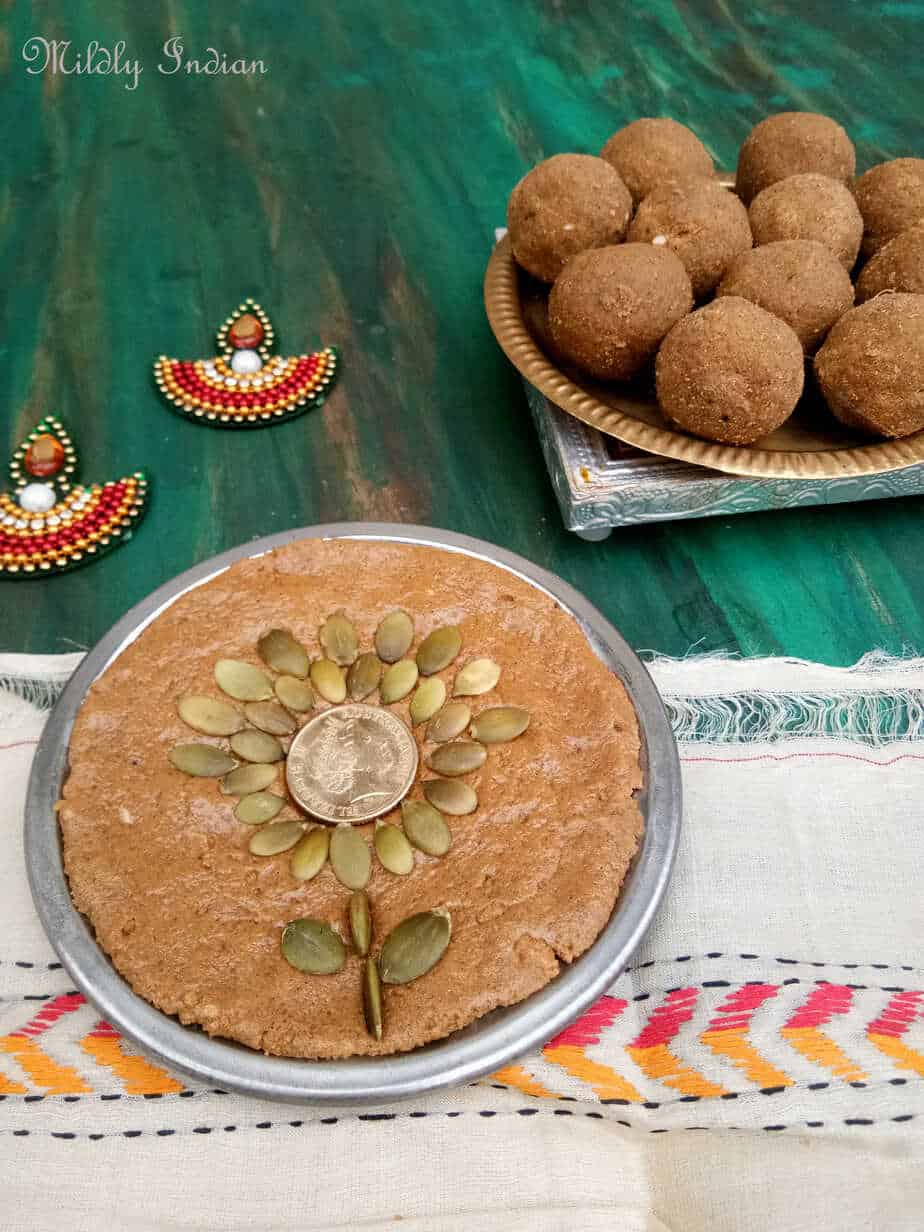 Gramflour sattu Ladoo & designer sattu
a Teej dessert from Rajasthan
Ingredients
1

cup

sattu flour

(roasted puffy chickpea flour)

3/4

cup

jaggery

(crushed and powdered)

1/2

cup

ghee / clarified butter

(use only as needed)

1-2

green cardamom

powdered with the jaggery
Instructions
For Sattu Ladoo
Gently roast the sattu flour on a low heat stirring continously for about 3-4 minutes. Set side to cool.

Crush and powder the jaggery with 1-2 cardamom pods and set aside.

Mix the sattu flour when cool with the crushed jaggery and mix well.

Melt the ghee in a small pan and set aside.

Add a little ghee to the dry mix and quickly roll that portion into a small ball. (watch the video link in Atta ladoo given above in the content)

Store the ladoo in an air-tight container.
for Teej designer Sattu
Add two to three tbsp of ghee to the dry mix and knead it into a smooth dough.

pat this dough down on a plate or make a dome shape.

decorate with nuts and seeds creating patterns.

Alternately, you can use natural colours to draw beautiful peacocks, swastik or sceneries on the dough. Imagination is your limit..and edible canvas it is.
Notes
Sattu is gram flour made with roasted and puffed chickpeas. These are a popular health food in India. Check your local store if they carry the ready powder.
Nutrition
Calories:
267
kcal
Carbohydrates:
28
g
Protein:
6
g
Fat:
14
g
Saturated Fat:
8
g
Polyunsaturated Fat:
1
g
Monounsaturated Fat:
0.4
g
Cholesterol:
25
mg
Sodium:
22
mg
Potassium:
474
mg
Fiber:
3
g
Sugar:
13
g