When Indian festivals come back to back on working days it gets a bit tough to manage the naivedyams and special foods. Luckily, most of the gods are appeased by a few simple and quick naivedyams. Often on the bust days I make, trimadhuram or panchamrutham as a quick one in the morning before I run to catch the bus. These runs have certainly made me think about simple prasada that can be very handy to all of us.
These prasad or bhog recipes are made mostly the everyday items you see in an Indian pantry. Today we have paal panchamritham or charanamrit
What is paal panchamritham ?
Panchamrit, charanamrit or paal panchamritham is the holy prasad made with milk, curd (yogurt), ghee, honey and holy basil. This comes from the Sanskrit words pancha as in five and amrut as in nectar. During the pooja, the pNchamrith mixture is poured over the idol followed by it being washed away with coconut water or clean water.
Panchamrit is considered as a nectar providing immortality and sanctified by the positive energy from the holy basil.
The Palani panchamritham is a preparation with banana. There is no milk or yogurt in this preparation. Here dates, misri and honey are the sweetness factors. This panchamritham keeps longer than the charanamrit.
Is it the same as panchagavyam?
Panchagavyam is a traditional offering respecting the cow. It consists of the five derivatives from a cow. Milk, urine, dung, ghee and yogurt mix is the offering. This is not the same as this panchamrit.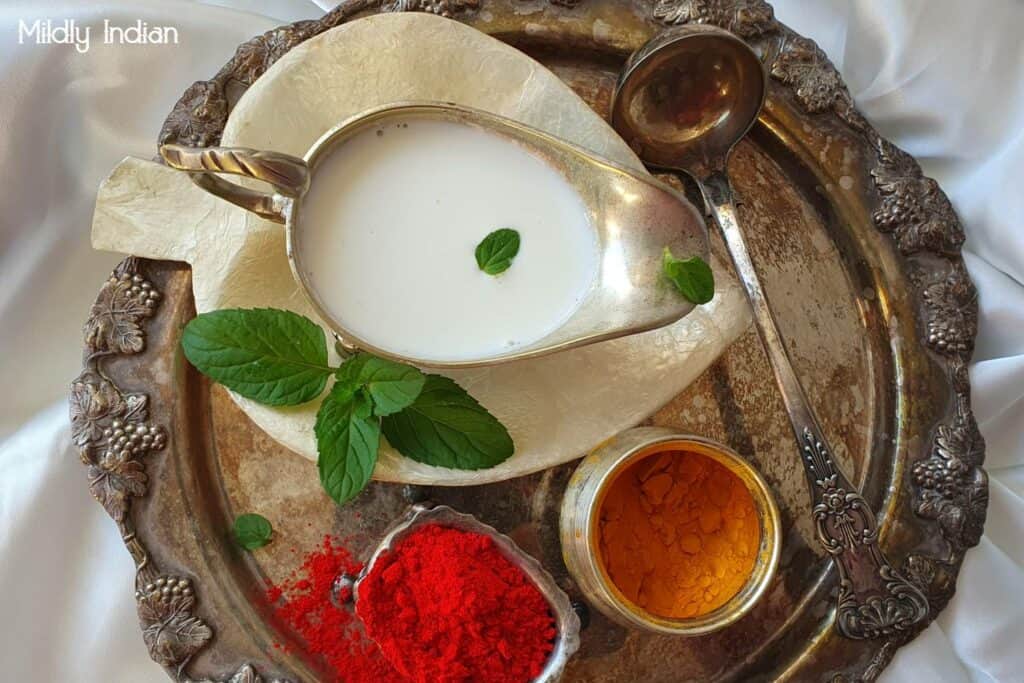 Ingredients for paal panchamritham
Panchamritham is a mix of five ingredients. This is a no-cook, nut-free recipe, but not vegan.
Milk: Full cream fresh cow's milk is used fo this recipe.
Yogurt: Traditional natural set yogurt or curds si what we are looking for to use in this recipe.
Honey: Honey is the sweetener used to make this recipe
Ghee: Not a lot but a touch of ghee is added to this ancient recipe.
Tulsi: Tulsi leaves are said to purify and provide positivity to most situations and hence are a part of this recipe
Let's make charanamrit
This is the easiest recipe to put together as a naivedyam. Into the mixing bowl add the milk and yogurt (curd) and give it a gentle whisk. To this add the honey and ghee and mix well. Finally add the tulsi leaves on top and offer as naivedyam.
Variations to this recipe
Often you will see some more ingredients added to this panchamrit. Chopped bananas are common, If using use the smaller lady finger bananas or sugar bananas so they don't turn slimy. Roasted makhana (popped lily seeds), and crushed nuts like almonds and cashews are added. You will also come across grated coconut, saffron, green cardamom or puffed paddy added to the charanamrit.
Do we add sugar to paal panchamritham?
I do not agree with the sugar in the panchamritham. The recipe for panchamritham is an ancient one when crystalline sugar did not exist. So historically, the sugar in this recipe is irrelevant. In my opinion, why would you ruin a perfectly balanced and sweetened (honey) elixir with a processed product, sugar?
What festivals are panchamrit made for?
Panchamrit is made certainly for a few Indian festivals.
Sathya narayana pooja: Along with the banana sheera and fruits, paal panchamritham is offered during the pooja and then distributed among the devotees.
Krishna jayanthi: The little Krishna idol is bathed in this mixture with great devotion. This sacred charanmrut is then offered to family and friends. 
Ganesha utsav: Just like any other god, lord Ganesha loves most dairy products, so is offered this mix. It is up to you if the idol is bathed in the same or not.
Shivrathri: The shivalinga idol bath with this mixture followed by water is often the procedure. Many who keep fast have this as a part of opening their fast.
Navrathri: In many regions, one of the easiest offerings to devi during this time is paal panchamritham. Make this along with variety rice, sundal and sweet pongal.
Why is only a spoonful served ?
When it comes to sacred offerings a little goes a long way. Perhaps the spoonful that we get from the pooja or temple evokes better devotion than a bowlful of the same. In fact this creates a better memory than ever before.
Paal panchamritham
Panchamrit, charanamrit or paal panchamritham is the holy prasad made with milk, curd (yogurt), ghee, honey and holy basil.
Ingredients
3/4

cup

milk

1

tbsp

fresh yogurt

1/2

tbsp

honey

1/2

tbsp

ghee

1-2

basil leaves

use holy basil
Instructions
Into the mixing bowl add the room temperature milk.

To this add teh yogurt and whisk gently.

Now add honey and ghee and mix well.

Add the tulsi leaves on top.

The paal panchamritham is ready for naivedyam.
Stay connected.
We do make panchamrit as a holy offering hence, never delve into the medicinal aspects or health benefits of it as it is only a spoonful in a small bowl. However, it is one of the quickest and easiest prasad you will be able to put together for the festivals.
When you make this paal panchamritham recipe, do share a rating and your comments with us. Follow us on our social media accounts as we try to explore a bit of culinary India please feel free to share this recipe with your friends and family.
Pin for later
Happy festival time