It took me a long while to warm up to a green smoothie. Somehow I couldn't get myself to gulp that down. Another one that I absolutely hate and to this day struggle with is protein powders and protein shakes. They just taste weird!! If you are one like me, read further.
 It was surprisingly easier with silken tofu in the smoothie. It kind of reminded me of the flavours of taho that my students introduced me to during the time I was in the Philippines. Here is one that I actually like to have on summer mornings, the blackberry tofu smoothie.
Why was this smoothie successful?
5-minute recipe in that morning rush!!
If a smoothie that just takes just five minutes sounds good, why would you not give it a try? Since the berries need minimal processing it is as simple are washing and eating the berries and blending them with the other ingredients makes the smoothie process very simple.
Flavour: it was often the flavour that is put off in the protein-rich smoothies. Luckily, silken tofu has no flavour. So, the taste entirely depends on the berries and the maple syrup you add. A huge win here as this changes the smoothie game completely.
Protein:  you don't have to worry about keeping full and feeling stronger with this smoothie. As it is soy-based it is vegan too.
How to prep the berries ahead for this smoothie?
The main thing that I prep ahead for smoothies is the berries. These are fairly easy to do at the weekend and keep them ready for the week. Once you get the berries, empty one type of berries into a large glass bowl. Fill it up to three-quarters with water. Add half a cup of vinegar to it. Stir the berries around. Now sprinkle about half a teaspoon of baking soda and let that fizz and sizzle. Once the bubbling slows down drain the berries and rinses them again. Place these on a clean kitchen towel and dab off the excess liquids. Store in an airtight container lined with paper to absorb the moisture. You can separate out the berries that are not so firm and make a quick crisp for the dessert cravings that peak up towards the end of the week or freeze them all.
What type of tofu is ideal for this smoothie?
The soft custard-like silken tofu is the one I have used to make this smoothie. Silken tofu is one prepared from just coagulation of the soy milk and without allowing it to curdle. The liquid when is therefore a part of the tofu. It is a delicate tofu and will not stand stirfrying or other similar cooking processes. However, it is one of the best to get a smooth custard-like consistency.
Do I need to press the tofu for the smoothie?
It is often the firm tofu that is pressed so that it absorbs the marinade better. The silken tofu does not have a structure to hold the pressing. Also, it is the liquid content of the silken tofu that makes it smooth, so let's not put this tofu in the press.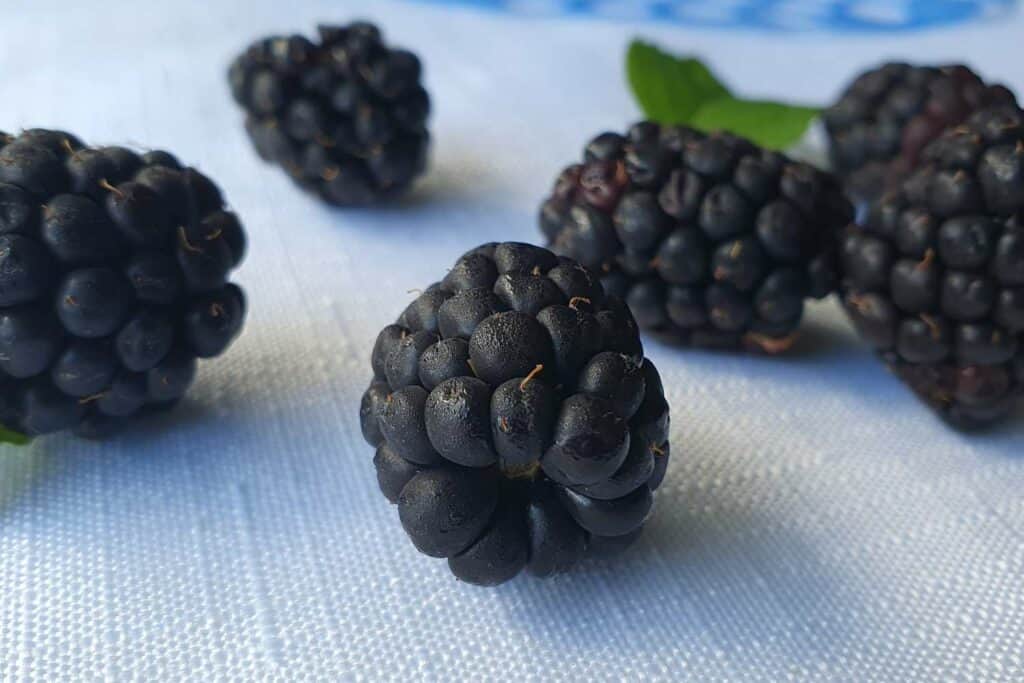 Ingredients for this silken tofu smoothie
It is just four ingredients you need to make this breakfast smoothie, once you have them ready it is as simple as blending them together.
Silken tofu
Soy milk
Blackberry
Maple syrup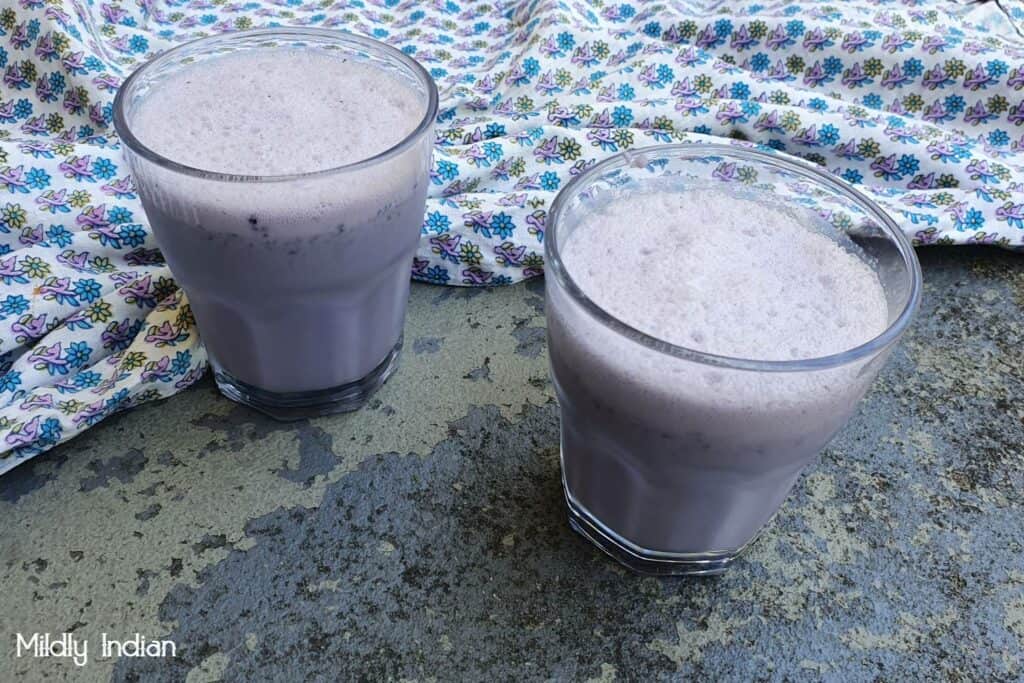 The recipe card below has the details of the recipe from where you can easily pin this recipe onto your pin boards. Hope you like your mornings sorted easier, let us know in the comments what you think of this recipe that we have posted with Shh cooking secretly blogger group. Sasmita, my partner had chosen soymilk and tofu as my key ingredients for this challenge where we had to create protein-rich breakfast recipes.
Blackberry tofu smoothie.
Five minute breakfast smoothie recipe that is protein rich and easy to manage with a busy schedule.
Ingredients
150

grams

silken tofu

1

cup

soy milk

1/2

cup

blackberry

2

tbsp

maple syrup

1/2

cup

ice cubes
Instructions
Into a blender add all the ingredients for the smoothie.

Blend the mix till smooth.

Pour the mix into glasses to serve.
Some easy tofu recipes
Tofu is an ingredient I learnt to use during my Malaysian journey. Fresh tofu at the markets was warm and lovely you cannot be without giving it a go still I couldn't get used to the idea of it in smoothies. Years later,  I am happy to have finally transitioned to that route. So here are some of my tried and tested.
Scrambled tofu
Japanese tofu salad
Tofu brownies
Lotus root and tofu soup
Chocolate tofu dip
Stay connected
Whether you are a beginner or a veteran in the field of tofu, it is a journey so give it a go. Just like any new ingredient it slowly grows on you. Pick and choose your type and slowly work through the recipes. Hope you will give this Blackberry tofu smoothie a try too. When you don't forget to rate the recipe using the 5 stars. We are not yet on TikTok but certainly working our way through Instagram reels. Feel free to follow or just drop by and say hello!
See you in the next post. Have a good day.