March is a month of birthdays in our family. This means there are lot more desserts dished out. Now among these birthday babes, there are two groups, cake lovers and married to the payasam types. Major bit if my collection of desserts actually happen during this month, so I thought to have some fun with it. This week you will come across a few varieties of kheers and payasams so it is different for each birthday.
The sweet potato kheer
One of these birthdays falls on Shivratri day. Typically this is a religious fasting day. So, that rules out the regular grains from the equation. Sweet potato is used widely during such religious fasting and makes a decadent kheer. Religious fasting is slightly different from regular fasting as they have limitations from the style of intermittent fasting that we are used to.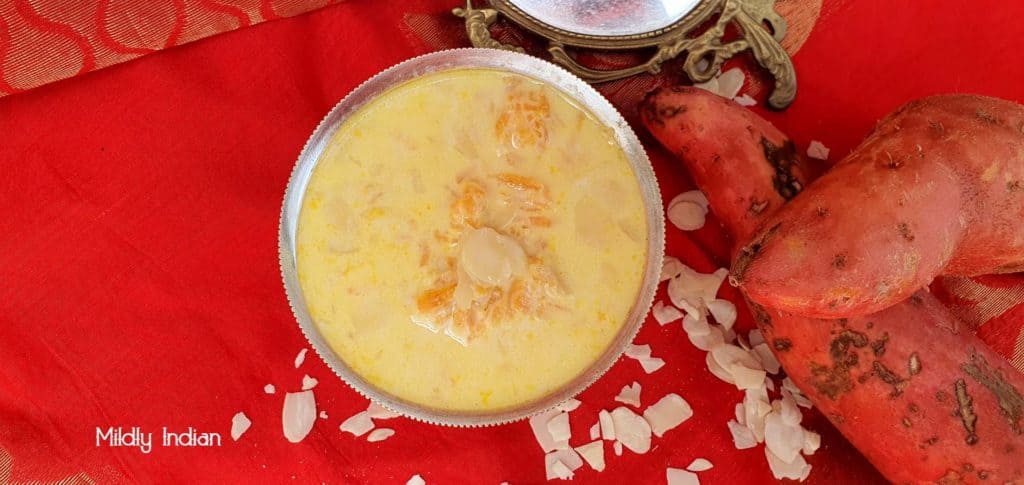 The ingredients of this kheer are suitable for the vrat days.
Sweetpotato:
This naturally sweet tuber appeals to me a lot. I have used the orange-fleshed one to add the starchy element to this dish. You can choose white or purple ones too.  The colour of your kheer varies accordingly. The sweet potato is grated so that it is quick to cook.
Milk:
Just as in any kheer, the major element us the milk. If using dairy, choose your variety. Full cream ones impart a thick and creamy feel whereas skim ones make a bit runnier kheer.
Sweetener:
Do here is what I did. I divided the kheer into two portions. On one portion added powdered jaggery after the kheer came to room temp. Don't add jaggery to hot kheer as it tends to split. To the other half, I added stevia, so we both could have.  If you are not used to stevia, add sugar-free.
Fragrance:
The main element that flavours this kheer is green cardamom. I enjoy cooking with this spice always as it fills the kitchen with exotic fragrance.
Nuts:
That is totally up to you. I have added flaked almonds to this sweet potato kheer. It is fine to go totally free of nuts in the recipe as well.
With that said,  Cake lovers, I hear you… will add up the collection soon. For now, enjoy some traditional dessert treats.
Stay safe and catch you at the next post.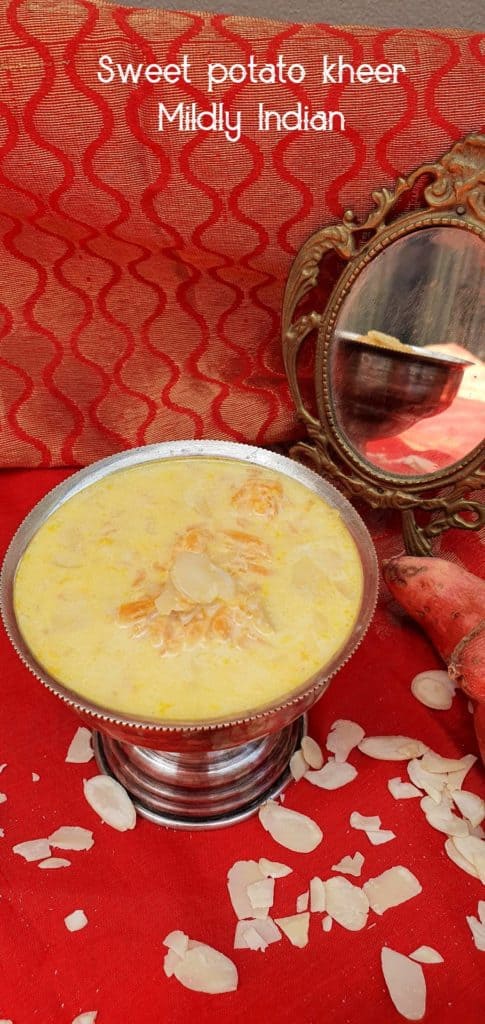 Shakarkandi ki kheer
Gluten free, vrat style kheer.
Ingredients
1

tbsp

ghee / clarified butter

2

tbsp

almond flakes

1

cup

sweet potato

grated

3.5

cups

full cream milk

1/4

tsp

green cardamom powder

2

tbsp

jaggery

grated
Instructions
Wash, and scrape away the skin of the sweet potato.

Grate the sweet potato and set aside.

In a sauce pan, add the ghee and roast the almond flakes.

Remove these and set aside.

Add the sweet potato into the same sauce pan and stir fry for a minute or two.

Add the milk and slow cook the sweet potatoes with intermittenet stirring.

Once the sweet potatoes are soft, Add the cardamom and remove from heat.

Add the cardamom powder, roasted almond flakes and stir.

Cool the porridge to warm and stir in the jaggery grated.

Mix well and cool the porridge.

Refrigerate the kheer till it is time to serve.