While trying to explore the diversity of cuisines across India, one root vegetable that gets so well used is the potato. May it be jeera aloo, urulakizhanagu stew, potato podimas or aloo dum biryani, you will find potato running its own show here. This pattern extends to all the Indian cuisine styles and the one that caught my attention recently was the Manipuri spicy alu kangmet.
What is alu kangmet?
Though the name sounds so complicated this is one of the simplest of the Manipuri cuisine. Basically it a spicy mashed potato recipe. The ingredients that flavour are mustard oil, chillies, garlic scapes and ngari (fermented fish).
Ingredients and substitutions
Potatoes: The potatoes are the main ingredient for this recipe. Any variety of potato that cooks soft and mashes well like the Yukon gold or white potato is perfect for this recipe. You can use the same variety that we have used to make jeera aloo.
Garlic greens: The traditional recipe for alu kangmet uses green onions rather than regular onions. I had a small batch of green onions and that is what I have used for this recipe. If you don't have any red Spanish onion or sweet pink onion. 
Red chillies: Ooo this is a spicy recipe that packs in a punch. The dry red chillies roasted in oil are the ones that are mashed in with the potatoes. Use the spicier serrano dried or the milder bydigai (Kashmiri chilli)
Mustard oil: The mustard oil is absolutely needed to bring that classic Manipuri flavour to this dish. You will find these in the Indian grocery stores. Most of them say external application only, but read through and you will notice that it will be used for cooking in certain cuisines. The restriction is because of the high euric acids. There are tolerable limits established in certain countries that are deemed safe. The quantity used for this recipe is really small and under regulatory limits. 
Salt: Can't make this spicy mash without salt! Regular sea salt or Himalayan pink salt will make just the same.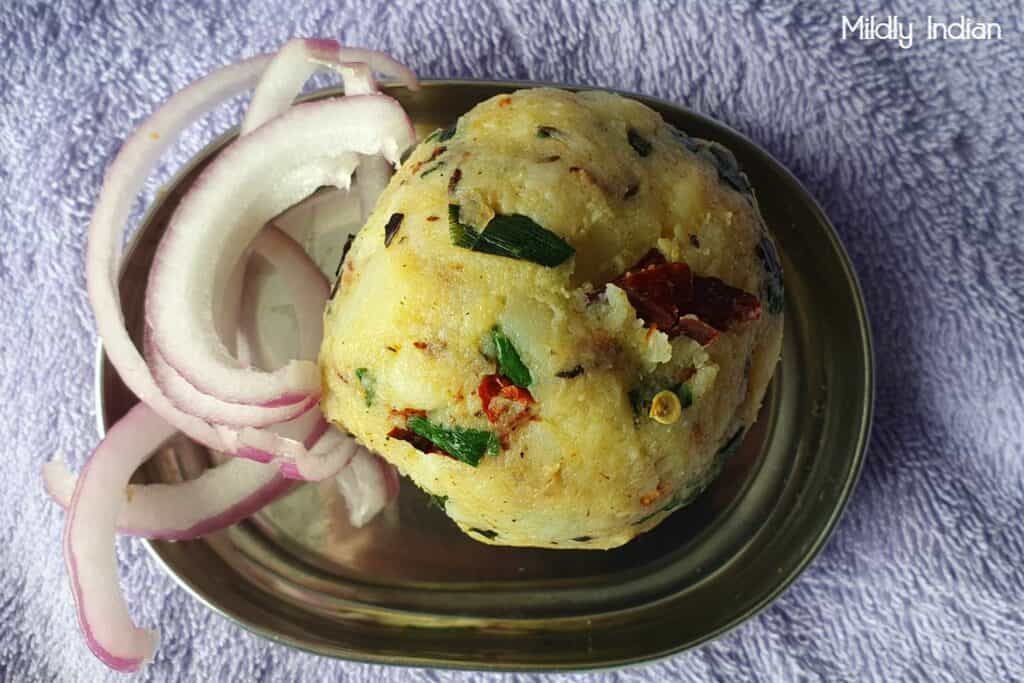 Dietary profile for alu kangmet
Traditional alu kangmet has fermented fish paste added to it so it will not really be a vegan vegetarian recipe. However, the recipe we have made today is most of the amours without the fish paste making it vegan.
The recipe uses a bit of oil, but not enough to deep fry so I would say they are still low-oil recipes. However, don't skip using mustard oil for the best flavour.
The aloo kangmet is certainly grain-free, nut-free and nightshade-free.
Let's make alu kangmet
There are only a few steps that lead you to this spicy lip-smacking potato mash.
Prepping the potatoes: Boil and cool the potatoes. Peel them, gently mash them with a fork and set them aside. 
Making the spicy mix: Wash and clean the green garlic leaves. Remove all the dry leaves and chop them half half-inch pieces. Into a pan add oil and as it warms up add the mustard oil. Saute the green garlic
(garlic scapes) and then the dry red chillies till they are crisp. 
Bringing it all together: Add all this to the potato and mash the spices into the potatoes with salt. roll them up into small balls to serve with rice.  In the recipe card below are the details of this recipe and you can pin from here too to your board.
Serving aloo kangmet
Aloo kangmet is often served with tan (bread) at breakfast time. However, the small ball of aloo kangmet is so soothing to have with rice. If on a soft diet have this with porridge or congee.
Meal prep alu kangmet
Aloo kangmet stays so good for 2 to 3 days in the refrigerator to have for the week. However, since potatoes leach water and lose that soft texture you don't want it frozen.
Alu kangmet
Ingredients
3

medium

potatoes

boiled and peeled

5

tsp

mustard oil

2-3

heads

garlic scapes

cleaned and chopped

5

dry red chillies

stalk removed

salt to taste
Instructions
Boil and peel the potatoes.

Mash them a bit by a fork and set aside.

Into the frying pan add the mustard oil.

On medium heat roast the cleaned and chopped garlic scapes.

Add the red chillies and roast them on low heat till crisp.

Add the spicy mix to the potatoes.

Sprinkle salt and mash further, till they come together as a ball.

Taste test and adjust salt if needed.

The alu kangmet is ready to be served.
Other recipes from North eastern India
Rosep aon – this is a delicious oily vegetable mix that is eaten with rice.
Kechuri- a creamy combination of rice and lentils that is a comfort food.
Chia al meh– light and easy mixed vegetable stew.
Pu klein – rice flour cookie from Meghalaya
Stay connected
Hope you enjoy this comforting recipe that helps you explore the Manipuri vegetarian cuisine. When you make this simple recipe send us