Mums are very resourceful! My mum's kitchen hides some of the best pickles and a collection of ingredients that you will hardly get in the wide global market. The last time I visited her, she had saved a few treasures for me, knowing that we both have similar interests in exploring food, yet diverse in our taste preferences.  Among these treasures were Navara rice, banana flower, arisikaruvadam (rice papads), bamboo rice, puffed paddy and palm jaggery. Some of these treasures quickly show up on the blog, most of them eaten and a few like this bamboo rice come after much deliberation. One of the recipes amma asked me to try out was Mula ari payasam (bamboo rice kheer). 
What is bamboo rice?
If you run an internet search for bamboo rice, you will see images of green rice and some brown ones. Now the real bamboo rice is the brown ones. It is the seed that the bamboo plant gives out when it gas fully matured and reaches the end of life. This is not really a cultivated product, hence the availability is a bit limited. However, you will find this in speciality stores or health stores.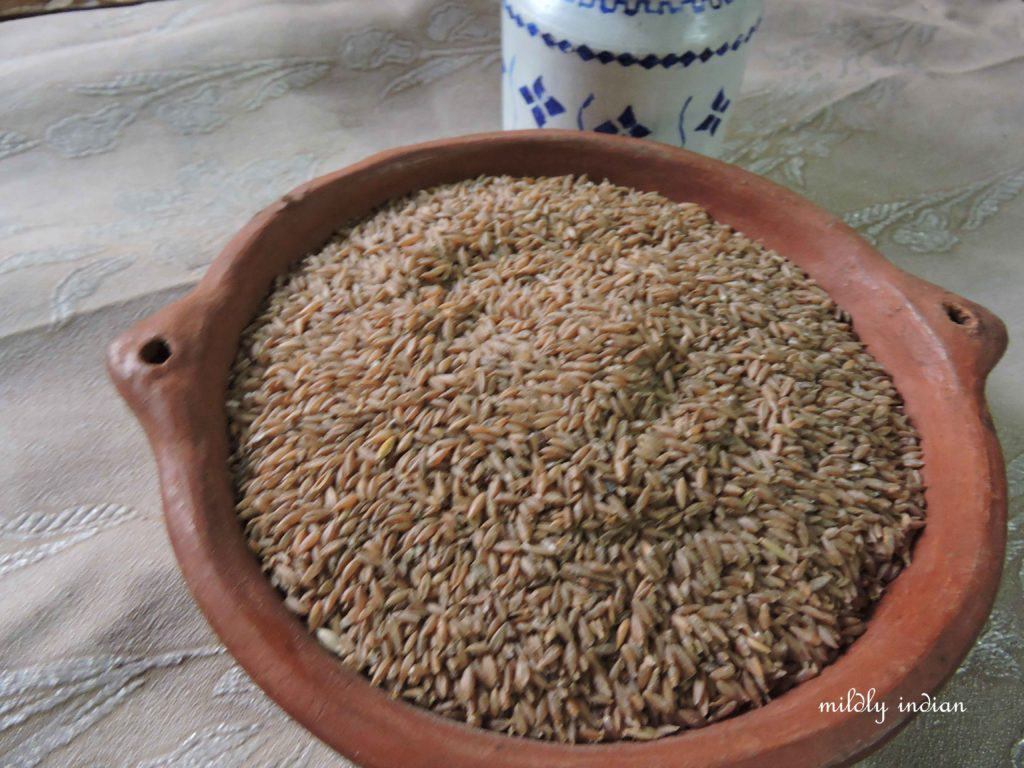 How bamboo rice is collected?
The bamboo rice (mungil arisi , mulayari)  us more of a collected or foraged product than a cultivated variety. Towards the end of life the bamboo flowers.  As the maturity of the seeds happen the whole bamboo plant dies. The shoot that carries the flowers are collected( thorny) and threshed to get the seed pods. This is polished to extract the seeds. The laborious and time-consuming process makes bamboo rice exotic and lesser explored.
What does bamboo rice taste like?
The unique bamboo seeds look like brown rice grains. Following cooking, they taste like wheat. They have a texture similar to Asian sticky rice, with strong chewy bran.
What can you make with bamboo rice?
Cooked bamboo rice formed some well know delicacies in the Indian and Asian subcontinent. Steamed in the bamboo or reeds, with some or just salt is a popular snack in Asian countries. In Kerala,  the bamboo rice is cooked with jaggery to form a sticky halwa like preparation. Bamboo rice (mungil arisi) can be used in place of rice to make dosa or paal kanji.
Add it with the vegetables to make a soft-cooked kichuri preparation or try out our version of this sweet mulayari payasam.
How to cook bamboo rice?
Bamboo rice the main grain base to this payasam recipe is bamboo rice. Wash and soak the mungil arisi (bamboo rice) overnight to soften. Drain the rice and cook with 2 times water under high pressure for softly cooked rice.
Ingredients for this bamboo rice kheer /payasam
Since it was a small quantity that we had, payasam seemed the best way to go forward. It was more special as issues were coming along and nothing mattered more than payasam. This mulayari payasam is cooked in the simplest way.
Milk- so to make the tastiest of payasams, swap half the amount of water to cook the grain with milk. This infuses the flavour both ways and the payasam is a bit thicker than watery.  Then add more milk as needed to make this into a pouring consistency.
Jaggery or sugar- traditional payasams are made with jaggery (unrefined evaporated sugarcane juice). However, the jaggery tends to split the milk if added while boiling. So add ut towards the end.
Cardamom pods -the fragrance of most payasams come from the crushed cardamom seeds, yumm.
What else can you add?
You can add in a handful of mung beans when cooking the rice to add depth to the payasam. As a garnish, mum adds roasted coconut slices to Kerala style payasams. The aroma is unique and unforgettable.
Here are the details of this recipe so you can make it when you get a handful of bamboo rice.
Bamboo rice Payasam.
Bamboo rice, mungil arisi or mula ari is the seed of the bamboo plant. This bamboo rice kheer is the tastiest dish made with this handful of bamboo rice.
Ingredients
soaking the bamboo rice
1/2

cup

bamboo rice

2

cups

drinking water
For cooking the payasam
2

cups

full cream milk

1/2

cup

condensed sweetened milk

1/4

tsp

green cardamom powder
Instructions
Wash and soak bamboo rice in water for 6 hours or overnight

Drain the water and pressure cook the bamboo rice with 1/2 cup milk and 1/2 cup water.

Open the lid when the pressure releases open and check the rice,it will be tender to touch. Add one more cup of milk and cook on a medium flame. Keep stirring.

When it becomes really soft add the cardamom powder. Mix well

Add half the cup of condensed milk and check the sweetness.

Continue to stir in more to reach the desired sweetness. Now bring it only up to a simmer and remove from heat.
Nutrition
Calories:
282
kcal
Carbohydrates:
45
g
Protein:
9
g
Fat:
8
g
Saturated Fat:
4
g
Polyunsaturated Fat:
1
g
Monounsaturated Fat:
2
g
Cholesterol:
28
mg
Sodium:
96
mg
Potassium:
390
mg
Fiber:
1
g
Sugar:
27
g
Vitamin A:
300
IU
Vitamin C:
1
mg
Calcium:
267
mg
Iron:
1
mg
Stay connected
As usual share your thoughts and experiences with this amaranth cutlets recipe in the comments below. If you happen to make this flower tea infusion, don't forget to rate it.
Sign up for the free updates on new posts that come directly to your inbox. Don't forget, you can always stay in touch with us with our Facebook, Instagram, Twitter or YouTube accounts.
Stay safe and see you at the next post.