This time  when I met my mom,  she gifted me a handful of something  special… Bamboo rice.
This is my first time seeing it in real and had always heard about it.  I was ecstatic as I know this is a rare find.
What is Bamboo Rice?
Bamboo rice,  mulayari,  mungil  arisi, is the seed of the bamboo tree.  The bamboo forests grow from the single bamboo base and spread around.The older parts of the bamboo flower in approximately  40  to 60 years or more.  Following seed production the bamboo will perish to give space to the newly developed seeds.  These seeds are the nutritious bamboo rice.
The harvesting if these seeds are also a tedious process.  The thorns and the unpredictable  flowering pattern makes extraction and cleaning tough.  But, it is one of the absolute reserves of food when the forest experiences low production season.
Falling under the old world grains,  these  bamboo rice, are not the market ready green ones. The popular market one is rice which has been infused with bamboo extract. The bamboo seed is brown and if you need hunt around found in herbal health stores.
The grain when cooked has a wheat like texture and is highly valued in ayurveda  for  easing out joint pains. It is a valuable part of the herbal/tribal medicine for fertility.  It is high in calories and vitamin B.
What to Prepare?
When you get a hand full of the lovely produce, there is nothing better to do than do true justice to it . Then of course, it had to be a happy dessert.
Prepared today is a bowl full of bamboo rice payasam. It  is a real strong grain so take a while to cook. But the wait is totally worth it.  Soft and a bit chewy the grain swells and really fills you up.
Do not miss to grab a handful when you find the grain and soft cook to make a nutritious meal with a low glycemic index.  So save up the recipe and grab a handful when you get it. You could alternately try to substitute it for rice in any style of indian preparation.
Try it out… And ping back with your experience.
Replace the bamboo rice with black rice or red raw rice for a payasam experience.
Subscribe to share our new experiences and food stories @mildlyindian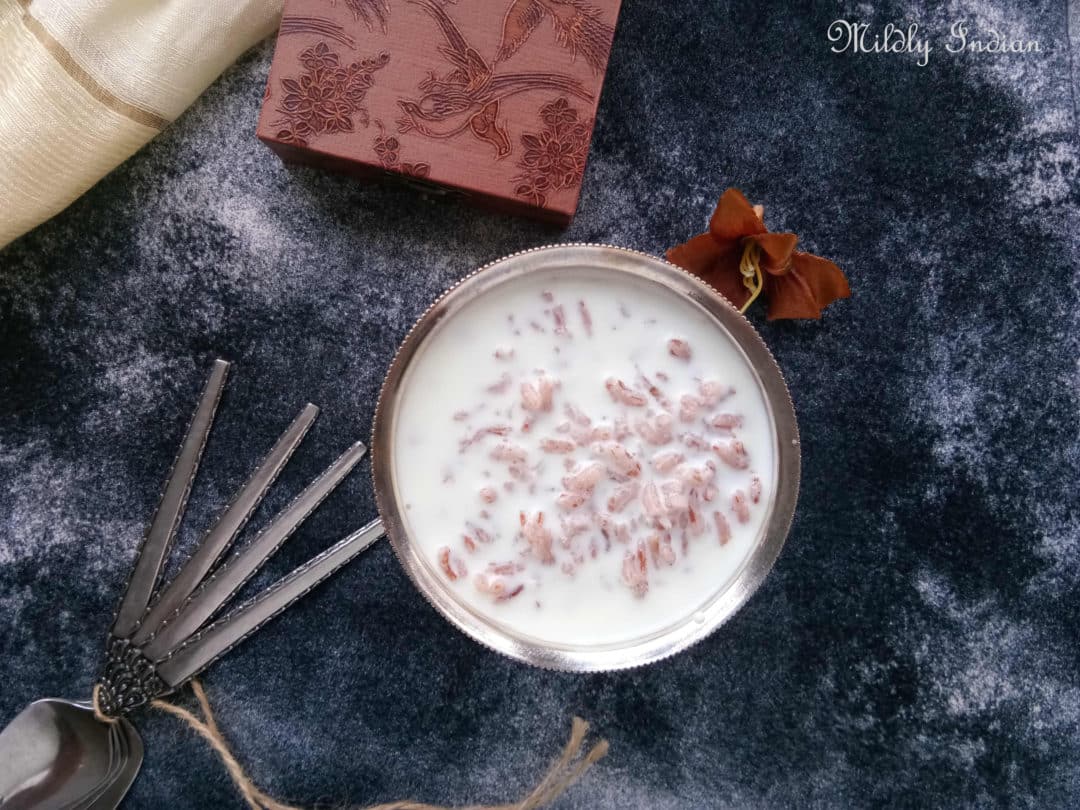 Bamboo rice Payasam.
exotic rice dessert kheer
Ingredients
1

cup

bamboo rice

4

cups

full cream milk / plant based milks

1

cup

condensed sweetened milk

1/4

tsp

green cardamom powder
Tempering
1

tbsp

ghee / clarified butter

8-10

cashew nuts

8-10

raisins
Instructions
Wash and soak bamboo rice in water for 3-4 hours.

Drain the water and pressure cook the bamboo rice in 3 cups of milk for 3 whistles.

Meanwhile,heat a small pan , add ghee and roast the cashew nuts till golden and then add raisins.  When the raisins go plump remove and set aside.

Open the lid when the pressure releases open and check the rice,it will be tender to touch. Add one more cup of milk and cook on a medium flame. Keep stirring.

When it becomes really soft add the cardamom powder. Mix well

Add half the cup of condensed milk and check the sweetness.. continue to stir in more to reach the desired sweetness. Now bring it only up to a simmer and remove from heat.

Add in the roasted cashews and raisins and mix well.  Serve hot.
Notes
Its best not to boil after a sweetener is added as the milk tends to curdle.
You can replace condensed milk with jaggery syrup.
Nutrition
Serving:
150
g
Calories:
560
kcal
Carbohydrates:
81
g
Protein:
17
g
Fat:
19
g
Saturated Fat:
11
g
Polyunsaturated Fat:
1
g
Monounsaturated Fat:
4
g
Cholesterol:
52
mg
Sodium:
641
mg
Potassium:
655
mg
Fiber:
3
g
Sugar:
48
g