It was a clever inspiration from Mayuri on the Foodie Monday blog hop that triggered this weeks opening post. The bloggers this week will get together to create dishes from countries that start with the same alphabet as their name. Now, any that clever. Luckily I have so many countries to choose from and so many of them with exciting cuisine. I was sincerely torn between Swiss chocolates, Siberian kale and Spanish tapas. Finally I succumbed to the flavour of Mojo Verde I made as a trial and there by followed the farmers market find further to line up a tapas-style patty squash
Tapas is literally a bar mans idea of bite-sized treats which have transformed into the epitome of cuisine exploration when it comes to Spanish cuisine.  What began as a piece of bread to cover the drink glasses is now one which has cold and warm dishes created to finger food style perfection. Put together they are a whole meal made with a little plateful of appetizers.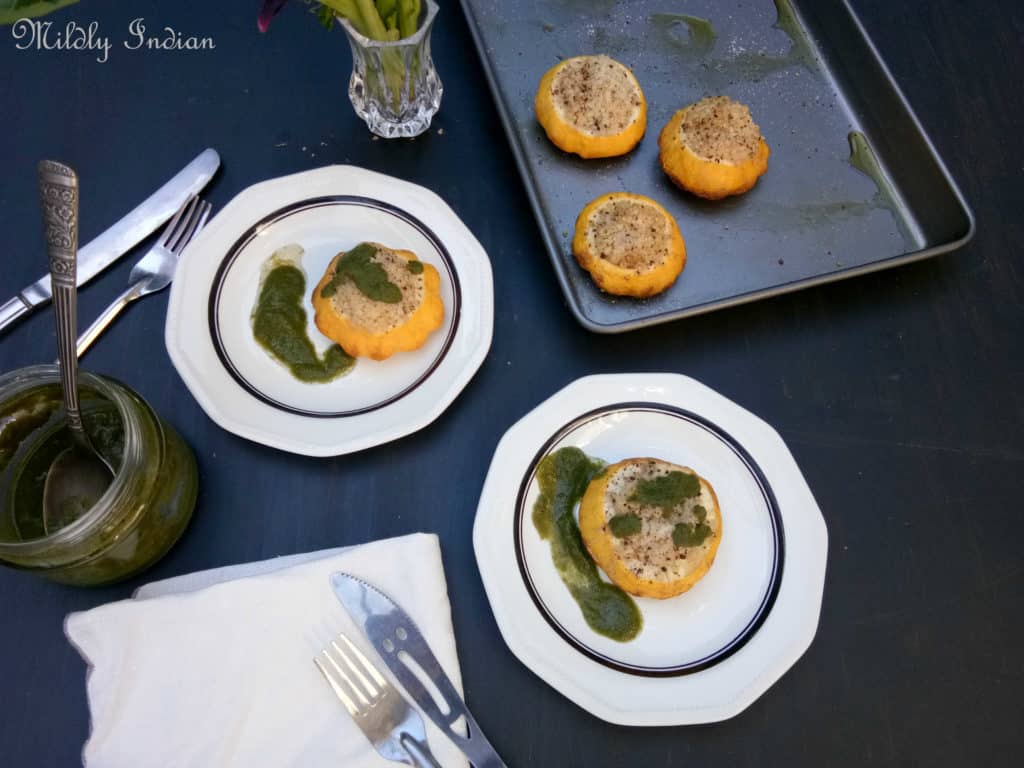 To do a tapas evening here are our suggestions
Turn on some lively music and add in colourful decor. Put down a large grazing table down your buffet stand and add some cool small plate dishes and creamy dips
Marinated Olives
Goat cheese
Capers
Pimento
Mojo Verde to dip (check recipe below)
Crusty slices of bread
Roasted peppers with garlic and olive oil
Grilled eggplant 
 And don't miss to try this Stuffed patty squash
Good zingy wine
Cool cocktails or mocktails
You cant do without some churros and decadent chocolate dip
So with these, you are good for a season with friends and family.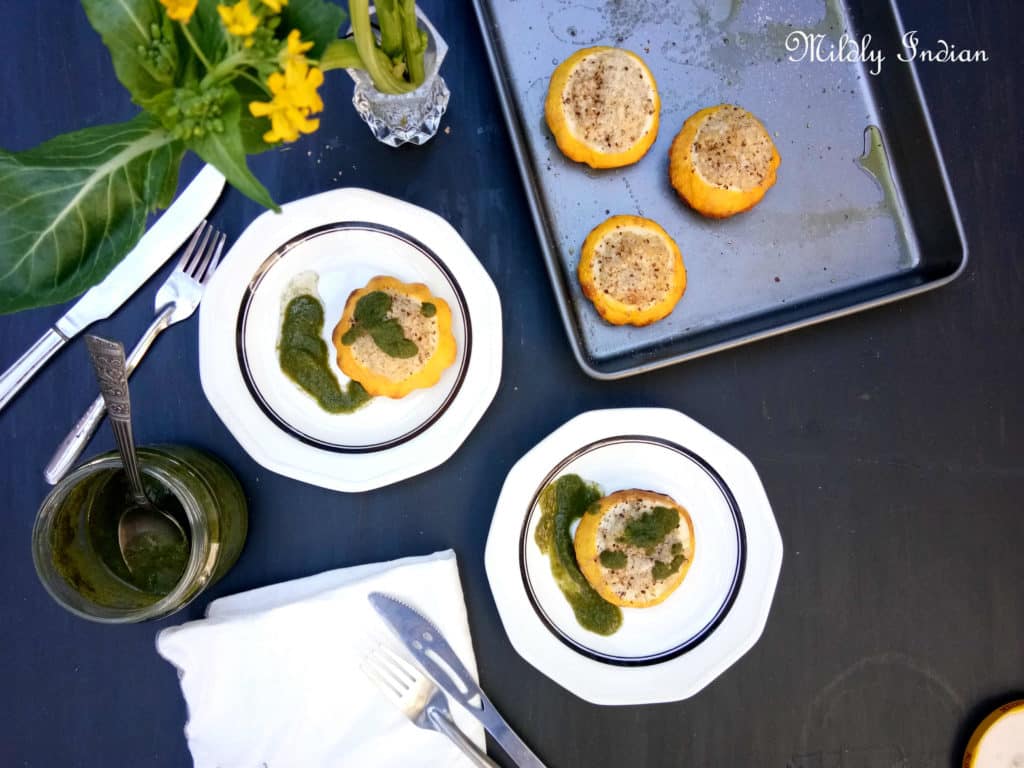 Back to this recipe
The patty squash is one of the prettiest vegetables and it really feels like a UFO and is perfect for creative minds.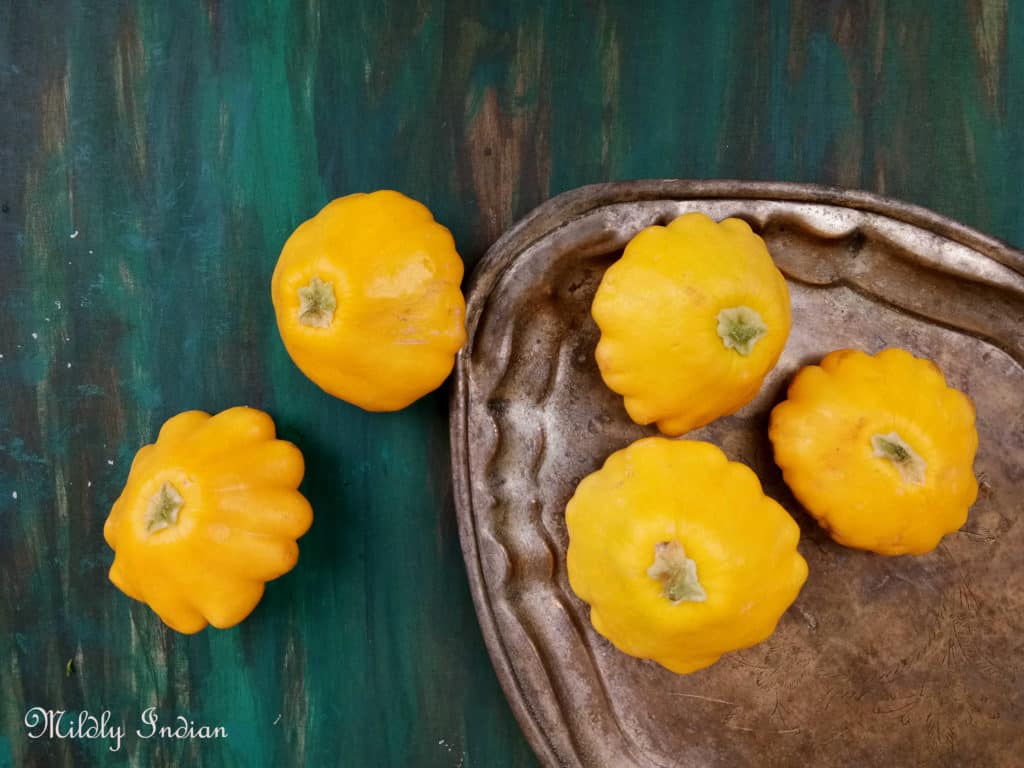 The Mojo Verde (green sauce) had taken over our senses already. So the stuffing was uncomplicated, the gourds themselves, wholesome chickpeas and millets with flavourful herbs and olive oil. Baked with a bit of cheese on top these mini UFOpatty squash looked irresistible. Don't miss to create these. 
If you can't find any of these, try them with zucchini or marrow, it should be equally relishing.
Catch you soon again this week with a couple more recipes.
This recipe is a part of the #172 International feast. Hope you enjoy them.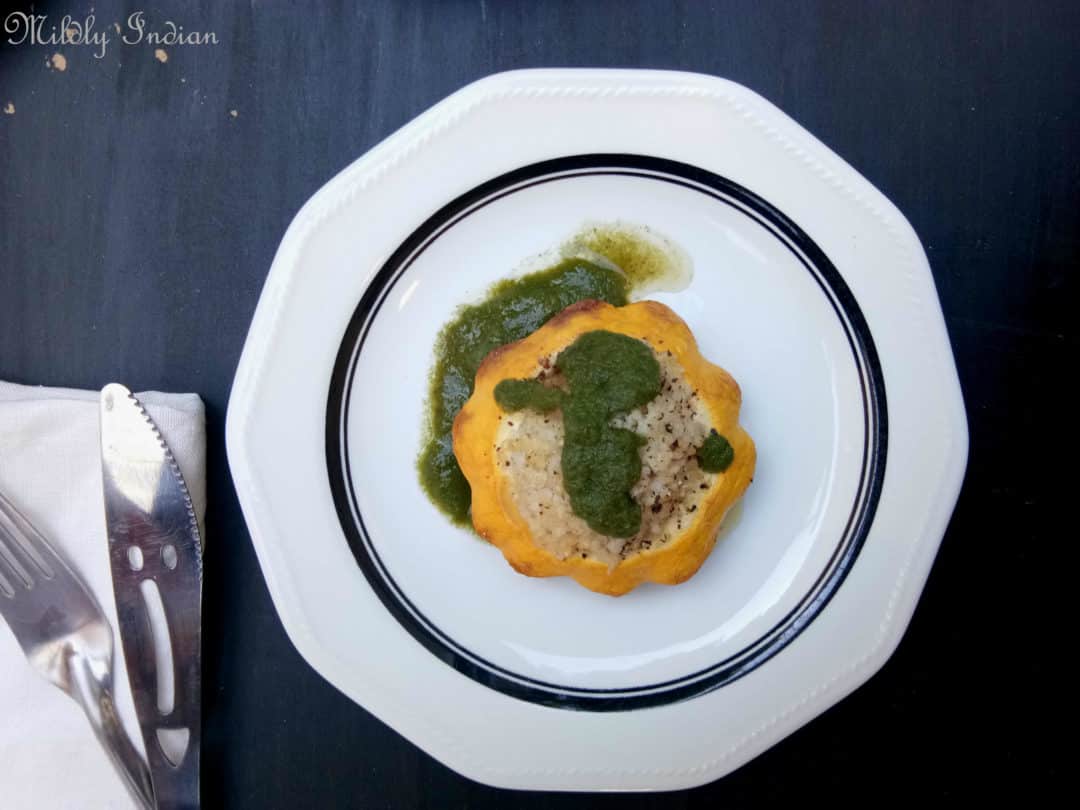 Stuffed patty squash with Mojo verde
warm tapas spread
Ingredients
for Mojo Verde sauce
1

cups

coriander leaves

(cilantro)

1

cup

parsley

5

cloves

garlic

2

tsp

sunflower seeds

1/2

tsp

cumin seeds

salt to taste

1/2

cup

olive oil

1

tbsp

lime juice

or white wine vinegar
for stuffing patty squash
4-6

medium sized

patty squash

(summer squash)

1/2

cup

Foxtail millet

cooked

1/2

cup

chickpea

cooked and drained

1

clove

garlic

grated

1

tsp

paprika

1/2

tsp

cayanne pepper

salt to taste

1

tsp

parsley

finely chopped

2

tbsp

cheese

machengo, grated
Instructions
Mojo verde making
Add all the ingredients into the food processor and blend till smooth. Save the sauce refrigerated.
for the patty squash
Preheat the oven at 180

Wash clean and pat dry the patty squash

Core the central area and scoop out the contents to form like a little bowl.

Stuff the scooped centre with a few chickpeas it can hold.

In a mixing bowl add the cooked millets, parsley, cayenne, paprika, grated garlic and salt. Mix them well till combined.

Stuff the squash with this mixture and press the mixture down firmly to hold like a little lid.

Place the prepared squash on a baking tray and drizzle the olive oil over each one

Bake at 180 for 15 minutes

Add the cheese on top of each patty and bake again for 5 more minutes until the cheese just melts.

Serve warm with Mojo verde.
Notes
Add the grains based on what you like. you can use cooked rice or buckwheat instead of the millets.
Nutrition
Calories:
522
kcal
Carbohydrates:
38
g
Protein:
12
g
Fat:
39
g
Saturated Fat:
6
g
Polyunsaturated Fat:
5
g
Monounsaturated Fat:
26
g
Cholesterol:
6
mg
Sodium:
504
mg
Potassium:
1274
mg
Fiber:
10
g
Sugar:
6
g