Try this Kerala-style stirfry with yardlong beans that will complement all your vegan home-style meals or sadhya menus. The achinga payar thoran is an easy-to-master recipe flavoured with fresh coconut, mustard seeds and curry leaves. 
I can say for sure that when it comes to your long-term couple goals, place companionship first before any other thoughts that come to your mind. Certainly, after a while, you just want to enjoy the company and have silly squabbles over nothing to keep your day going. We have one such love squabble topic french beans vs yard long beans. My husband grew up with more beans than yard-long beans. I love them in certain recipes over other types of beans. This becomes the beginning of our little tiffs. There is however one recipe that works with both beans and this achinapayar. Maybe the only one we agree upon if the two are interchanged and that is a thoran. So whether it is beans upperi or achinga payar thoran we both are happy with the meal.
What is achinga payar?
Often called snake beans, long padded cowpea or Chinese beans, what we fondly call achinga payar was the one that grew up with. commonly these is called yard-long beans because of the long and slender pods. The immature pods are the ones that are used as vegetables. The flavour of these beans is very similar to French beans and is often bland to a mild sweetness when cooked or steamed. Often this bean is found in the Asian grocery, especially in summer. These beans are extensively used in South Indian, Malaysian, Chinese and Indonesian cuisine.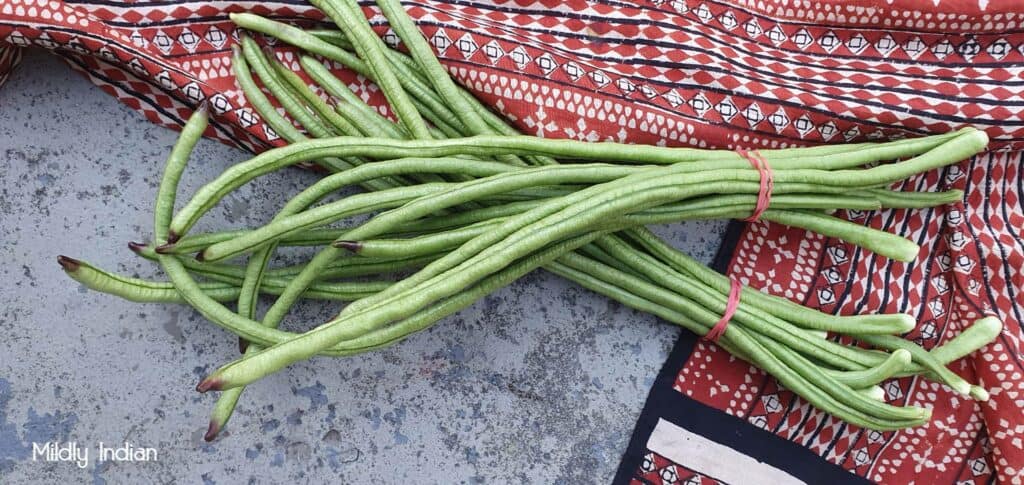 Ingredients for achinga payar thoran
Yard long beans Select the immature pods of yard ong beans to make this recipe. 
Ingredients for tempering
Flavourings
fresh coconut
Let's make this thoran
Making a meal with thoran
The combination amma made always for any sadhya was the payar thoran with sambhar. The classic style is to have this achinga payar thoran with a Kerala-style meal preferably with matta rice and ozhichu curry or kachiya moru ( yogurt curry). The lunch box I loved was to have lemon rice with payar thoran and papadam. You can pair this stirfry with Sattu parathas and chutney too. This warm salad however you pair is great tasting and fibre rich.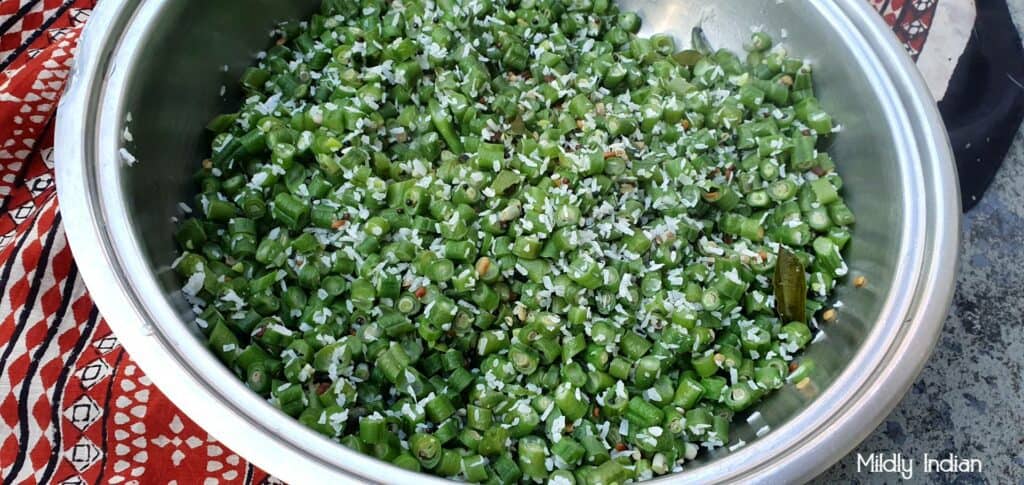 Achinga payar thoran
Stir fry with yard long beans.
Equipment
Cutting board

Knife

frying pan
Ingredients
1

tsp

coconut oil

1/4

tsp

mustard seeds

1/2

tsp

Urad Dal

5

curry leaves

1-2

dry red chillies

2

bunches

yard long beans

thinly sliced.

salt to taste

1/4

cup

water

1/4

cup

grated coconut
Instructions
Top and trim the beans, string the beans , wash and pat dry the beans.

Into a frying pan on medium heat add the coconut oil.

As itheats up add the mustard seeds and allow them to crackle

Addthe urad dal, broken bits of dry red chillies and curry leaves and fry these till aromatic.

Now add he thinly sliced yard long beans and stir fry.

Spinkle a bit of salt, add the 1/4 cup of water , cover and cook for 5 minutes.

After 5 minutes, mix and chcek the beans for doneness.

Now sprinkle the freshly grated coconut. stir fry for another 2 to 3 minutes till the water is evaporated

The warm stirfry is now ready to serve with rice and curry.
Collaboration
I have been regularly contributing to the A-Z ingredient challenge group. As it is nearing a  close, this challenge has induced me to try some new ingredients and also bring forth some amazing recipes that we cherish. It has been such a fun journey,  I wish there were more alphabets. As of now, we have Y for yard-long beans. Hope you will love to try this recipe from Kerala cuisine.
Stay connected
It is important for us to know how the recipes are working for you. Please share with us in the comments your thoughts, picture or a rating while making this recipe so we can see what we can do better. Stay connected with us through Instagram or Facebook. Don't forget you can always share our recipes with friends and family.
Pin this recipe for your future use from here – Click here.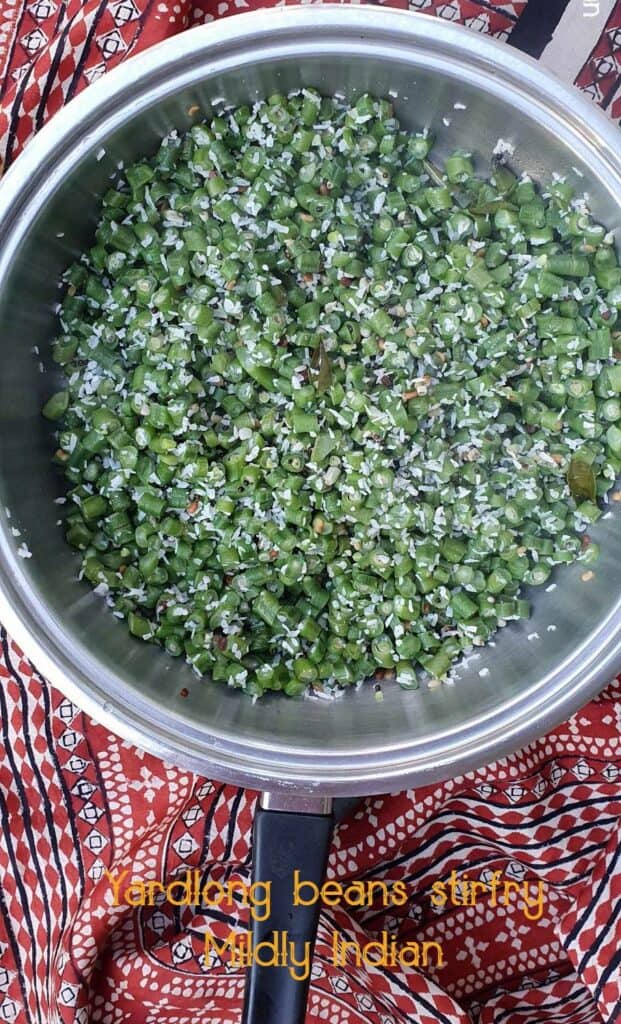 See you soon.