I love to bake in winter, but one of the main reasons I restrain is because my husband who is now totally off granulated sugar gets left out whenever there is a piece of cake( not that he is a great fan of cake or banana breads!!)  I do bake for kids though, but somewhere in the corner of my mind, it doesn't feel balanced. There are many experiments that I run to see what I can do to make this better. Even though we use jaggery or raw sugar, it still calculated a sugar load for a diabetic. So, alternatives were absolutely needed. He is quite happy with Stevia and that began my experiments with Stevie based baking.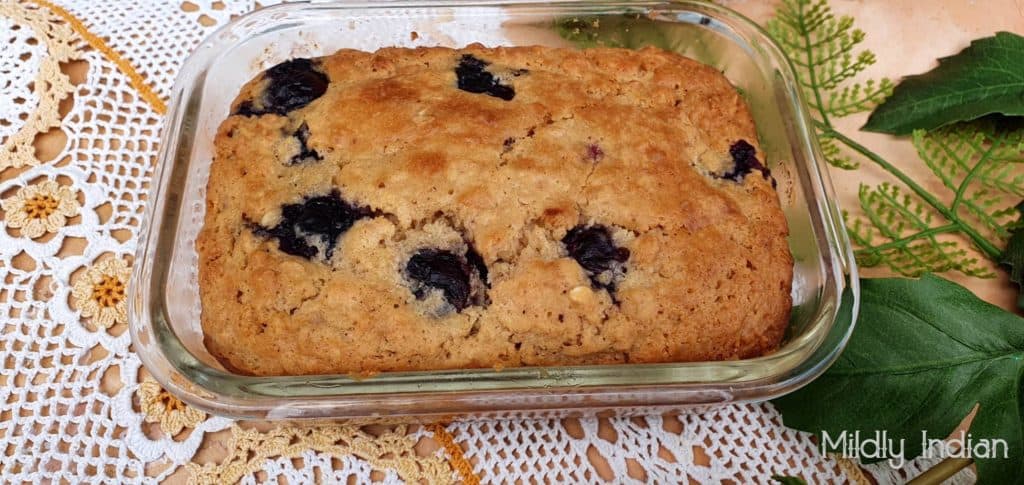 Baking with Stevia
Stevia is a low-calorie sweetener and much sweeter than sugar (nearly 200 times sweeter). It is of natural origin but we use the refined version as that is the only approved one by food authorities. In smaller quantities, it is a boon to satisfy a sweet tooth for dietary reasons. Saying this, it does give an after taste which is an acquired feeling. So give time for your taste buds to adapt to Stevia.
Once I started baking with Stevia I learnt quite a lot about the substitutions. here are some of my experimental learning.
Learning that sugar to Stevia is not a direct substitution was lesson one.

Secondly, a thicker dough makes the bake more dense and doughy than light and easy. So this is a balance you have to work within a big way. This balance to change a recipe is what I found hardest.

When only one-third of the quantity of sugar is needed, that much bulk is needed to be added to the bake to make it up. this can be pureed banana, applesauce or egg whites. Hence this stevia banana bread.

Stevia lacks the ability to lighten the bakes, hence it will not help you to soften the batter, so the batter really needs to be flowing.

The lift from the batter with stevia is not as good as sugar, so account for smaller pans to give the bake the ability to rise.

In this blueberry banana loaf, the blueberry helps to mask the aftertaste of the stevia as well.So try adding fresh berries into this recipe.
Vegan blueberry banana loaf with Stevia
No added sugar, eggless, nut-free recipe
Equipment
mixing bowls and spoons.

loaf tin
Ingredients
wet ingredients
1

tbsp

flax seeds

( powder)

3

tbsp

drinking water

4

medium

Banana

1/2

tsp

cinnamon powder

1/3

cup

olive oil

( use a neutral oil )

2

tbsp

stevia
dry ingredients
1

cup

whole wheat flour

( fine ground, like atta)

1

cup

oats

( I have used rolled,unstablized oats)

1/2

tsp

baking soda

2

tsp

baking powder
Other ingredients
1/2

cup

blueberries

( use fresh ones if you can)
Instructions
Preheat the oven to 180 degrees.

Grease the loaf pan and keep it ready

Mix the flax seed powder with water and allow it to swell

Blend the bananas into a smooth paste.

Into a mixing bowl add the bananas, the flax egg, oil, cinnamon and stevia and whisk them well together

Add the rolled oats and sift in the baking powder, wholewheat flour and baking soda

If the batter appears too thick, thin it with the orange juice as needed

Mix in the blueberries and pour into the loaf tin

Place in the oven and bake.

Once the crust turns golden, insert a skewer and check it come out clean.

If it does, the loaf is ready. Remove from the oven and rest for 10 minutes before you unmould and slice.

Enjoy the slice.
Have you tried baking with stevia?
Stevia bakes are initially slightly tricky. If you have a cake fail don't forget you can always make a cake truffles with it and that gets it all eaten.
I hope this stevia banana bread comes in handy for you as well. If you have experimented with stevia I will love to try it too, please do share. Please do subscribe to this blog as we try to test out multiple recipes and ingredients each week and will love to share them with you. If you are still looking for wholewheat banana bread, try this recipe
Banana bread- with the whole wheat.
When you make this blueberry banana loaf recipe, tag us @mildlyindian or #mildlyindian with your social media handles. Stay with us as we experiment more with stevia. So far we have found success with Semiya payasam with stevia as well. 
Stay safe and see you soon