If anyone tells you this is the best banana bread ever! – believe them. It is the moistest, flavourful banana bread. It saves you all the trips to the Cafe to get your perfect slice with some basic ingredients at home.
Still not so sure?  Bake it, promise you you won't regret it.
No egg substitutes are needed there are no fancy ingredients need to make this recipe. No apple sauce, flax eggs or egg replacer is needed. The bananas themselves are the best substitute. The rise from the bananas is perfect and stays great for a week.
Swap over for a vegan banana bread
It is easy to make this eggless banana bread vegan. Substitute the butter with coconut oil, just like we have in the marbled banana bread and the milk to almond soymilk. The measurements for these two are given in the recipe card.
Let's make it gluten-free
The store-bought gluten-free flour and millet flour works perfectly in this recipe. This is what we have has success with. If trying oat flour, I will recommend making it as a muffin-like the breakfast oat muffin we have made. This is to help the oat bind better without APF and still give an airy lift to the recipe.
Get those undressing bananas a makeover
Have a bunch of overripe bananas? Make a secret stash of this wholewheat banana bread. Cool it, wrap it and freeze. There you saved those bananas and made some mornings easier.
Jazz it up differently  each week
It is easy to change this recipe to many different forms. Make a nut loaded one by adding chopped pecans, walnuts or cashew nuts (like we have here). You could crust it with hemp seeds or mix in some flax and chia seeds to give a crunchy texture. Satisfy the chocolate lovers by adding some chocolate chips. We have added blueberries in the stevia banana bread to mask the after-taste of stevia.
The possibilities with this basic eggless banana bread is endless. Let us know what changes you made, so we can try them too.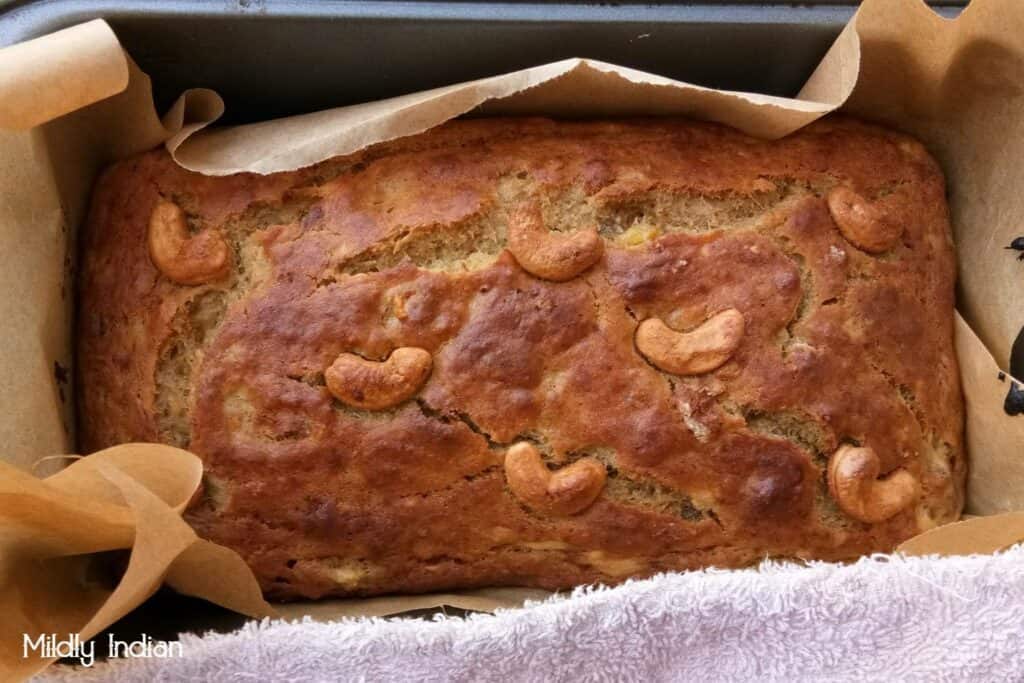 Eggless Banana bread
Easy to make wholewheat banana bread recipe that is perfect for breakfast or snack.
Equipment
mixing bowls and spoons.

loaf tin
Ingredients
Wet ingredients
1.5

cup

Banana

long yellow cavendish ones, Mashed.

1/4

cup

butter

swap for vegan-coconut oil.

1/2

cup

brown sugar

loosely packed.

1/3

cup

low fat/ full cream milk

( swap for vegan -almond milk or soy milk)
Dry ingredients
1

cup

whole wheat flour

1

tsp

baking soda

1

tsp

baking powder
Nuts or seeds ( optional)
1/2

cup

nuts / dry fruits

I have used cashewnuts.
Instructions
Preheat the oven for 10 minutes at 180 degrees.

Line a loaf tin with grease proof paper.

Peel and mash the bananas, Add it to the mixing bowl.

Melt the butter till it is runny.

Add the butter, milk and sugar into the mixing bowl with the banana. Whisk till smooth.

To this mix, sift in the whole wheat flour, baking powder and baking soda.

Gently fold the dry ingredients into the wet ingredients. Don't over mix. The mixture looks lumpy its fine.

Add in the cashews save some for the top.

Pour the mix into the prepared loaf tin.

Add in a few more cashews on the top.

Bake at 180 degrees for 15 minutes. The oven temperature may changes based on your oven.

Check with a skewer. If the skewer comes out clean when inserted into the bread. it is ready to be removed.

Remove from theoven and cool on a rack.

Unmould it carefully after about 10 minutes.

Your banana bread is ready.
Notes
The cracking on top of the loaf is natural as the heat penetration varies in a loaf tin.
The banana bread lasts in the refrigerator for about two weeks and in the freezer for upto 3 months. Pack it well.
Stay on and check out a few more breakfast bakes.
Cheese and vegetable muffins
Baked oat bites.
Icecream loaf
Banana oat breakfast cookies
Do let us know how your bake comes out coz baking is always a very satisfying experiment. If you have always thought about it too, check out this post -why is baking so satisfying?
Subscribe to get new content updates from us. Share the recipe with friends and family. PIn the recipe for them onto your boards directly from the recipe card. Tag us #mildlyindian when you bake and let us know your happiness quotient.
See you at the next post.