If you have been following the blog for a while you know, I am not a seasoned baker, but one who loves to experiment from time to time. I have been working with a vanilla cupcake for a while. Then my daughter comes home with the most delicious, oh my God!! Sink into the softness kind of vanilla cuppies she baked at school. While shamelessly stuffing my face, I asked her if she could teach me.
She did, we made a couple of batches and happily had them. Of course, then I had to make changes.  I wanted a vegan one!! She offered to help coz between the two of us she is turning out to be a better baker. Our week on week experiments got better and better till one day we hit the exact same feel of the classic vanilla cupcake. So far, we had our quick hack blender cupcake with chocolate for that cupcake craving. Now we are totally hooked on this one.

Here is what is cool about these vegan vanilla cupcakes.
They are
Moist

Super fluffy

Eggless

Look adorable for any event you cater to

Easy to bake

Made with simple everyday pantry ingredients

Stay in the refrigerator for a week (they disappear much before that, I promise)

Taste better than store-bought with the perfect buttercream frosting.
I guess if that's not enough to convince you, try a taste test of these best-ever vegan vanilla cupcakes.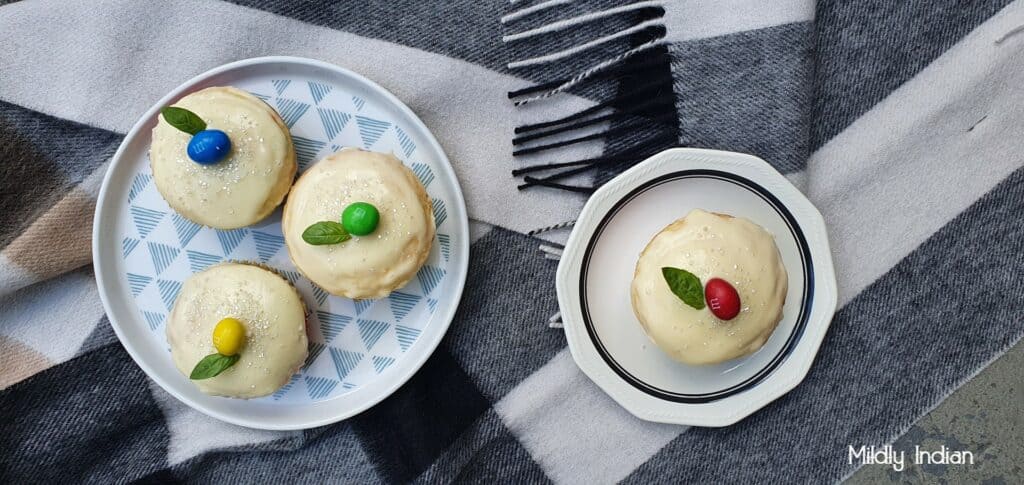 We are going to hold on to these vegan vanilla cupcakes forever, it was our journey together that was so inspirational. Plus, I don't think anyone can say no to such adorable ones.
To the better baker!!
Don't miss to subscribe to the blog as it means a lot to have you on our mailing list as we share our excitement for little things and memories. See you at the next post.
Vegan Vanilla cupcakes
dessert perfect vegan, vanilla cake. Dairy free, nut free and eggless recipe perfect to celebrate any occasion.
Equipment
mixing bowls and spoons.

Muffin tin
Ingredients
1 3/4

cup

whole wheat flour

1/2

tsp

baking soda

1

tsp

baking powder

1/4

tsp

salt

1

cup

soy milk

1

tsp

lemon juice

1

cup

unrefined sugar

1/3

cup

cooking oil

I used sunflower oil

1/2

tsp

vanilla extract
for Butter frosting
1/2

cup

vegan butter

2

cup

icing sugar

1/2

tsp

vanilla extract
Instructions
Preheat the oven at 180 degrees.

Line a muffin tray and dust with a bit of flour.

Into a mixing bowl, add the soy milk and the lemonjuice. Mix weel and set aside for 2-3 minutes to create a vegan buttermilk texture.

To this add the sugar, vanilla extract and oil and whisk together.

Sift in the flour, salt, baking powder and baking soda.

Fold the dry ingredients into the wet mix gently.

Scoop the batter into the muffin tray lined till it is about half way filled.

Tap the tray a couple of times to release any airbubbles.

Bake at 180 degree for about 15 minutes.

Check with a skewer to see if it comes out clean. If not give it another 5 minutes in the oven.

Remove from the oven and cool to room temperature.

Remove from the muffin tray and enjoy the cupcake.