The easiest recipe to make with rice bubbles ( murmura) is a chocolate crackles. Now, this is a recipe that will get you through birthday parties, Christmas gatherings with family and friends, or quick bake sales. How do I know this,  this was the most sought out option in all these situations as my children are growing up and my pantry always has some chocolate and murmura bag. It always works with funfetti cake and chocolate crackles for all the birthdays or with Vanilla cuppies for the bake sales.
Flavours tried and tested.
When we do the rice puffs for a birthday party we always have white chocolate ones along with the classic milk chocolate ones.
Christmas time – crush up some peppermint candy and add to the white chocolate melted.
Bake sale puffs- add in coconut flakes, tutti-frutti (candied pawpaws)
Nut loaded versions -prepare the chocolate murmura with a chopped nut tossed in them. It is a different version from the dark chocolate clusters.
What other than rice puffs ?
All small grain/seed puffs are perfect to be tossed into the chocolate mix. Try it with quinoa puffs, sorghum puffs, buckwheat popcorn or puffed amaranth. These will be the healthier, school snack version whereas the rice bubbles will be the ones that get easily taken up at all the events.
Some expert tips to get the best crackles ready.
I would avoid the sweetened rice bubbles and go for the plain ones.
As rightly pointed out by one of our readers, there are some unroasted (not so crunchy) rice puffs available. In this case, roast them well first till they are crunchy. To do this set the oven at 150 degrees snd spread this on a tray to roast.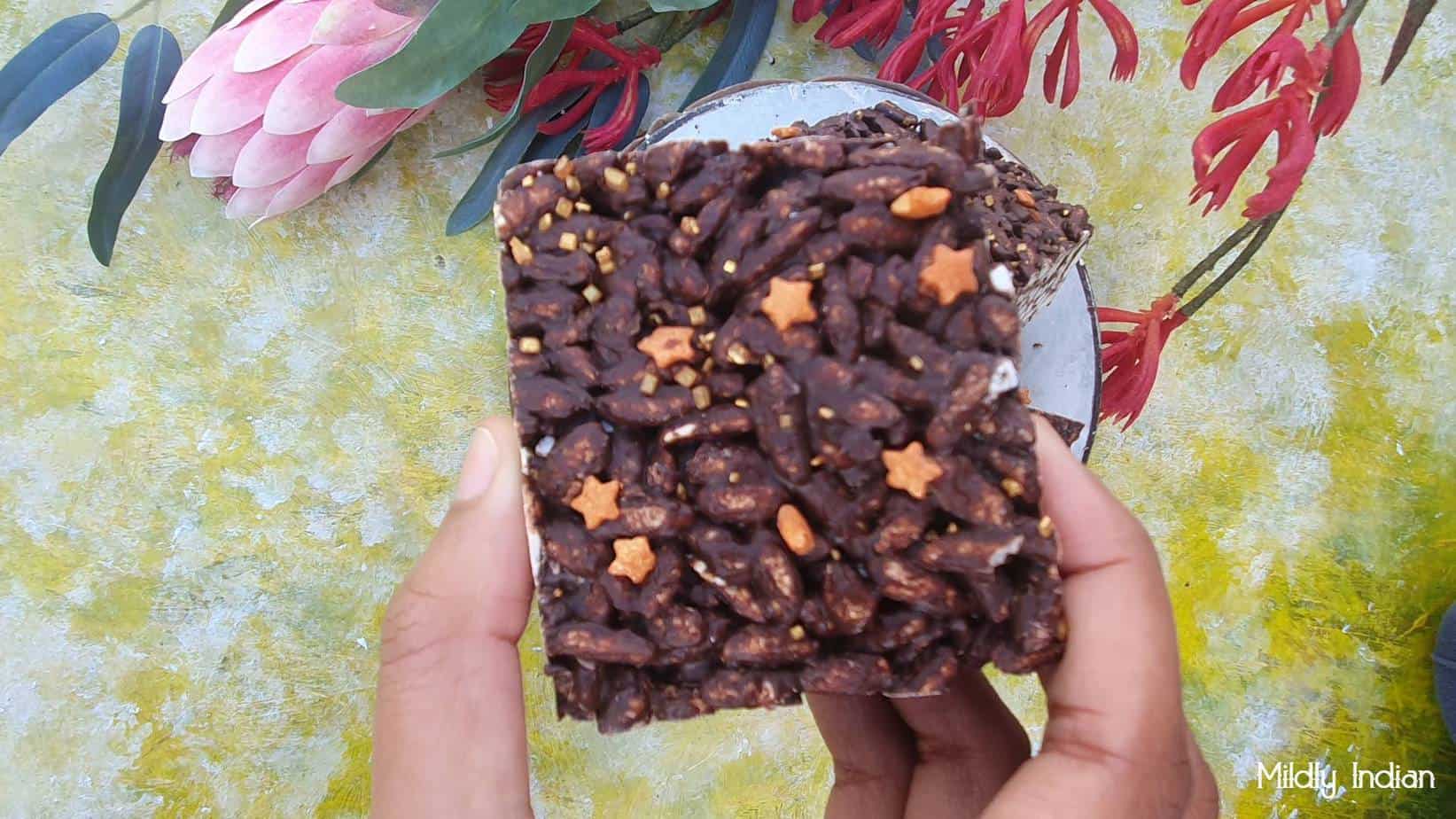 Chocolate murmura
Rice bubbles cated in chocolate and set as squares.
Ingredients
2

cups

rice bubbles

murmura

3/4

cup

chocolate - dark

roughly chopped, chips or buttons

1

tbsp

butter

for a vegan option use cocoa butter or coconut oil.
To grease the baking sheet
cooking spary

or butter to grease the plate

1

tbsp

funfetti

sprinkles.
Instructions
 Prepare a  well greased plate or sheet pan first,by rubbing the butter or spraying it well with cooking spray. Don't miss the edges.  

Roast the rice bubbles. if they are not very crispy.

In a microwave safe bowl,  add the butter/cocoabutter and the chocolate and app for 30 seconds in high.  Remove and Mix well. Then repeat 

Mostly the chocolate would have melted by now. 

Add the rice bubbles into them, Mix well.

Transfer the chocolate and rice bubble mix onto the sheet pan.

Press this down gently with a spatula to remove air bubbles.

Sprinkle decorations on top press them down gently too.  

Chill in a refrigerator for half hour to one hour till the chocolate hardens or if winter on your kitchen slab.

Slice into shapes of your choice using a sharp knife  or cookie cutters.  

While using the knife do not drag the knife the murmura / rice puffs will only crumble and make a mess.  Cut  into the shape desired instead, by lifting the knife each time. 
Notes
You could melt the chocolate with a double boiler too.
Adult supervision recommended for recipes involving children.
Whether you spoon it in muffin cups or slice it into squares, it is the fun of the crunch that makes it special. Celebrate all those birthdays with your kids. After all these years that is one, I miss terribly as they grew up. So I updated the post with a few grown-up images and a lot of memories. The recipe has never changed. Have fun and keep us tagged when you have your birthday parties.