You really can't cater to the kids all the time, without have something  in yummy chocolate.. Last year this kids were sweet and tried their hands on some easy 'Rocky road crunch.' This year around.. It's back to Diwali time and they decided to try out their one first… 'Chocolate murmura – the rice puffs in chocolate'
This absolute easy easy dessert treat  which is airy light and feeds the soul at the first look…
Murmura  is nothing but simple plain or slightly salty rice puffs.  Now not only do my kids live them so do all those friends pour it in with some milk as for corn flakes substitute. Perfect for me too… So this chocolatey version is definitely going to be a huge huge success…
You wouldnt believe how easy this microwave friendly treat is zapp,  mix, chill…. Can't get easier.  I definitely  love when the kids get to cooking coz it improves their confidence,  it gives them a sense of good food than all the lecture they get, and  more so, they will learn a skill.
So don't miss it, let the kids try their hand at some  desserts too that festive season. It's nice when they too can share a piece from the home made box and say.." I did it."
Some of the tried and tested 'I did it! ' moments
Here are some  more projects you can try out with kids. Happy kid cooking time…
Please take the time out to stay by your child while they are on the kitchen territory to ward off any playfulness and thereby trouble.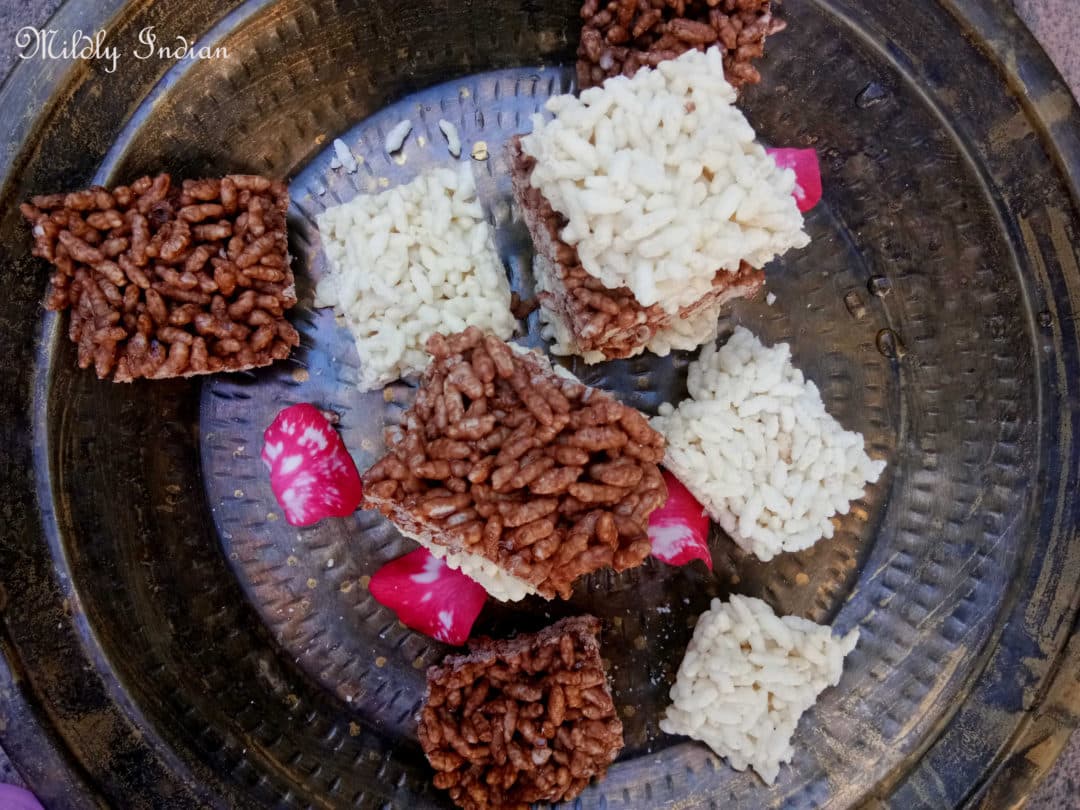 Chocolate murmura
rice puffs in chocolate
Ingredients
2

cups

murmura

rice puffs

1

cup

nuts / dry fruits

choose any you like... like cashewnuts, walnuts, peanuts, dry mango strips, dry cocnut strips, papaya dried....

3/4

cup

chocolate - dark

roughly chopped, chips or buttons

1

tbsp

butter

for a vegan option use cocoa butter

cooking spary

or butter to grease the plate
Instructions
 Prepare a  well greased plate or sheet pan first,by rubbing the butter or spraying it well with cooking spray. Don't miss the edges.  

Mix together the rice puffs /murmura and the chopped nuts or dry fruits and set aside.  

In a microwave safe bowl,  add the butter/cocoabutter and the chocolate and app for 30 seconds in high.  Remove and Mix well. Then repeat 

Mostly the chocolate would have melted by now.  Mix well  Add the murmurs into it and quickly mix all together. 

Put on the greased plate and press down gently so as to form an even layer. 

Sprinkle decorations on top press them down gently too.  

Chill in a refrigerator  for half hour to one hour till the chocolate hardens.  

Slice into shapes of your choice using a sharp knife  or cookie cutters.  

While using the knife do not drag the knife the murmura / rice puffs will only crumble and make a mess.  Cut  into the shape desired instead, by lifting the knife each time. 

Serve to the beaming faces who are already eagerly licking the plate
Notes
You could melt the chocolate with a double boiler too.
Adult supervision recommended for recipes involving children.