Dates are the ones always up to satisfy the sweet tooth. Well valued for its sweetness, exotic flavour and portability dates have never ceased to amaze a foodie.
Similar recipe
The inspiration
My mum has seven brothers and two sisters. Along with the Gulf Malayali move, a predominant number of them had moved to various Gulf countries. They have become successful businessmen and have established themselves well.
Now the arrival of my uncles and their families during holidays meant I will be hanging around in my grandmother's place. Being the hang around niece(perhaps the only one most of the time) had its privileges, grandmom will mix up a pitcher of colourful tang, which comes with their gifts for her.  We could have the orange nectar for tea time, mmmm and get to lick the last bits of extra sugar syrup too. While leaving towards the end of the holidays
Grandmom will hand over a small box of the juiciest ever Medjool dates, a bar or two of chocolate, some pencils, a sweet-smelling eraser and if lucky a couple of pens.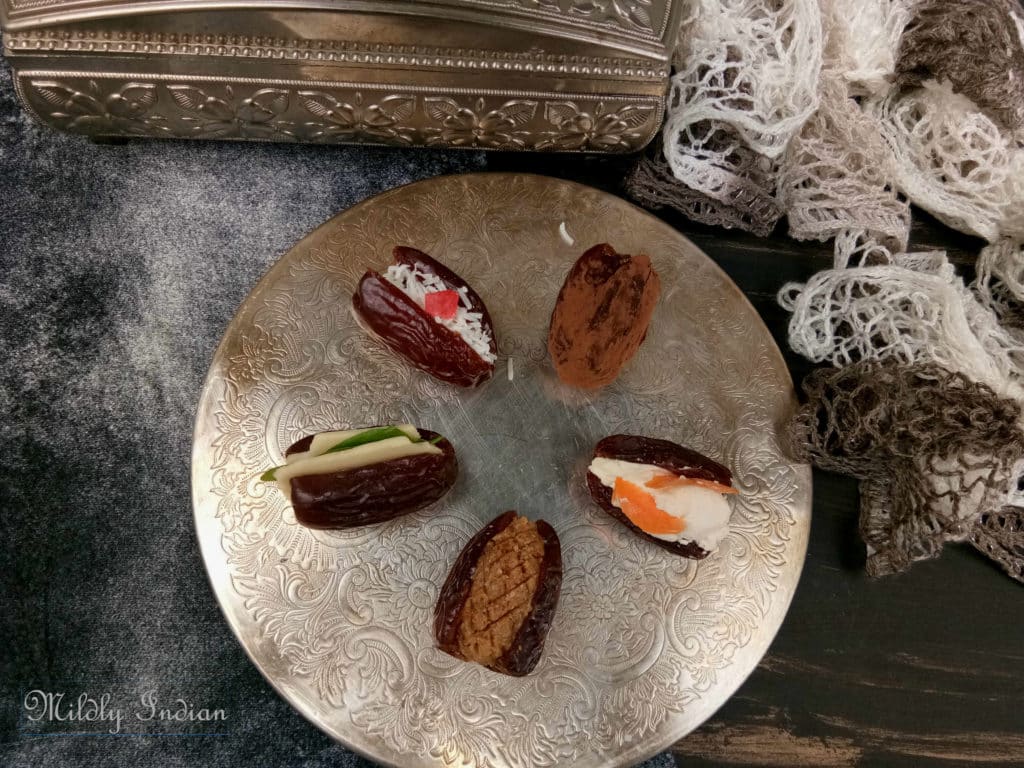 This was so precious as it was the whole loot for the show off at school. The yummy part of it definitely would be to have dates stuffed with almonds. Being a picky eater mom would save up all those dates for me as I would agree to have a glass of milk to trade for one of these dates. Mind you, there was plenty of available in the local markets of Calicut, but none so soft and juicy.
As I grew the dates flooded the markets and they ceased to be the delicacy they were in my childhood.
Current pairings and plating
Now that I have a much elaborate palate I do vary the stuffings to try them. They make the best guessing grabs on an appetizer plate, a perfect talking point or the best dessert platter. None the less, it is the least effort recipe you can work on. Here are best-voted combinations both sweet and savoury.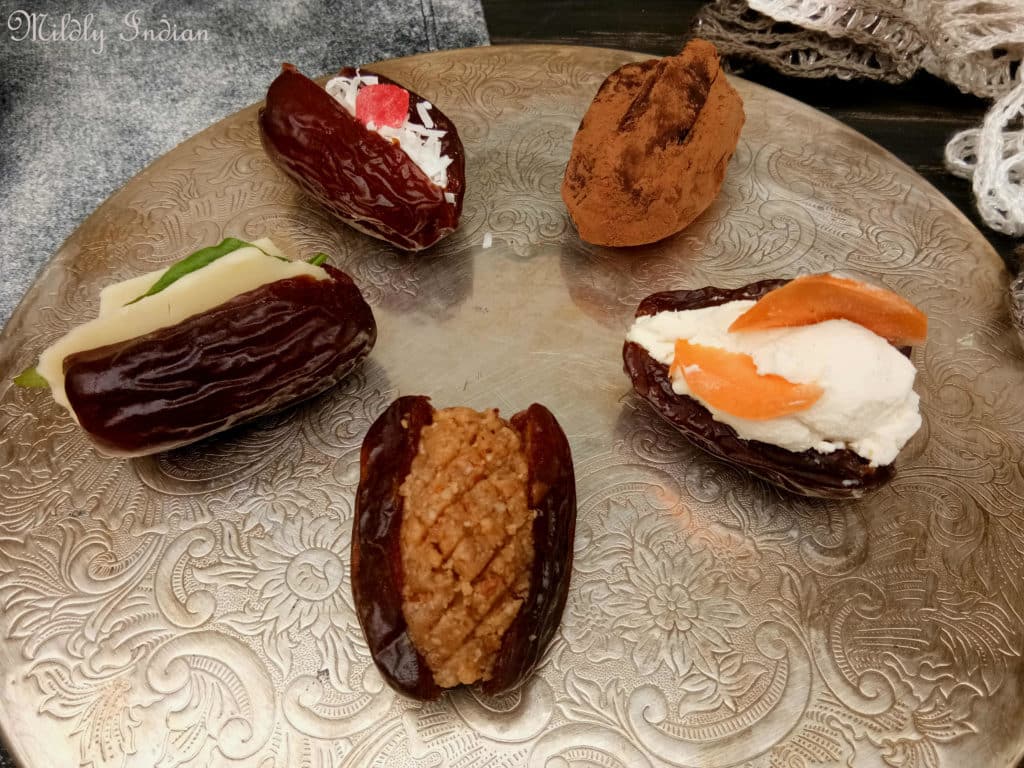 Peanut butter
Cream cheese and orange
Almond and rose
Chaat masala, tamarind paste, salt
Cheese and spinach
Chocolate-dusted almond
 Coconut and chocolate
Roasted oats and ginger
Mava and poppy seeds
Lemon and peppers
Tomato paste and chilli
Matri Crackers and banana
You can pretty much create a make your own combination platter with the dates, nuts, cheese and other variants. It is so fun to see the ones people come up with. So have fun entertaining with effortless creations.
For all the Peanut butter to stuff in, try this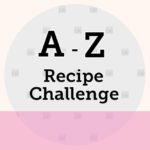 This recipe has been submitted to A to Z recipe for the alphabet D. Hope you enjoy these for your upcoming party.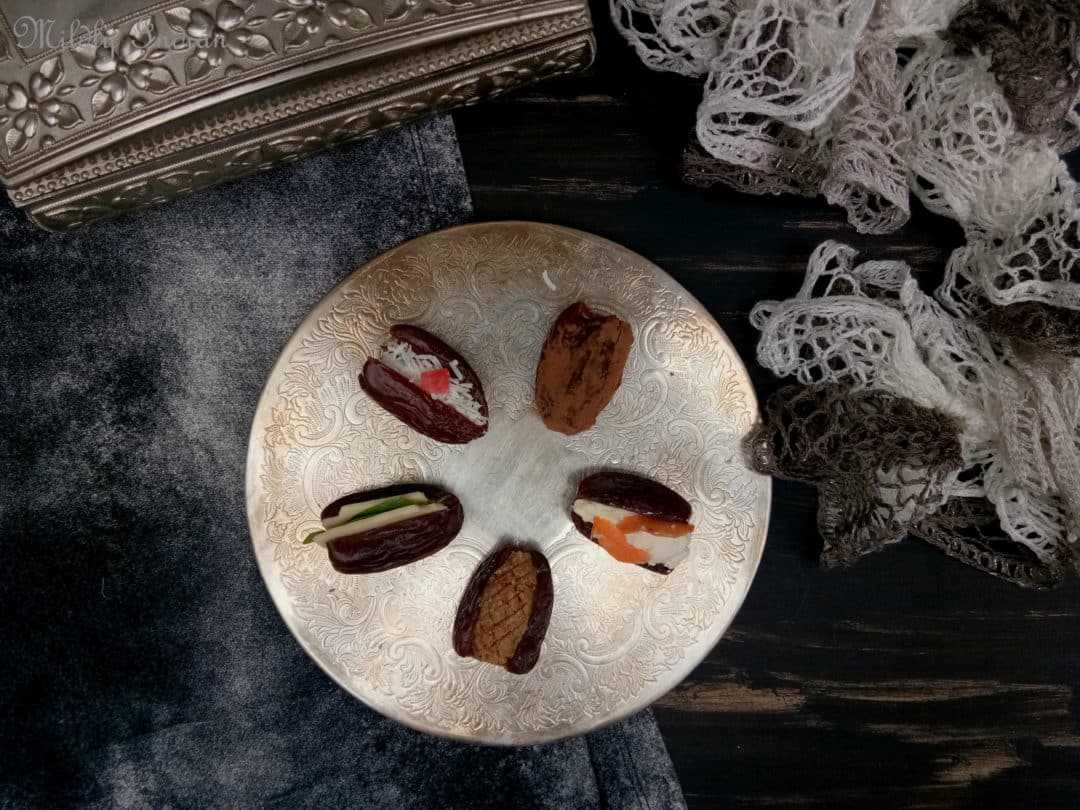 12 ways to stuffed dates.
A perfect party guessing game
Ingredients
stuffings
use the combinations in the post.
Instructions
Slice the dates and remove the seed.

Use the combinations to stuff the dates.

Beautify with garnishes and set on a platter to pass around or add up to your grazing table.
Notes
Use multiple of this recipe
Or pick and choose your favourites to showcase.