One of the happiest time of the day I love to call friends over is for tea. I particularly like it because I am most relaxed at that time and I really don't have to think of a million bowls of things to be done.  Can a couple of wonderful light savoury and sweet sandwiches something fried a baked mini muffin or cake some odds and ends with some good tea or a drink.  This is what I usually do. As it's is not stressful to put together it's easy for me to join in on the conversation and enjoy it too.  
Fruit sandwiches are the easiest to put together for a tea gathering.  They form the dessert element and also are so filling yet light. There are a lot many varieties of naturally sweet option you can put together to make your gathering easy.  Moreover, stock up on fruit and bread and you will not have trouble to put together a second plate.  
Discussing some of my best combinations together here… So you can work out what's best
for
 season.
As you know the best fruit sandwiches starts with good bread.  Choose airy light whole grain bread to start with… Chuck the spongy white bread, it tastes like mud.
My favourite bread for a sweet version is brioche, whole grain or sourdough.  Typically I like brioche when my filling is firm and the others when I use soft fruits. I also love a seed laded low Gi bread as a base.
The next is the creamy element..idea one it need not be cream all the time. 
Here are some combinations  
Cream cheese + Fresh pineapple

Almond butter + banana

Whipped cream +persimmon 

Dulce de leche +tricolour fruits ( as in the first image )

Avocado+ choco chip

Cream cheese +berries

Date paste + nuts

Peanut butter +strawberry
When you assemble fresh fruit sandwiches remember to make it as close to the serving time as possible so that you do not get the bread all soggy… Seriously it is a spoiler.  
You could prep all the stuff you need and ask your guests to create the mix and match combos too if you like.  Open top sandwiches or pressed between the layers of bread all depends on your choice and convenience.
If needed to carry the sandwich for a picnic, I love the date and nuts or the avo choco chips. For the lunch box, I do all except the fresh pineapple.When using pineapple… Be careful as it tends to split the cream to a bitter result.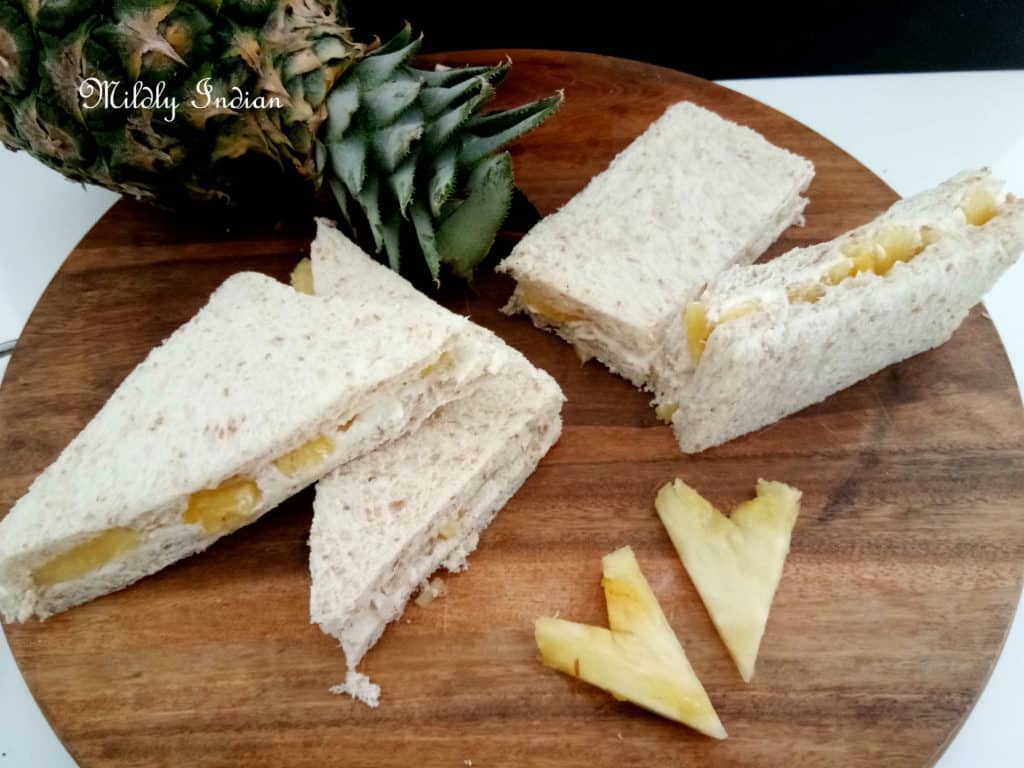 So here we are with sandwiches for tea… 
Arrange a box full of flavours of tea to choose from and a kettle of hot water. The sandwiches pair perfectly with a lovely cup of masala tea too.  
So this is my Tea Party. Do write your specials and combos for me to try in the comments
I do make these along too
Don't waste your energy trying to get a wholesome peanut butter. Check out this easiest version and make your own additive-free one.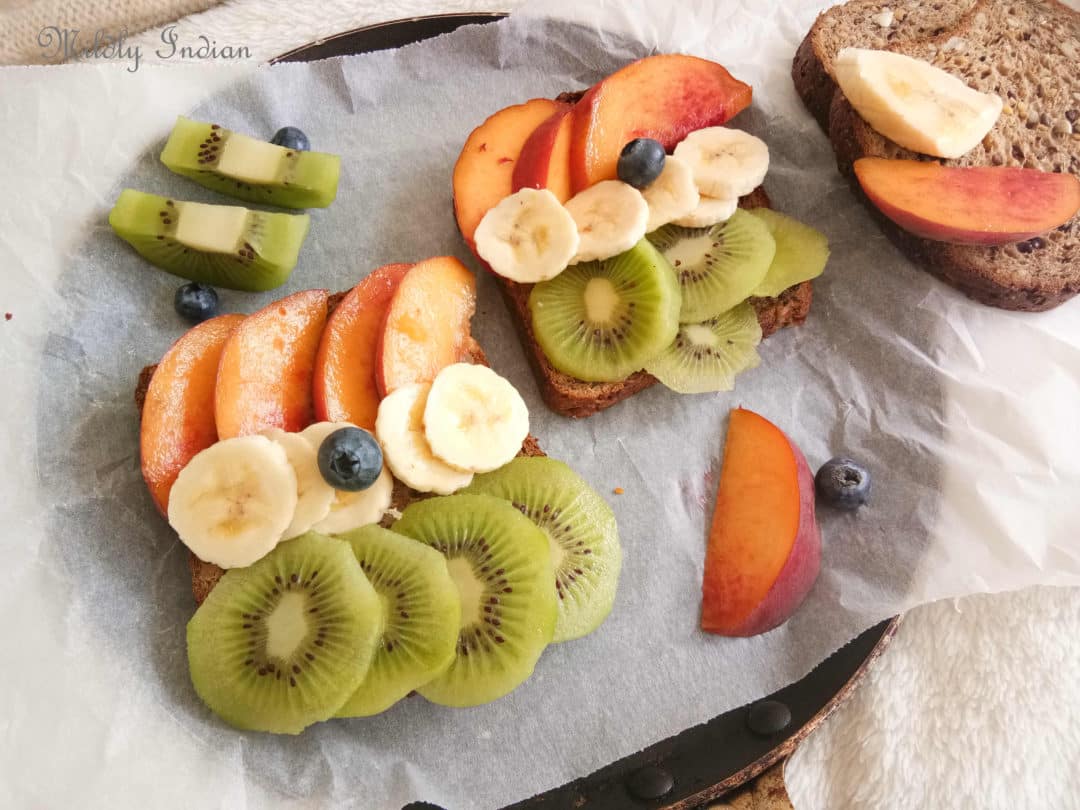 Dessert fruit sandwiches
Make you tea gatherings shine
Ingredients
1

loaf

Whole meal bread

or sourdough or brioche

1-2

cups

fruit

sliced thin

spread of choice

( refer the list above for sugessions)
Instructions
Slice the bread into equal slices.

spread the cream cheese/ peanut butter / avocado mash on one side of the bread slice

Arrange the fruit of choice on the bread.

Cover with a second slice of bread with the spread, if desired

Remove crust to make it look fancier and cut into shapes you like.

Arrange on the tray ready to be served.

Leave in the refigerator if the climate is very hot.