A cheerful welcome to the lovely new 2018!!! which brings more exciting adventures and satisfying tummies. It's a time to celebrate.
Party time 2018
Pretty much all of us will be having get-togethers and parties. If you have your resolutions ready, I am sure you will strive to stick with it. I want to eat healthier…. so let's begin this year with a bit of easy eating.
I love the nibblers at cocktail parties. More-so, I love the cheese platter. I noticed that my kids love the cheese platter too. The most eye-catching ones, of course, have a bit of colour from the fruit and a good quality cheese to pair with the drink. Going by that and steering away from the traditional cheese platter this time I decided to keep it simple,  a bite of all the things you will find on a cheese platter in a tiny bite.
This was fun to assemble,  with the kids wanting to help out it was perfect.
Cheese,  grapes,  basil and saltines… done.
Needless to say, it was loved by all. Luckily we had good stocks of the ingredients for a quick second round.
when you choose cheeses for the cheese plate make sure you have a couple of good quality cheeses. Here I have provided Brie and Gruyere. You could choose from great ones which pair well with the wine you are serving.
Camembert or Gruyere and Chardonnay

Mascarpone and dessert wines

Aged cheddar and Malbec

Gorgonzola and Port wine

Feta or Gruyere and Pinot Noir

Parmesan cheese and Prosecco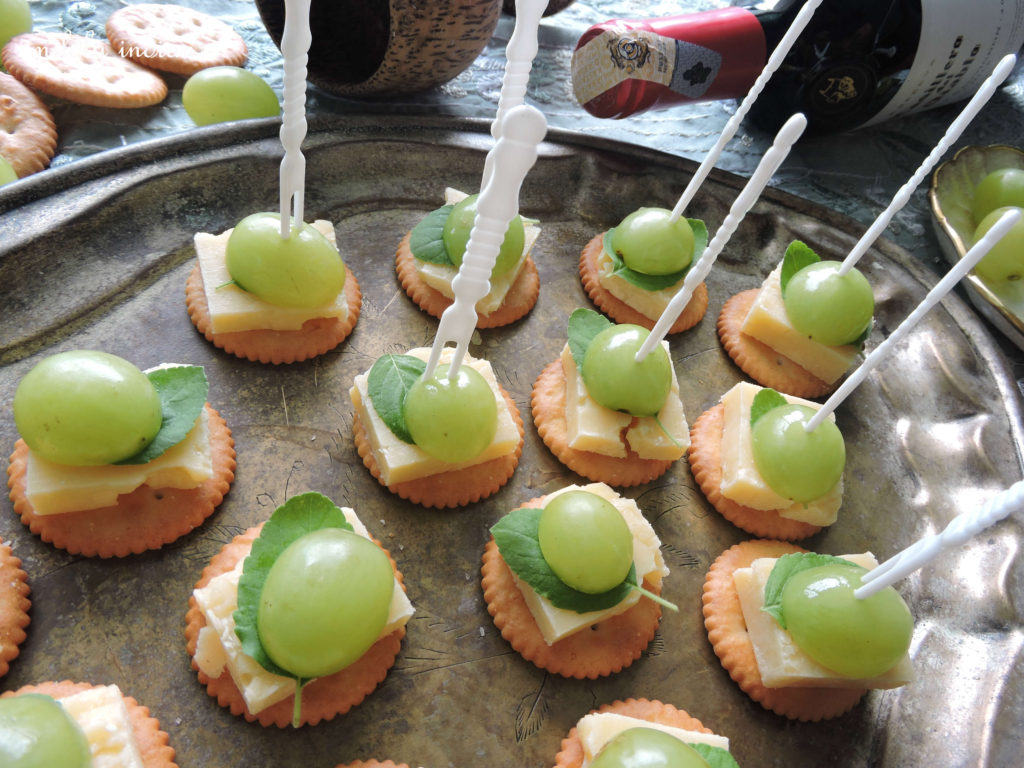 Sharing this super easy put together and wishing you all a wonderful year ahead…
Watch out for more recipes and travel stories this year as we explore new worlds and new tastes. Stay along with us, subscribe to the latest updates.
Wish you a healthy, prosperous year ahead!!
Adding a nibbler you may want to serve along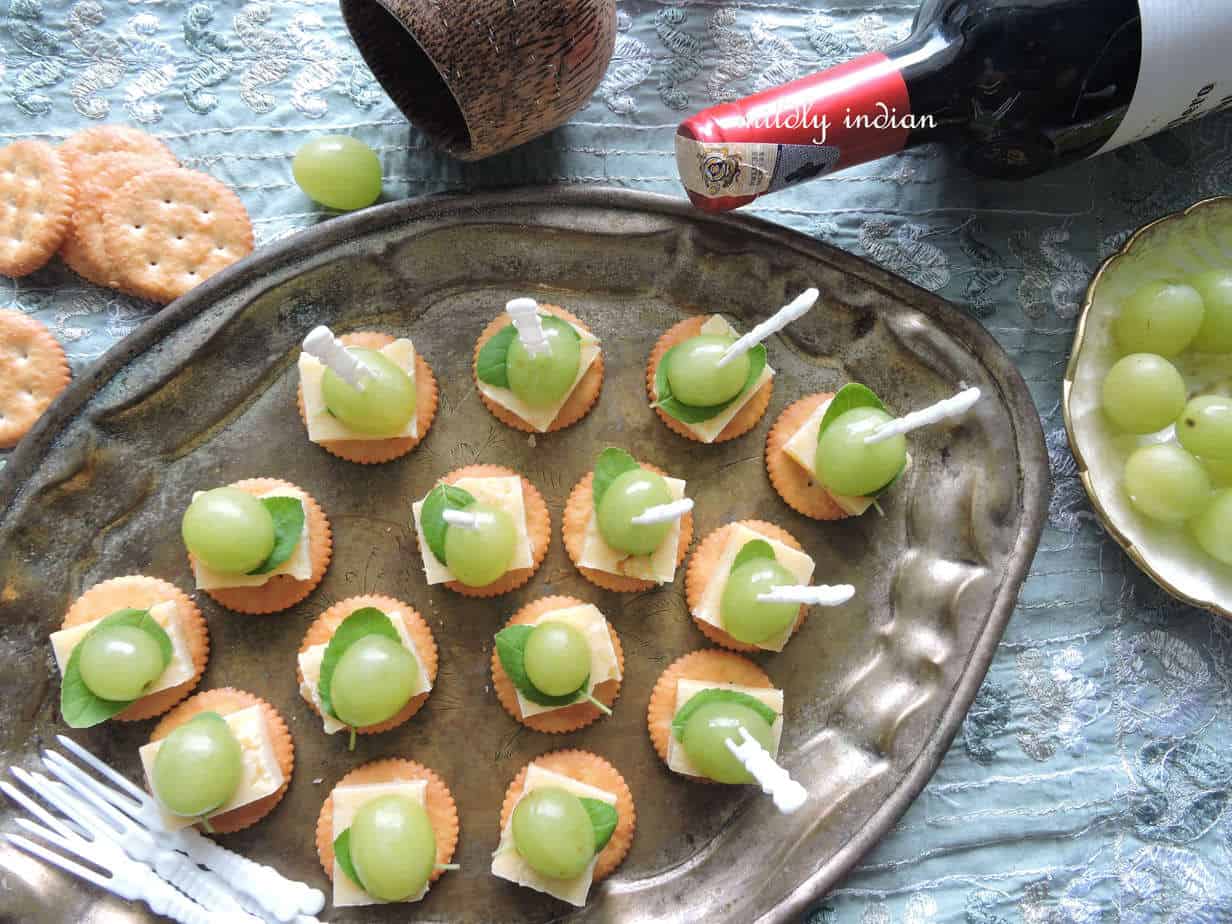 Cheese plate in a perfect bite
Party best finger food
Ingredients
1

pack

saltines

chesse

Gouda, Gruyere, Asiago, Brie, Camembert

1

bunch

grapes

basil leaves
Instructions
Clean wash and pat dry the grapes.

Slice the grapes into half and set aside

Cut the cheese into bite size cubes

or, Spread the soft cheese on the saltine.

Now stack up the slatines with cheese, basil and grape.

Enjoy a great evening.
Nutrition
Sodium:
104
mg
Sugar:
2
g
Fiber:
0.3
g
Potassium:
42
mg
Cholesterol:
2
mg
Calories:
49
kcal
Monounsaturated Fat:
1
g
Polyunsaturated Fat:
0.1
g
Saturated Fat:
1
g
Fat:
2
g
Protein:
1
g
Carbohydrates:
8
g