The most familiar morning alarm in a south Indian household is the whistling of the pressure cooker. Soft pulpy cooked dal or fluffy short grain rice cooked to perfection is a matter of a few whistles for most Indian mums. Most of the days, my household is no different. I have adapted to the silent pressure cooker and a rice box.
One of the best recipes putting to use this pulpy cooked tur dal is the Rasam. This is an essential soup in the everyday menu of a South Indian household. Mixed with soft cooked rice, this rice soup is preventive for practically all the common monsoon/winter ailments. I am sure every mother and grandmother reading this will now go nodding their heads.
The complex spice blend with pepper, cumin, coriander and curry leaves that makes this tangy rasam is the key to any well-made rasam.
Here is the recipe for the Rasam spice mix
One of the best exotic flavour to this simmering medley of spices and a whole new level of comfort is the pineapple rasam. The fruity tang from the tropical gold and a mild after taste of sweetness makes it all the more worthwhile to make this one. This is one of the most popular sadhya (feast) menu as well.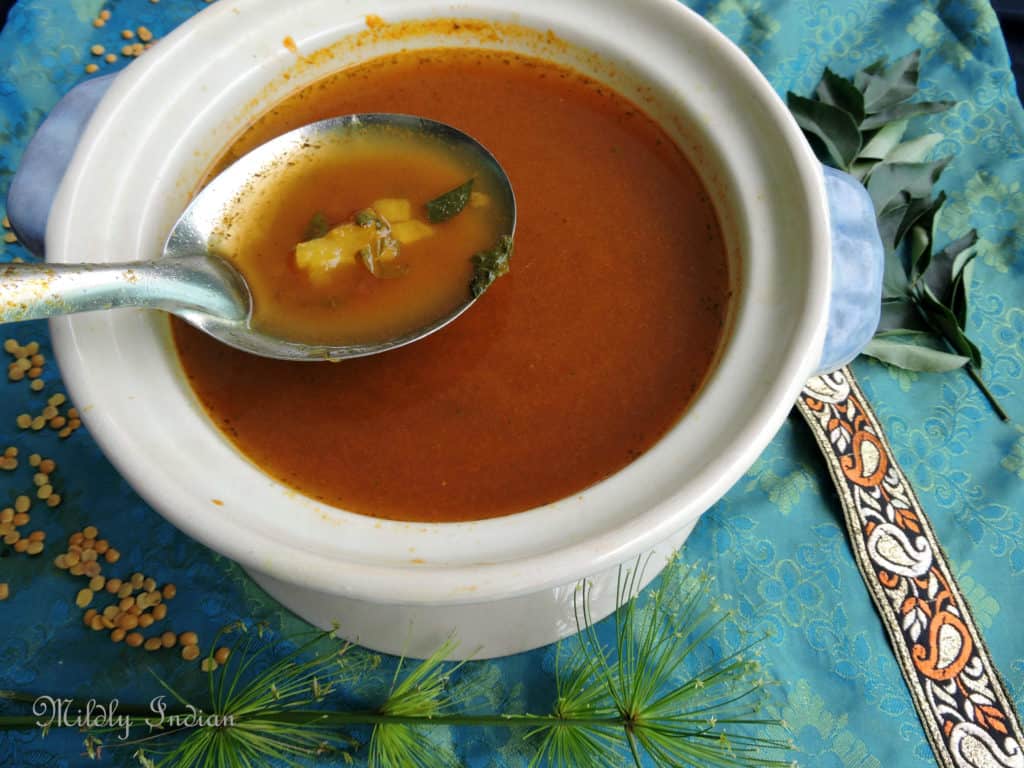 How to serve pineapple rasam
Pineapple rasam can just be made as a thin soup to sip through pouring cold rainy days. It definitely keeps all the coughs and colds at bay.
Here is another rasam recipe with Bermuda grass for you to try.
To serve as a meal, plate up  with rice  with a simple vegetable stir fry and crispy applam or vadam (rice cracker)
It is your choice to drown the rice in the rasam or keep it off onto the side. Either way, enjoy this mouthwatering meal
Here are some suggestions for a side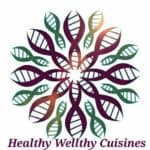 This recipe is added to the Healthy wellthy group of bloggers for the theme #flavourfulrasamatHW, suggested by Sasmita. Looking forward to seeing what the other Bloggers are bringing forth so we have a collection of recipes here.
Here are some from them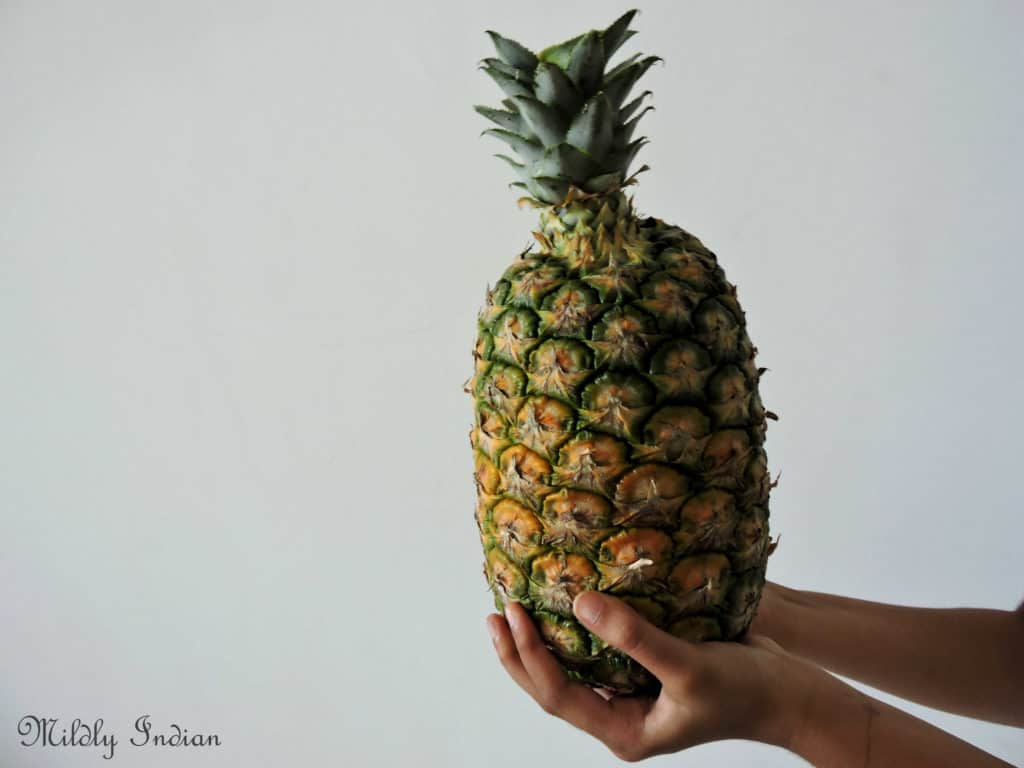 Do subscribe to the blog for regular updates on recipes and adventures from our end.  Follow us on Pinterest @mildlyindian  
and do pin the recipe for use at a later date. See you next week, stay warm.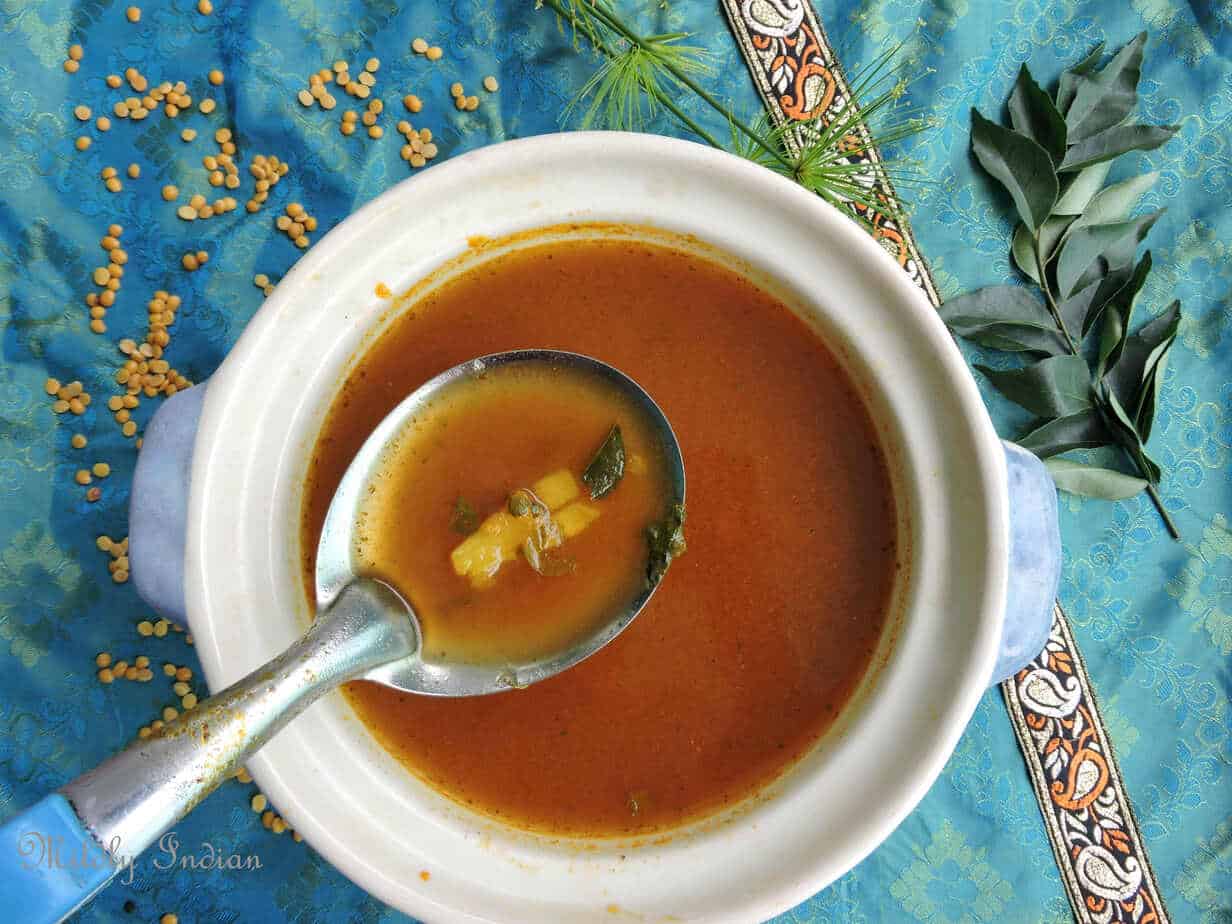 Tangy pineapple rasam soup
A south Indian soup
Ingredients
for the cooked dal
1.5

cup

drinking water

1/4

cup

tur dal

(pigeon pea)
for the spice mix
1/4

tsp

turmeric powder

or grated turmeric

1

tbsp

rasam powder

(home made rasam powder link given above)

salt to taste

1/4

tsp

roasted cumin powder
to grind to paste
1/2

cup

Pineapple

diced small

1/4

cup

Tomato

diced

10-15

curry leaves

1/4

tbsp

corinader leaves

1/4

tsp

cumin seeds

1/2

tsp

Black pepper
for cooking
2

cups

drinking water

1/4

cup

tomatoes

1/2

cup

Pineapple
for tempering
1/2

tbsp

cooking oil

1/2

tsp

mustard seeds

1/4

tsp

cumin seeds

4-6

curry leaves

1

pinch

Asafoetida

1

tbsp

coriander leaves

chopped
Instructions
Into a clean pressure cooker vessel add the washed tur dal and the water and cook for 3-5 whistles or pulpy.

Release steam naturally, mash the cooked dal and set aside

Peel and dice the pineapple to get 1 cup of pineapple. Divide in half and add one to blend the spice mix.

Collect the rest of the ingredients, wash and clean them. Dice the tomatoes (half cup) and chop the coriander leaves. Set aside till needed.

Into a deep pan add the oil for tempering along with the mustard seeds and let them crackle.

Then add the curry leaves, asafoetida, and saute till curry leaves are aromatic

Add half cup pineapple and fourth of a cup of tomatoes and saute.

Meanwhile, grind the mix for a smooth paste as given above.

Add the paste of pineapple and tomatoes with the spices to the sauteed tomatoes and pineapple

Now add the spice mix and salt.

Add the two cups of water, mix well and let them simmer for 5 minutes with a closed lid.

Add the half cup of cooked tur dal and mix well. Add the coriander leaves too.

Simmer again for another 5 minutes

The rasam is now ready to serve
Notes
The tanginess of the rasam is dependent on the pineapple and then tomatoes. So if you like it tangier, go for a real tart pineapple.
If added spiciness is prefferd add half tsp of red chilli powder before simmering.
The dal can be cooked in an instant pot as well.