The best of the mixed vegetable rice variety is
bisibelebath
from the Karnataka cuisine. The blend of a few additions to the regular sambhar powder mix makes it form a brilliant variation.
I make
bisibelebath
one a week..and the recipe is one pot, loaded with veggies and can be cooked with rice, millets,  rice flakes or grits. No matter what the other combinations are from my pantry, I always rely on homemade powder. The aroma is so different from the store-bought packaged ones and stays well for all long time if packed well.
I love to make and store my masala when the weather is a bit cooler or it's is a few days of a dull drizzling weather. Today It looks perfect after a long time. Perfect for all the roasting so, put on your favourite songs and roast away
….
So happy masala powder time.
This is the blend I learnt from my paternal aunt- my very first lessons in Bengaluru style cooking.  I religiously noted down her ideas and suggestions till my practice zone was ready.
What more can we do with this masala?
This powder is so in unique it transforms not only my
bisibelebath
but also my roasted potatoes or Brussels sprouts into the flavourful side for a dinner party. The best
bisibelebath
 for me is the one with Foxtail millet and loads of fried capsicum and cashew nuts on it. will share mine another day. I have even used the same as a grill rub for my corn and finished it off with a touch of lemon. Try out your combos… don't hesitate
Enjoy the aroma of the powder… roasting.
Maybe I could try some of the
bisibelebath
masala powder on to the cabbage as a rub.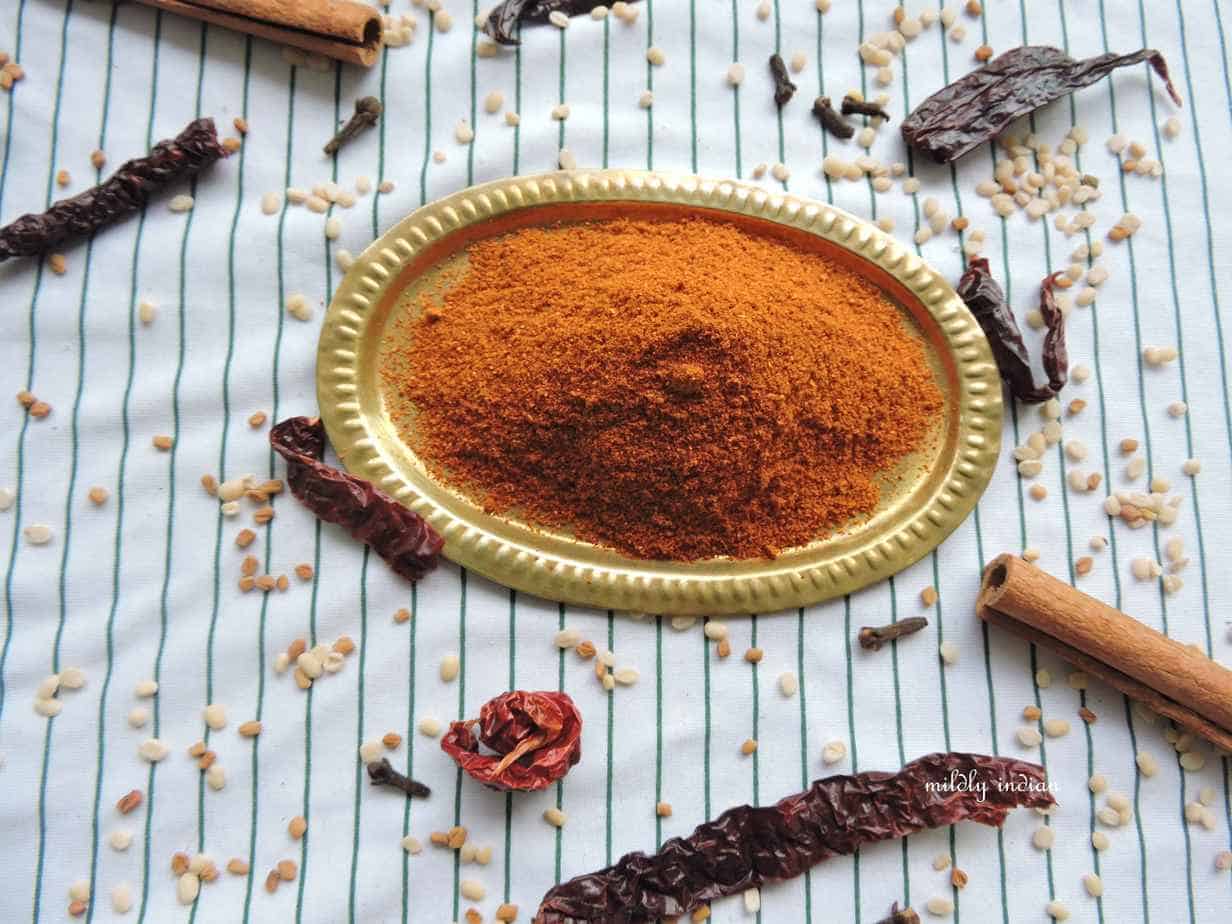 Bisibelebath masala
a Karnataka style essential
Ingredients
1/4

cup

Split bengal gram

channa dal, kadala bele

3

tbsp

split pigeon pea

aarhar dal, turdal, togribele

1

tbsp

Black gram dal

urad dal, udinbele

3/4

cup

coriander seeds

dania, kothumbiri

1

tbsp

poppy seeds

gasa gase, khus khus

1

tbsp

cumin seeds

jeera, jeergi

1/2

tsp

fenugreek seeds

methi, mendiyum

2

cinnamon stick

patte

6-8

cloves

lavanga

2

handful

chillies

Byadigai, Kashmiri chilli

2

tbsp

cooking oil
Instructions
Set a wok on medium heat

Add 1 tsp oil and fry the dals till golden crunchy and aromatic. remove and set aside.

The pan will be well coated with oil, so add the coriander seeds and poppy seeds to roast. watch carefully as they burn easily. once roated and the corainder smells smoky and wonderful, remove add to the plate having the dals.

Now add the feugreek , jeera cinnamon and cloves and roast the well. Remove on to the same platter

Add a tsp more oil and roast the chillies on a very low heat.

When the chillies can break with a snap, take them of the heat and allow them to rest.

Allow them to cool to hand warmth and then powder in a spice mill to form a smooth powder.

Cool further and store in airtight clean container.

If keeping for longer time, use double zipper packs and leave in freezer.
Notes
I have seen a few of my friends add curry leaves also fried to it before powdering. this tastes great too