The simplicity of certain recipes makes me wonder if it is even thought worthy to add it up to the blog. This thought changed during my previous India trip. 
India trip
Travelling back to India with the now teens means that the palate is a bit more adventurous with flavours and not do scared of the spice factor. This means there is more to roam around and enjoy a few lovely simple snacks.
While visiting the Gavigangadhareshwar temple in Bangalore,  I stopped by a roadside vendor who sells fresh guavas. As they cut, sprinkle a bit of salt and chilli powder for a quick snacking option, I proceeded to buy a few more red-fleshed guavas (I adore them). When I turned my attention back to the kids, I saw they were really enjoying the flavours. That is the beginning of this easy afterschool snack being made at home.
Types of guavas
Psidium guavas are native to Central America and belong to the myrtle family. This is why the fruit has a floral-fruity fragrance. Apart from the tropical, white-fleshed and pink-fleshed guavas, there are few other varieties popular among garden enthusiasts. The Pineapple guava, lemon guava and strawberry guava top this list. As the name suggests the flavours match the other fruits with the guava feel. Usually, these are best in salads or on their own. The popular supermarket one is the large Thai variety, with soft white flesh.
Quick additions to make guava chaat
The recipe is based on the simple street food idea of sprinkling chilli powder and salt on slices of guava. Working it up with a bit more, we have added fresh pomegranate pearls to the mix for this guava chaat.
The crunch factor is the peanuts. This can be boiled peanuts, roasted ones or crushed. It is totally based on your taste buds.  If you are swapping out the peanuts, almonds and walnuts work the best. For seeds try a mix of chia seeds, flax seeds and pumpkin seeds.
You could add chopped cucumbers to the mix,  or for a sweeter treat, a banana or some apple slices.
The key is to balance the sweet fruit flavour with an underlying savoury kick. This approach gets a bit more fruit on the fork. I love to use black salt, roasted cumin and a sprinkle of chilli powder. You could add chaat masala or black pepper to the mix too.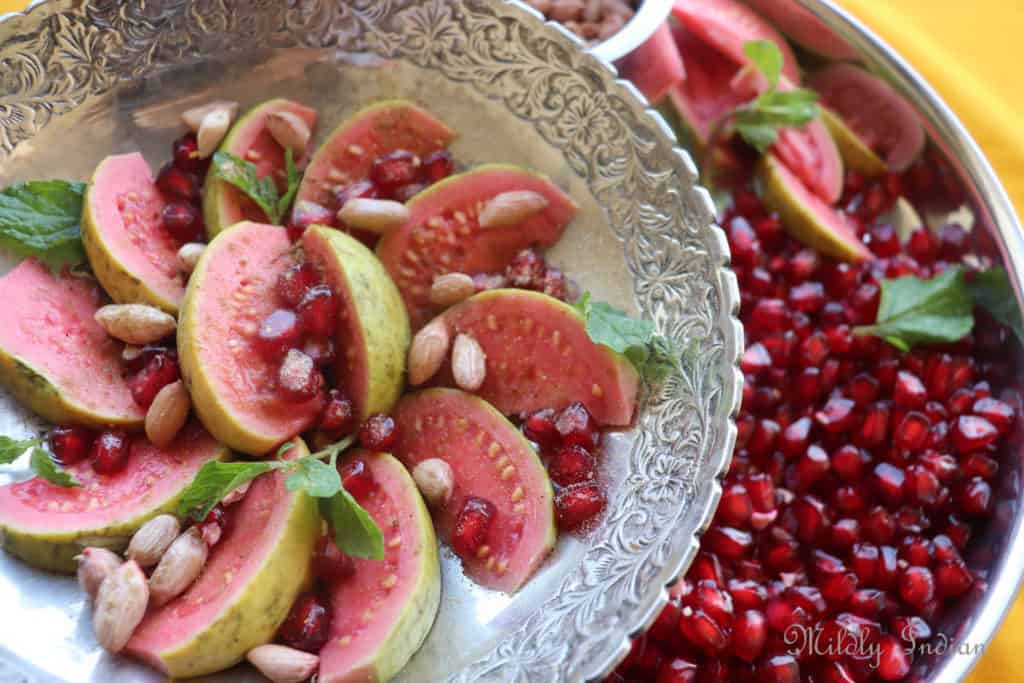 Why this amrood chaat works as an afterschool snack?
Irrespective of the tropical white-fleshed, pink flesh or the Indonesian variety you try, this easy to put together after school snack recipe works. There is a good balance of carbs and proteins in this recipe. The freshness of the guava and pomegranate make it easier to keep up with the want to have something. This makes the amrood chaat click across the ages. moreover,  it gets a colourful portion of good fruits in without a huge effort straight into the belly.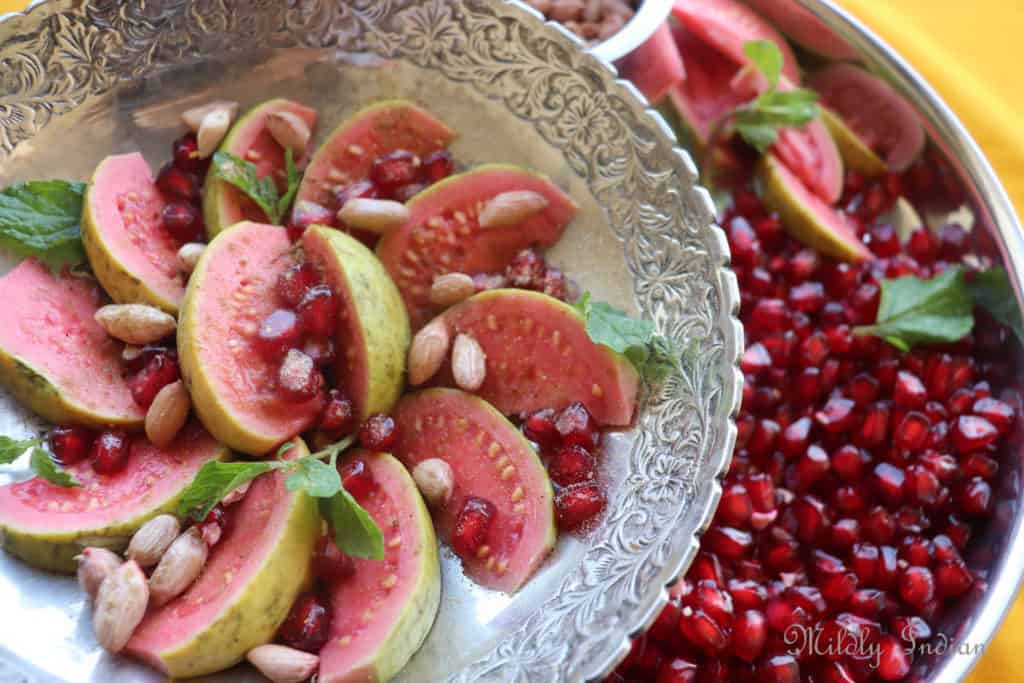 Amrood aur anar fruit chaat
guava and pomegranate salad
Equipment
Cutting board

Fruit Knife

mixing bowls and spoons.
Ingredients
Fruits needed
2

medium

guava

(red or white fleshed)

1

cup

pomegranate seeds

4

tbsp

boiled peanuts
The flavourings
1/4

tsp

roasted cumin powder

1/4

tsp

black salt

1/4

tsp

chaat masala

(omit if fasting for religious reasons)

1/8

tsp

red chilli powder

1

tsp

Lemon juice
garnish
1-2

sprig

mint leaves

for garnish
Instructions
In a bowl, mix the roasted cumin powder, red chilli powder,chaat masala and black salt. Set it aside

Wash and slice or dice the guava .

Peel the pomegranate and collect 1 cup of arils.

Drain the boiled peanuts and break the pods to get the soft peanuts.

In a mixing bowl toss the fruits and peanuts and spinkle the dry mix of spices. Now add lemon juice and toss well.

Serve garnished with mint leaves.
Nutrition
Calories:
232
kcal
Carbohydrates:
38
g
Protein:
7
g
Fat:
8
g
Saturated Fat:
1
g
Polyunsaturated Fat:
3
g
Monounsaturated Fat:
3
g
Sodium:
231
mg
Potassium:
721
mg
Fiber:
8
g
Sugar:
27
g
Storing this anar amrood chaat
The mixed medley of this chaat doesn't really keep well once mixed.  So if you are planning to make it so that the children have an afternoon snack when they get home, here is qhat I do to make this guava chaat.
Slice up the fruits, mix it up with pomegranate arils and boiled peanuts.
Store this in an airtight container. Inside the container add a small box with the dry spice mix. Leave a note for the kids to toss up the spice mix with the anar amrood chaat mix before they eat. This i am sure they can achieve. Leave the sealed box in the fridge. that solves one day of a good afternoon snacks.
Guava recipes here on the blog
Guava Fresca- fresh smoothie with guava is the easiest ever guava recipe.
Chilli peru popsicles – inspired by the Indian flavours the guava pops are a summer favourite
Guava pudding – Filipino style guava pudding with sago beads is a delightful recipe with ripe guava
Amrood chutney-  perfect way to use up underripe guavas and pair well with most snacks.
Collaboration
The recipe for the anar amrood chaat has been on the blog for  4 years. I still love the images I captured during our India trip for this recipe. However, I was not so good at writing what needed to be for a reader at that time. Over the years, that is improving and here we are updating the same with foodies redo old posts blogger group. Hope you like the updated version with a few more variations you can try.
Stay connected
Like any other chaat recipe, guava chaat picks up the teen energy and keep afterschool snacking a bit easier. If you are trying this recipe, share with us what you did differently or of you liked it. Rate our recipe so we can do better next time. We are happy to seek answers if you have any questions or our recipe, leave your query in the comments.