With respect to bitter gourd, you can only join two groups, the lovers or the hardcore haters. If you happen to still stay in the cusp zone, jump into one of the groups before you head into this recipe. Why? This recipe us for the long-lasting lovers of the bitter gourd. A recipe is devoid of any tips or tricks to reduce the bitterness, a simple bitter gourd stir fry.
Interesting facts about bitter gourd
Belonging to the cucumber family yet least loved in that list.

Popular in most Asian cuisines, the bitter gourd arrives in stews, soups, and stir-fries more often than you think across South East Asian countries and India.

It is one of the best hangover remedies. Hope you can keep it down for a while though.

The Indian bitter gourd, Momordica charantia,  is known by so many common names here are some Balsam pear, bitter melon, bitter squash, bitter apple , Ampalaya in tagalog, peria in Malay. In local indian languages as karela in Hindi, pavakkai in Tamil, hagalakai in Kannada, karakaya in Telugu and kaipaka in Malayalam.
Here are the previous recipes on the blog with bitter gourds
Pavakkai bajji – Bittergourd fries
Picking the best bitter gourd
The bright green pods of bitter gourd are the best ones to pick. Now you may find the ones with plump firm protrusions or smooth ridged ones. The ones you want to pick are the ones that are firm not soft, not yellow as well. The pods should be small to medium, avoid the giant ones. the protrusions should no fall off as you rub gently against it.  Hope this hint helps in your next pick.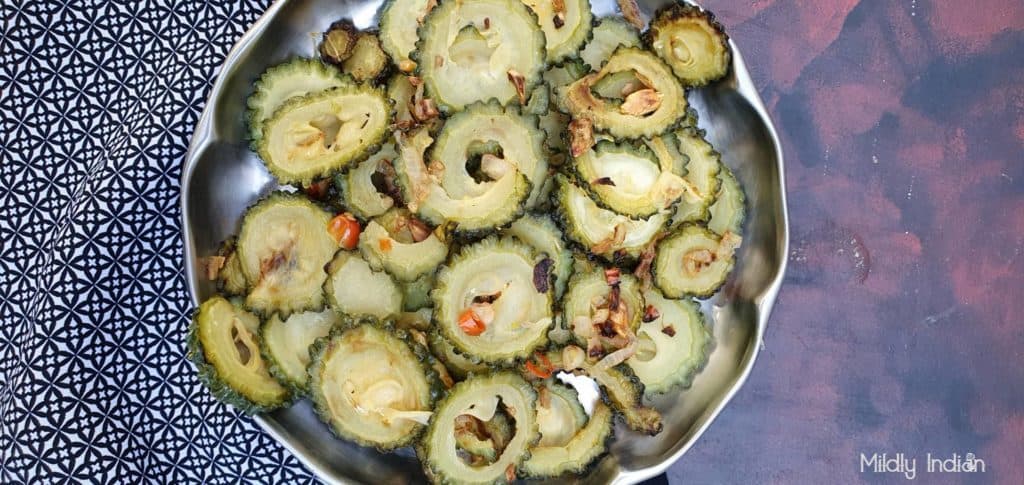 Getting this bitter gourd stir fry recipe right
Since there are very few ingredients in this bitter gourd stirfry recipe the heat and quality of the ingredients used matters more. The coconut oil to me is one I will never change. But if you are not used to it, you can try olive oil… works but not the same fragrance. Then comes the crushed chillies.. not chilli powder but the crushed ones with the real heat packed in that helps the cut bitterness. To serve this try it with steamed rice or cooked millets and pressure-cooker sambhar.
Now, you gave the secrets, jump into our bitter gourd lovers team and enjoy this recipe. 
Kaipakka mezhukuperatti
Bitter gourd stir fry.
Ingredients
2

medium

bitter gourd

2

tbsp

coconut oil

4-5

curry leaves

3-4

cloves

garlic

2-3

medium

bird's eye chilli

tone down with a serrano pepper if you prefer.

salt to taste
Instructions
Wash and pat dry the bittergourds.

Cut off the tapering top and tail. then cut it into roundlets. the roundlets are about 2mm thick. Don't worry about the seeds, they will fall off as you stirfry them.

Finely chop the garlic and chillies and set aside

Set a frying pan on medium heat and add the coconut oil.

As it heats up add the garlic, chillies and curry leaves.

Add the bitter gourd and slow roast them turning them over as they turn crisp on one side.

Sprinkle salt and stir fry them further.

Once the sides appear with golden and the bitter gourd is fork-tender the bittergourds are ready.

Serve hot with rice and sambhar.
Stay connected
You will be amazed at how easy it is to get this dish from start to finish. It is a healthy dish and may improve your liking to bittergourd.
 I hope you have subscribed to our blog to receive regular updates. We thank you for staying with us and encouraging us at every step. We would love to have you visit the Youtube channel that we recently updated. Please subscribe, like and share these videos and recipes and let us know what you like and dislike about them. Stay with us on the blog as we attempt new recipes or try some traditional ones. Peek over to our travel section to see what we are up to at times.