So far, I have had very little stints of winter,  but , never a long drawn heavy one.  But, the winter ladoo with edible gum had been introduced to me by a good friend Vaibhavi. Her nearly palm sized ladoo studded with beautiful crushed dry fruits. I love the little bites of popped up  roasted gum which  give a great crunch. This was my inspiration for this recipe.
What special here?
Now, in this recipe there are two great elements.. One of course is the gaund (edible gum) and  the other the pearl millet.
About Pearl millet- Bajra
Pearl millet is widely acclaimed by dietitians to control diabetes and high cholesterol levels.

This is because the fiber content in pearl millet.

It has high energy, has less starch, high fiber.

The pearl millet has a great range of protein approximately 8-19 percent.

The low glycemic indices help towards the diabetic diet

Being a millet, it is gluten free too
The special feature- Acacia gum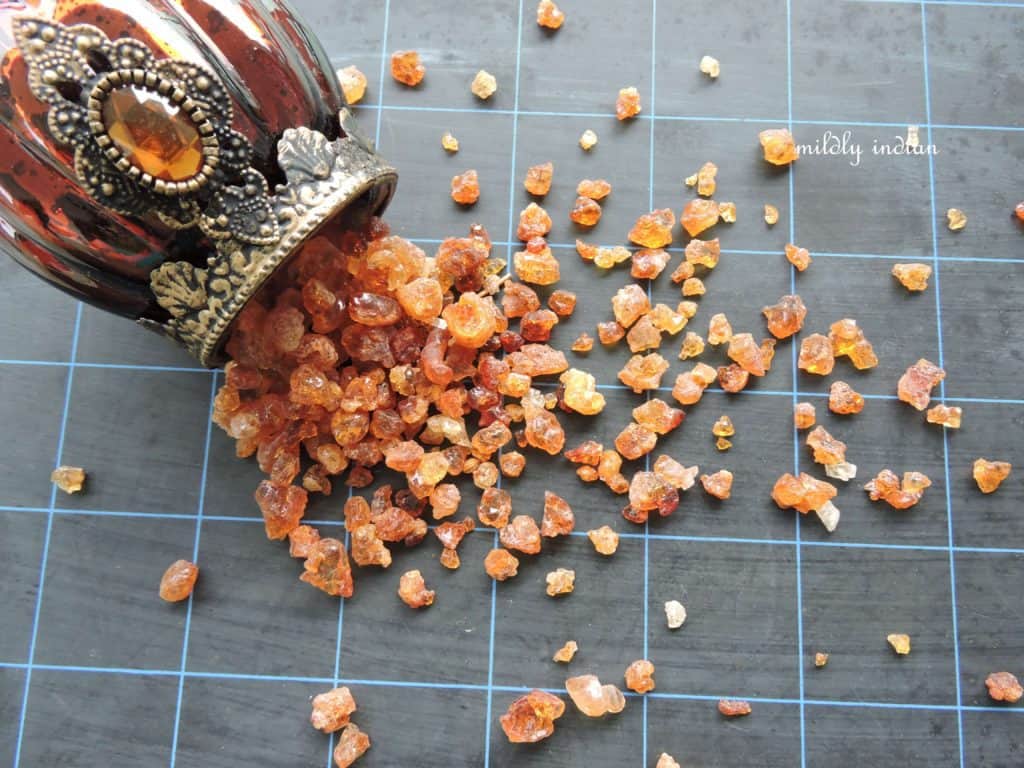 Obtained from the axle wood tree and popular as the winter gum, gaund or dink is very popular in certain north Indian desserts.

It is rich in calcium and protein

It puffs up like a popcorn when roasted.

Often served to lactating mothers to provide strength to the back bone, actually the ladoo offer a great deal of well rounded energy.

the ladoos demand quite a lot of liquids to go with them which keeps upon the feeling of fullness.
Though the ladoo  looks dark in colour it's is quickly liked by all.  If your kids are fussy about the day colour ask them to close their eyes and taste it.. Once tasted.. They will forget about the colour. Look at mine grabbing a second one as I shoot…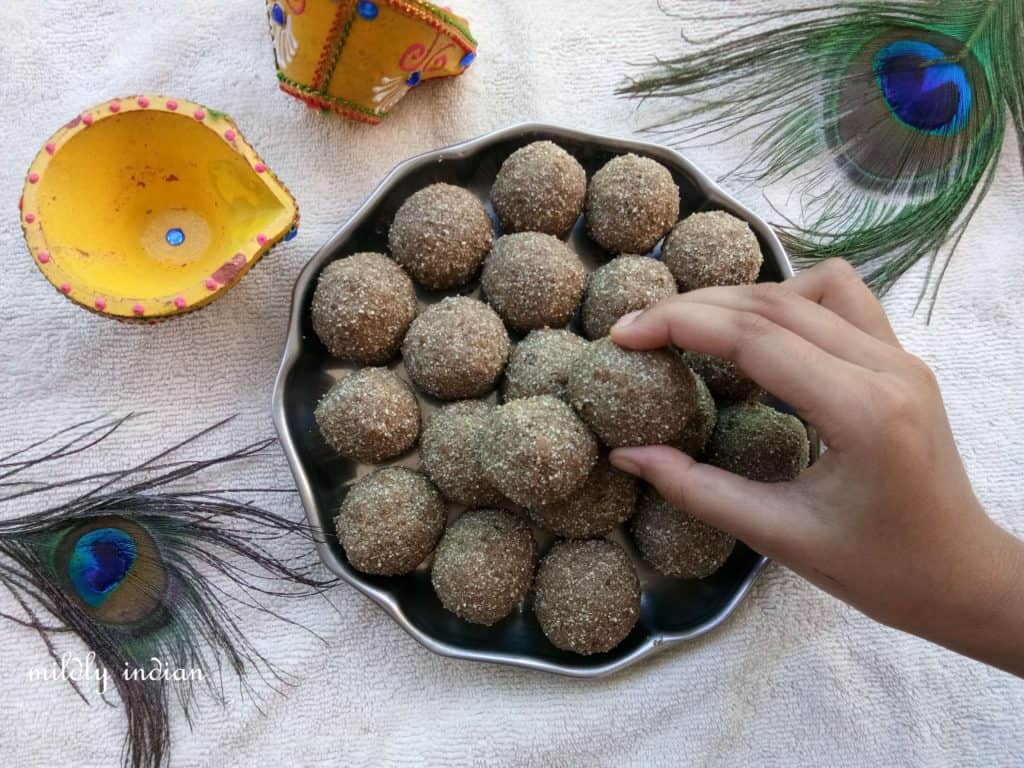 Scroll down for the step by step pictorial recipe
Check out some more lovely recipes for winter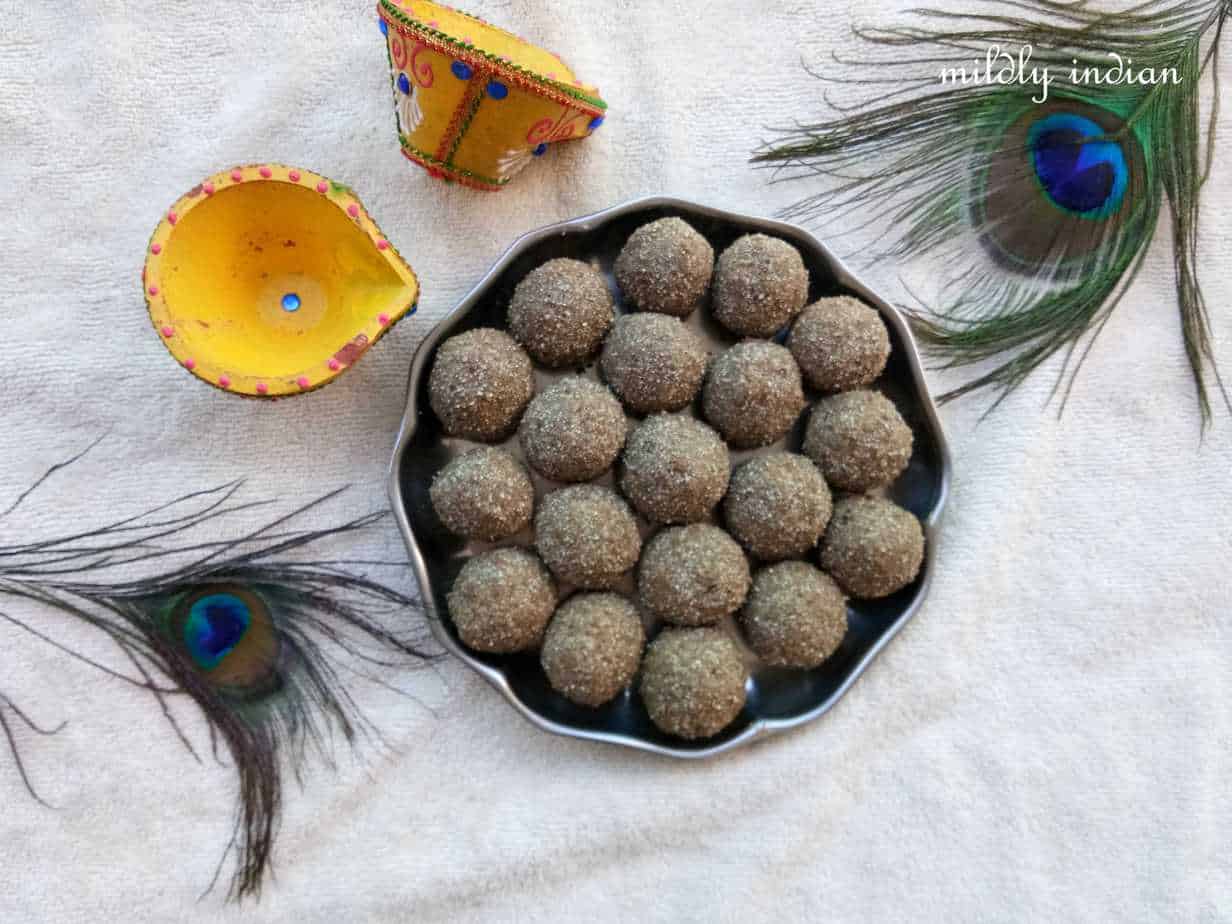 Winter perfect bajra ladoos
Pearl millet and gum bites
Ingredients
1

cup

Pearl millet

bajra

2

tbsp

ghee / clarified butter

2

tbsp

edible acacia gum

gaund, dink

1/4

cup

raisins

2

pods

green cardamom

1/2

cup

jaggery

raw cane sugar or use palm sugar
for rolling
1/2

cup

ghee / clarified butter
Instructions
 

Dry roast the pearl millet till it turns crunchy and a roast smell comes out.

Remove and set aside in a plate to cool.

Place 2 tbsp of ghee in the wok , place gum into it.

When the gum gets heated up it becomes puffy and ab bit powdery in texture. remove and set to to drain

Now, roast the raisins in the remaining ghee for a while till they are a bit puffy too. drain and set aside to cool.

Add the pearl millet, crushed jaggery, the puffed gum and cardamom pods into the spice mill in small quantities and powder well

Now add in the raisins with a small quantity of the powdered mixture and get it crushed too.

Remove the mixture on to a plate

Take little amount of mixture in your hands add a few drops of ghee to it .

mix well and press it down to form a nice neat ball.

Serve the ladoos with a cup of warm milk or turmeric latte
Notes
The ladoos store well so will keep for 2-3 weeks easily in an air tight container. Take care to avoid moisture.