Black rice is probably one of the healthier rice varieties when compared amongst the most sought out brown or red. Though it is so, it is not the most popular. It s still taboo rice. The secret to this taboo was probably the following:
A small variety of cultivation
The purple colour or black colour was against the so-called pure white looks of this black rice variety. The popular varieties in India are the chak hao ambui and the chak hao poiretion. The chak hao ambui is the one popular in Manipuri kheer (click here for the recipe.) One of this may also be the precursor for the Chettinad karuppu kavuni arisi. The South Indian counterpart spread due to extensive travel by the traders of the Chettinad region. Yet remained as a family secret or just among a few families.
Lack of mythological support.
Most of the food traditions are passed down generations with the help of stories or festivals. In the case of black rice, they are not associated with the festival. So they remained pocketed in just a few communities. Knowing its superior nutrient values, these always remained with the elite and slowly got translated as unreachable or unacceptable for the common people.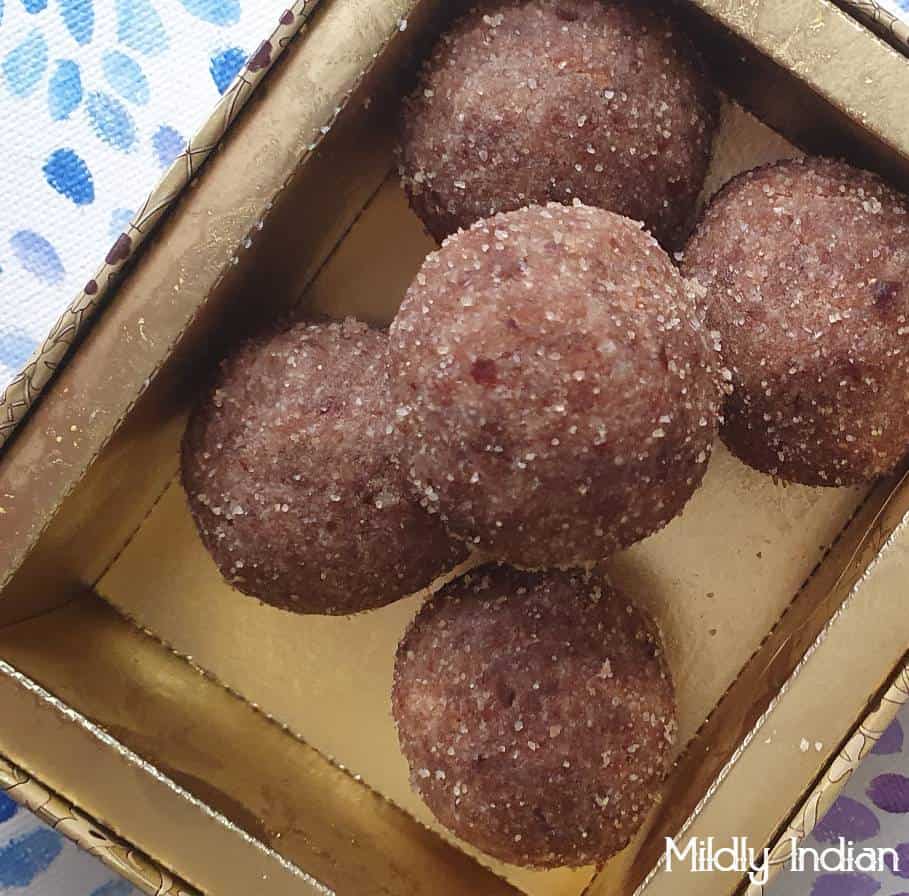 These are my speculations of why these varieties are lesser popular. In fact, if you dig deeper into these communities you will be able to discover a treasure trove of ideas. The recipes are so tasty and one of the best ways to utilise these ingredients. Kavuni arisi ladoo is one such recipe that was shared by a friend who liked the idea of collecting these ideas to share.
Variations to the  black rice ladoo
The black rice certainly tastes phenomenal with a sweet element. The nutty flavour complements the sweet feel giving it a fantastic flavour.
Add some nuts: add some crushed nuts or powdered ones to add up the nut crunch. 
Flavours: if you are not a fan of ginger or cardamom, try cinnamon,  vanilla or even salted caramel.
Hope you enjoy this recipe when you get some of these black rice varieties. Try out making an onigiri as well, it is so fun. Let us know how you like our recipes. If you have some black rice recipes, do share as I love to try out new ideas. Stay in with us, subscribe and keep us in your loop. 
Black rice ladoo
Black rice energy balls are vegan and gluten free.
Ingredients
1

cup

black rice

1/2

cup

grated coconut

1/4

tsp

green cardamom powder

1/4

tsp

dry ginger powder

12

large

Dates

1/4

cup

Palm Jaggery
Instructions
Place the black rice on a moist kitchen cloth and give it a gentle rub to remove any dust or impurities.

Place the frying pan on low heat and roast the black rice till it is aromatic. This takes about 10 to 12 minutes.

Take time to roast as it burns really fast on high heat.

Cool the rice to room temp.

Place the rice in spice grinder and grind it to a fine powder.

Now add the pitted dates, grated coconut, dry ginger powder and cardamom powder and pulse it further to a fine mix that easily comes together.

Taste test and add palm jaggery if necessary and pulse further.

Make small balls of this mix. press it tightly and it will hold together.

Store the balls in a colsed box in teh refrigerator for up to a week and enjoy.
Notes
I have sprinkled a bit of unrefined granulated sugar just to capture the images. They are not necessary in the recipe.