A paratha is a whole wheat flour-based unleavened flatbread that is part of most meals in Indian cuisine. Masaledar paratha is a variation of this layered flatbread with masala, dry spices that are added to add flavour to the basic bread.  Masala paratha is that takes you from breakfast to dinner with ease depending on how you pair it.
Shapes to the paratha
Parathas come in huge varieties in North Indian cuisine. Unlike the rotis, parathas can easily be made in various shapes. We had made triangle ghee parathas earlier and round coconut and white chocolate paratha. This time we make square masala paratha. The shapes are just a means to add variety so feel free to change them around. No hard and fast rule here.
What to serve with a masala paratha?
Masala parathas are tasty as such often accompanied by masala chai. This is commonly how it is served at breakfast. At times you will find paired with a small bowl (katori)of plain yogurt and achar like we have done for sattu paratha.
Being a soft bread you can use it to mop up not so spicy curries or spinach daal and serve with a side of salad.
There are times when I use masala paratha with simple stirfry as a wrap for lunch.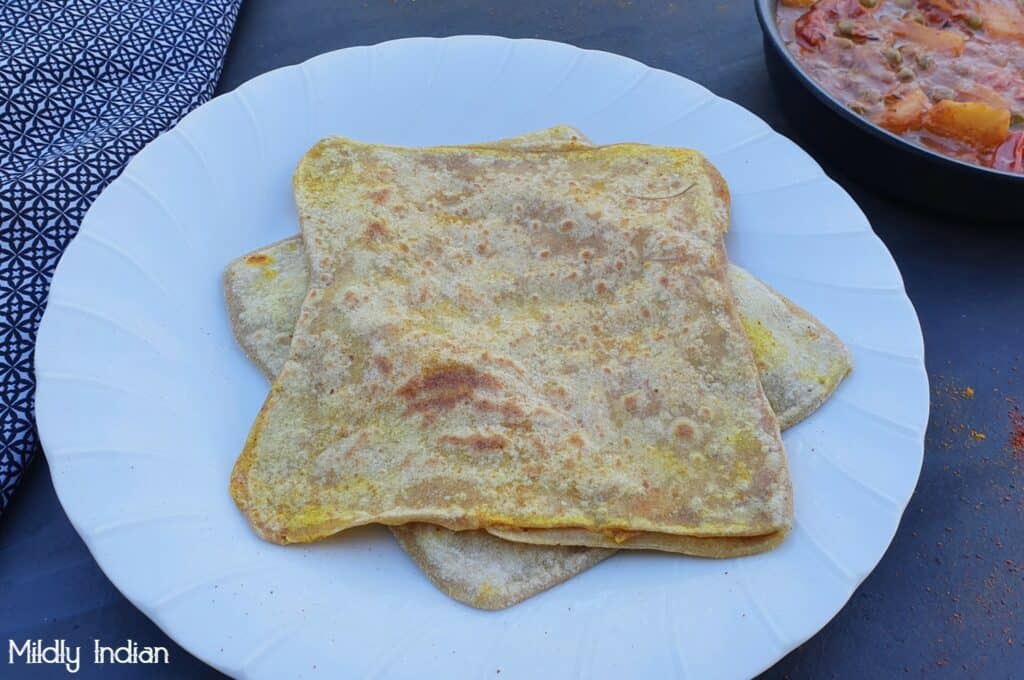 Frozen masala paratha
Frozen masala parathas are my happy heaven. When I miss my alarm clock (and my live alarm, cat) and need to rush out of the door for work, mostly on Saturdays the stack of masala paratha comes in so handy. Stash some as you make it for that rushed morning.
For freezing, there are two ways. The best is to half cook the parathas. Save these between baking paper and wrap them in a freezer-safe pouch or boxes. Without thawing cook then on the griddle (flat pan) for a couple of minutes on each side to get perfectly cooked parathas.
If you are literally going to run out of the door with it (like me) this won't work. For this, freeze fully cooked parathas with baking paper in between and in freezer-safe pouches.
Tip – you don't want to pack the hot parathas they will sweat and become soggy. Instead, let them come to room temperature and then pack them.
Masala paratha
Flavourful masala paratha for braekast, quick lunch box or snack.
Equipment
frying pan

mixing bowl.

Rolling pin

Cutting board
Ingredients
1.5

cups

wholewheat flour

salt to taste

1/2

cup

drinking water

( for travel parathas, use milk)
for the masala mix
2

tsp

cooking oil

1/2

tsp

turmeric powder

1

tsp

coriander powder

1

tsp

garam masala powder

1

tsp

roasted cumin powder

1

tsp

red chilli powder
Instructions
Mix together the masala ingredients with the oil and set it aside.

Into the mixing bowl add the whole wheat flour and salt and mix well.

Add a little bit of water at a time and keep mixing the dough.

Once the dough comes together knead it into a smooth pliable dough.

Cover with a kitchen towel and rest it for 10 minutes.

Pinch out this dough into 10 equal bits.

Smooth out this dough into a ball.

Roll it out into a small circle.

Apply a thin layer of the masala paste.

Fold the sides over to form a square shape.

Roll this thin to form a square paratha

Set the flat pan on medium heat.

Cook the parathas till golden on each side, about 2-3 minutes.

Remove and stack the parathas to serve.
Masala paratha for travel
Don't miss carrying this paratha for a bit of travel food – Road trips, camps and picnics. They stay good for a couple of days with no refrigeration. Check the recipe notes to see what you can do to make it travel safe. The key point in making paratha for travel is again to never pack them when they are hot. The paratha stays good for 2-3 days when packed without refrigeration. Make sure you pack the parata with a piece of parchment in between to prevent sticking.
Stay connected
I hope you have subscribed to our blog to receive regular updates. We thank you for staying on with us and encouraging us at every step. We would love to have you visit the youtube channel that we recently updated. Please subscribe, like and share these videos and let us know what you like and dislike about them.