It's reeling toward  final few days of hectic school, annual day practices, listlessness,… all catching up here
Though I don't go to school I really wish I did have to.  I miss terribly being in the midst of the bustling energy, I miss being the teacher- learner. It was really wonderful when a few of my former students caught up  with me ( thanks to social media ) and expressed their joy in their recent CBSE exam results. It was a pleasant surprise and am really thankful to them for the updates. this made me want to go back to teaching so badly. For now the wait is on…..Sigh!!!
Anyway, the energy to early morning wake ups  in my house, is coming up as unpleasant ""grunts and"I don't want breakfast.."whimpering s.
So just to shake things up thought will introduce a "bliss ball"
 When I first heard the word "bliss ball".. I was quite fascinated by it. It's true,  it is a small ball of wholesomeness and blissful as you don't drag yourself through the whole ordeal of breakfast.
Now came the hunt..
What can we load in?
I needed
a carb option
A protein option
A bit of fat
And more flavor.
All right let's set to work.  The cranberry  color was so attractive a few were gobbled up as soon as I got some together.
The idea clicked,  a pretty bliss ball,  nearly pink and the taste of Coconut and cranberry. oh yummy yummy yummy.. in my tummy"!!".
I  might serve these on festival  days too as  "ladoo".  They are so lovely, even to look at as prasadam / naivedyum .  Don't wait,  catch the recipe and make some soon.   You can see your morning  getting easier.
Check out more easy morning recipes
https://mildlyindian.com/ven-pongal/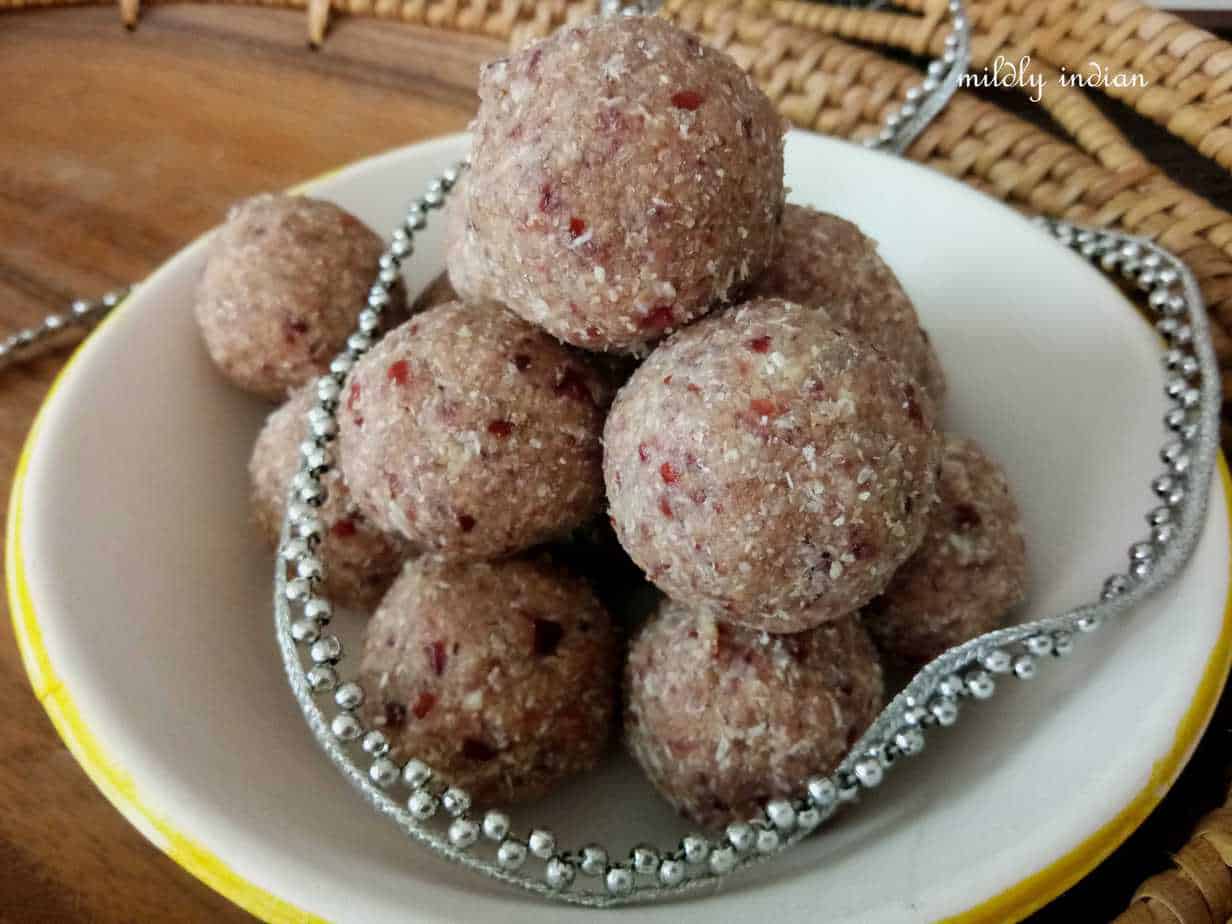 Cranberry coconut bliss ball
on the go breakfast
Ingredients
1

cup

dessicated coconut

unsweetened

1/2

cup

cranberry

dried, if sweetened omit anymore sweetener added

1

cup

almonds

1

cup

milk powder

1

tbsp

honey

3

tbsp

ghee / clarified butter
Instructions
Into the food processor add the cranberries, coconut and almonds. Pulse till the ingredients are well mixed and the almonds are pulverized.

Now add in the milk powder and give a couple more pulse. Add in the honey and the ghee and pulse till the mixture slightly clumps together.

Gather up this mixture and form into tight balls.

Store in an air tight container.
Notes
The bliss ball will stay well for 2 day outside  and longer in the refrigerator.
Nutrition
Serving:
50
g
Calories:
252
kcal
Carbohydrates:
23
g
Protein:
9
g
Fat:
15
g
Saturated Fat:
5
g
Polyunsaturated Fat:
2
g
Monounsaturated Fat:
6
g
Cholesterol:
8
mg
Sodium:
61
mg
Potassium:
166
mg
Fiber:
3
g
Sugar:
17
g