I love dessert soups which involve minimal effort. These are simple healthy versions which can satisfy the craving for sweetness without adding much on the sugar load.  I also love the desserts that can be graded based on adult version and child version. This is predominantly  because I hate to tell my kids "oh!!  You can't have that" . This leads to further discussion "why not?? Mom." It makes me immensely  comfortable when I just do one dessert and I can really do justice to both of them.
The Chilled champagne  honey melon  soup is a recipe I accidentally  stumbled upon while trying to look for the local name of for Chinese Wintermelon.( This is the recipe I wanted the wintermelon for-
Tang qua
)  It curiously caught my eye for a moment.  I forgot about it for a long time now. I really tried to find the original one I read too… Alas!! in vain.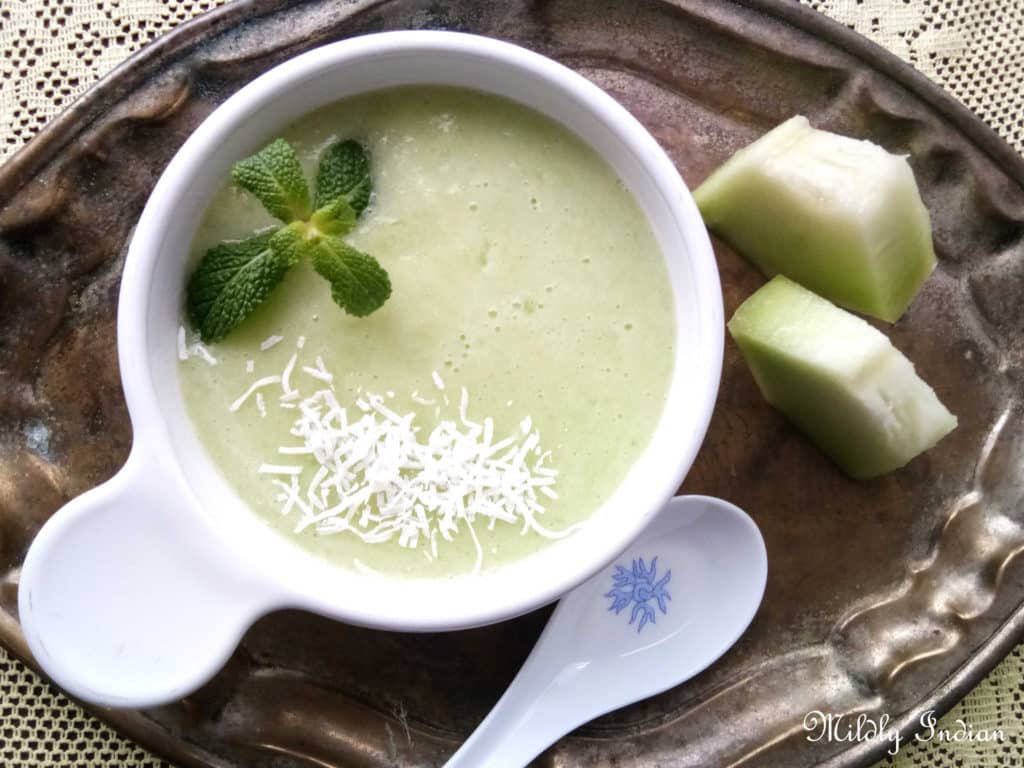 Swaps you can do for adult and child version.
The current version of this recipe is the one I have tested a couple of times.  I do it when I have dinner parties and satisfy the kids too.  Think of the versatility of this recipe…
The champagne  is the highlight of the recipe and you could swap it with  Riesling,  Rose or sparkling water.
For the melons you name it you swap it… cantaloupe,  watermelon, rockmelon  or a combination of two or more…
I really love the creaminess added by the whipped cream.
Now this is why I like this recipe.. It means it's pretty much a melon and some upgrades… Ta.. Daa. You have a very healthy dessert
The dessert is perfect for summers, and absolute winner over the crazy days.
Scroll down for the recipe.. It takes only as much time as you read this to make it… Really under 5 minutes.
Check out this easy to use video showing the step by step process
Do watch out our space for more recipes of this type.
Enjoy your life.  Wish you a happy slurping…
Print Recipe
Champagne honeymelon chilled soup
Yum
A party favorite for adults and children alike
Add the lime juice into the honey, mix well and set aside.

Wash peel and extract a few melon balls from the desseded melon. Dice the pieces to obtain two cups of diced melon. Chill the cubes

into the bowl of the food processor, fix the metal chopping blade, add the honey melon cubes and process for 1 minute.

With the processor running add in the champagne ( or the dessert wines or sparkling water ), the honey mixture and process further till smooth.

Stop and scrape down the sides intermittently to get even smooth soup.

Pour out the processed soup into serving bowls and top with whipped cream, melon balls and mint leaves.
Add in a pinch of freshly grated ginger  or a tsp of vanilla extract if you like the flavor.
Swap the melons , the wines to test out your best combination.