Having school holidays and a working mom id definitely not the best combination. It does give the freedom of sleeping as much as you like coz mum is not around. But that hungry tummy pangs cannot be taken care off with warm freshly cooked food every afternoon… Hmm. Now that's quite not right, isn't it?
Yes, I do agree as a mum I do feel that all mums should have school holidays too irrespective of what industry they work. It makes up for all that guilty feeling of leaving the kids in day camps or finding someone to look after them.
Since I woke up with a head full of these thoughts I was trying to make that everyday sandwiches a bit better today. So what is the best quick pleaser…
Paneer!!!
Paneer is the easiest made cheese from the Indian subcontinent. Acidulated milk solids drained and pressed are the yummiest crumbliest ones.
Do I need to say that chaat is a pleaser?
Once you have acquired a palate for this ultimate flavour explosion called chaat, there is no turning back.
Related posts
 Putting both together, create that ultimate combination of flavour and the fondness of cheese. ..now we have paneer chaat. Take it a step further and make it a treat lunch. I can't express in words what it is to have that quick lunch break munching this lip-smacking sandwich… Don't forget
to mind your etiquette just eat a couple of them, they are highly inviting. This paneer chaat sandwich was on sesame-crusted sourdough.
Now I am a happy mum..coz of happy kids who really don't mind getting back to the box for these. Here is the recipe for you to try and when your kids are happy..do tag us to share that happiness. Catch up soon as the school back on in just a few days.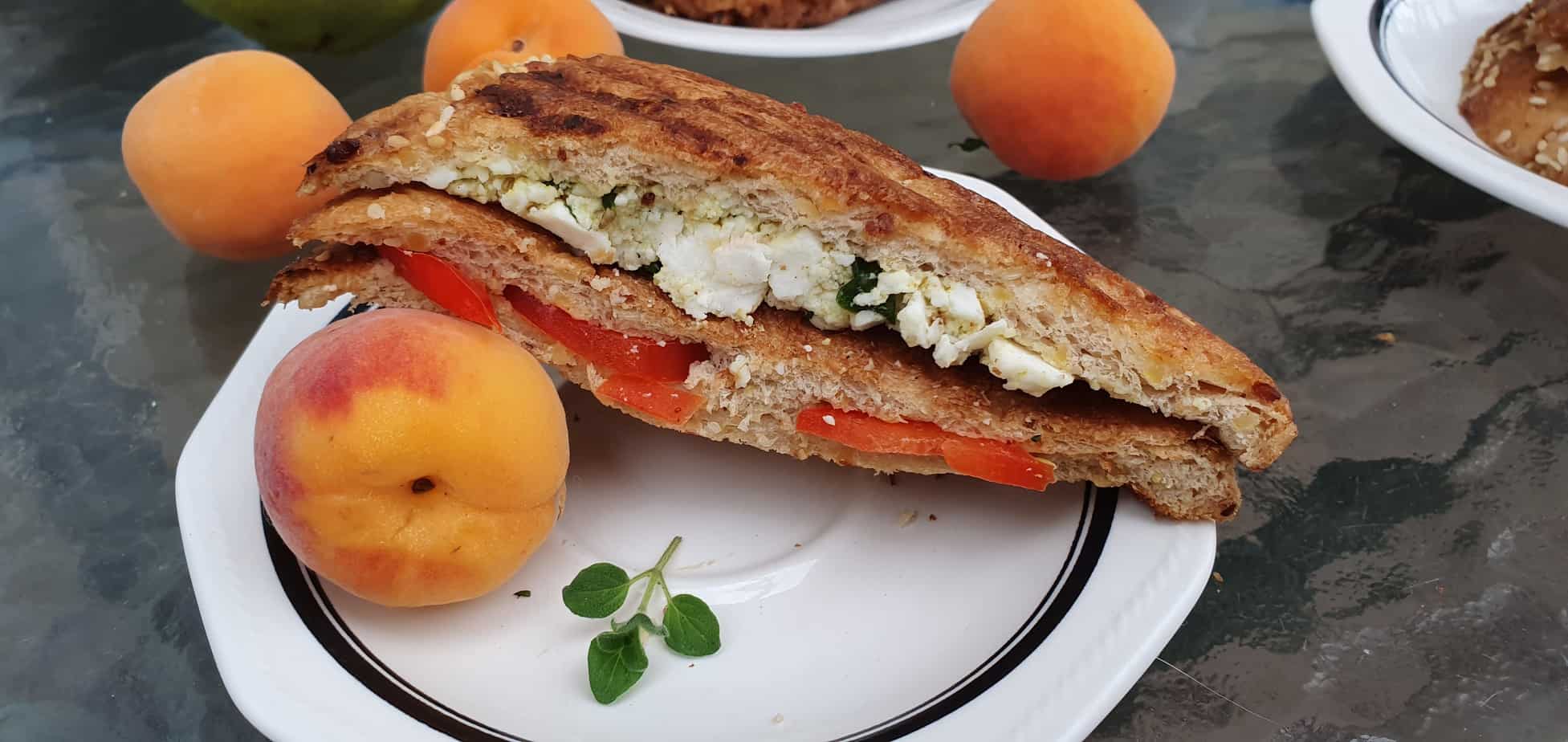 Paneer Chaat Sandwich
Holiday survival 101.
Ingredients
for the paneer filling
1

cup

paneer / cottage cheese

(crumbled)

1

tbsp

Onion

finely chopped

1

tbsp

coriander leaves

finely chopped

1/4

tsp

green chilli chopped

1/2

tsp

chaat masala

1/4

tsp

roasted cumin powder

1/4

tsp

black salt

1

tsp

green chutney
other optional ingredients
1

large

Tomato

thinly sliced

1

medium

Chopped colour peppers or capsicum 

sliced or chopped
Instructions
to prepare the filling
Crumble the paneer and add to a mixing bowl

To this add the onions, green chillies, coriander, roasted cumin, chaat masala, black salt and prepared green chutney ( check the earlier blog post)

Mix well and set aside
For the sandwich
Onto one side of the bread add about 2 tbsp of the prepared paneer filling.

top it with another slice of bread and add the sliced tomatoes and capsicum on it.

cover with an additional slice

Toast the prepared sandwich using butter or ghee.

Enjoy with a cup of chai.