As far as kanji is considered,  the people born and brought up in Kerala (including me) have a special affinity for it. One the simple dish is our breakfast, lunch, dinner, snack, and ever more monsoon staple and always the one if we are unwell. The simple rice gruel, therefore, means a lot of food times. It is also a not-so-great slang in the Malayalam language to add to your vocabulary. So kanji carries a bad rep of representing a miser or one who has limited resources  (to put it in a nicer way!) Nevertheless, it is fantastic food, healthy and valuable in a great many ways especially when one is unwell.
What is elaneer?
Elaneer is tender coconut. The young coconut that is laden with a lot of water and soft flesh is the reference. The liquid is considered a health elixir better than any sports drink for its mineral composition however except in Kerala cuisine the soft flesh hardly makes it to the recipe section. The soft flesh is as good as coconut but it has more of a jelly-like texture. This is the part that I have used in the recipe here. In hindi it us called nariyal malai.
What is kanji?
The kanji is rice gruel. The kanji is a bland simple rice soup made often with red rice, which is slow-cooked with excess water. You can use matta, navara or podi ari to make kanji. We have on the blog a few varieties of these.
Paal kanji
Payaru kanji
Uluva kanji
It is very similar to congee it is also served with a variety of accompaniments like chammadi, papadam or some thoran.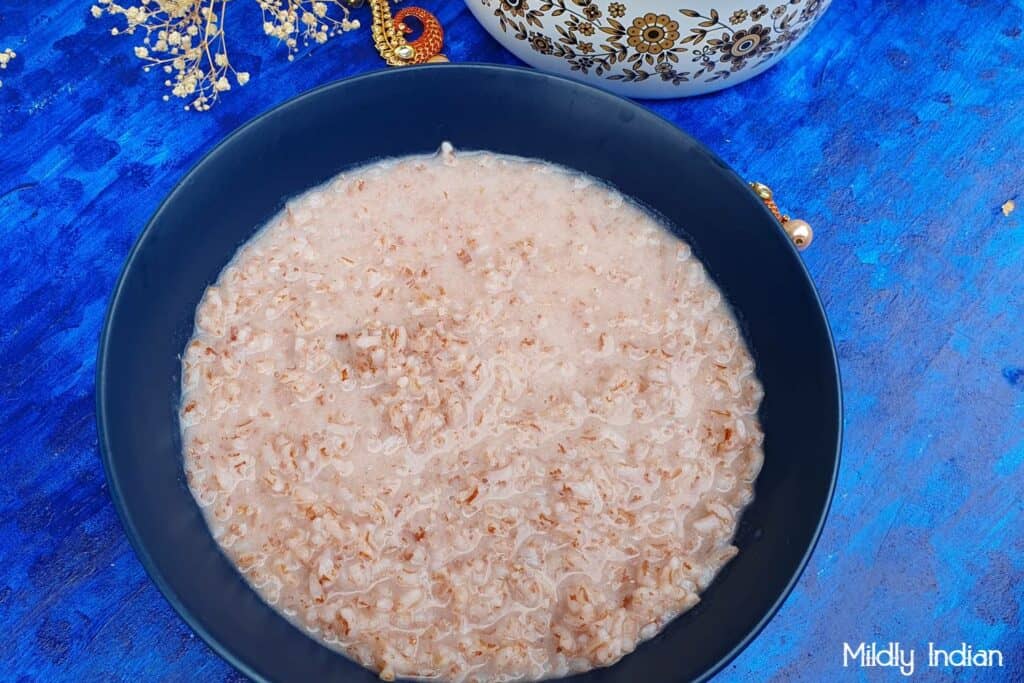 Ingredients for this tender coconut soup
Red rice – Red barn rice is most suitable for this recipe. Soak it overnight so it cooks softer and cooks with about five times more water. The red bran breaks and the soft rice gets cooked to perfection.
Tender coconut- the tender coconut such sweeter and with a lot more water. The flesh has not completely formed so is jelly-like.
Other than this you only need water to cook the rice to make this dish. The details of the ingredients and quantities are in this recipe card below along with instructions and images. Check it out to keep things ready. You can also pin this recipe for later from here.
Elaneer Kanji
Elaneer Kanji is a traditional Kerala recipe made with red rice and tender coconut. This soup styl recipe is often served as a light meal with accompaniments.
Equipment
Pressure cooker

or instant pot
Ingredients
to cook the rice
2.5

cups

drinking water

1

cup

Red rice
Instructions
Wash the red rice well for 2-3 times.

Add this into the instant pot ( or pressure cooker) with 2.5 cups of water.

Cook under the rice settings for 12-15 minutes or pressure cook for 3 whistles.

Let the pressure release naturally.

The rice will be cooked with almost no residual water.

Fluff the rice and set it aside, let this aside to cool a bit.

Crack open the tender coconut and remove the juice

Now scrape out the soft flesh.

Blend together and flesh and the juice into a smooth mix.

Add this to the cooked rice and tender coconut blend.

Mix it well and your elaneer kanji is ready
Notes
Red rice with half bran can be cooked directly, however, if you are using the rice with the whole bran covered, soak it for two hours at least before cooking so the rice softens. 
How does elaneer kanji taste?
Plain elaneer kanji is like a blank canvas. It is bland with a light coconut flavour but that doesn't mean it is boring. The faint sweetness comes from the coconut and the cooked red rice from here you can take it two ways. Add salt and make it savoury or add crushed jaggery and make it a dessert. I love to have this with a pinch of salt and some accompaniments.
What to serve with kanji?
Stir fry vegetables like thoran or mezhukiperatti always served with kanji. Along with this some pickles and chutneys(or chammandi) come on the other side for crispy satisfaction you need chutta papadam (fire-roasted lentil cracker). Now you have a good meal.
If you have none, here is a trick. Pound together some shallots, chilli (bird's eye preferred) salt and a piece of tamarind (or bilimbi). This is an instant invite to have more kanji.
Stay connected
Hope you enjoy elaneer kanji like me. The tender coconut is a hard-to-come-by ingredient for me so you hardly see it on my blog. As and when I can I will bring you some more recipes with it. For now, keep your tummy happy with this basic Kerala kanji recipe.
Don't miss to follow us on Instagram as we are a bit more regularly updating that.
Take care and see you in the next post.