Interesting conversations lead to interesting recipes and a group of insightful people are the best to have around.
The Shhh Cooking Secretly challenge excites me every time. One, you get secret ingredients from your partner and two you need to research on the state for the month. This double challenge feels like the excitement for the roller coaster ride each month.
My partner for the ride
With Sujata Roy from,
Batter up with Sujata, 
as my partner this time, we went in for the most basic staples we find in our every day Indian kitchens.  With the cuisine fairly not well documented from Jharkhand, it was easier to stick to simple ingredients. She gave me Channa dal and oil as secret ingredients to work with this time. So, it is time for some Jharkhand style Chilka roti with chutney for breakkie.
About Jharkhand
The cuisine theme of the month was Jharkhand, one of the least explored among Indian cuisines. The overpowering similarity with Bihar cuisine and unique rustic ingredients has left this region pretty much unexplored.
Resting in the Chota Nagpur Plateau,  this "land of bushes," is the 28th state of India to be formed in the year 2000. With iron ore mineral wealth predominating the state economy, the steel and iron factories are the industrial booms. Ranchi, the capital city and Jamshedpur industrial location the state has seen rapid advancements in the recent years. The people, the pilgrimage and the traditions still seek advancement in many rural areas.
The recipe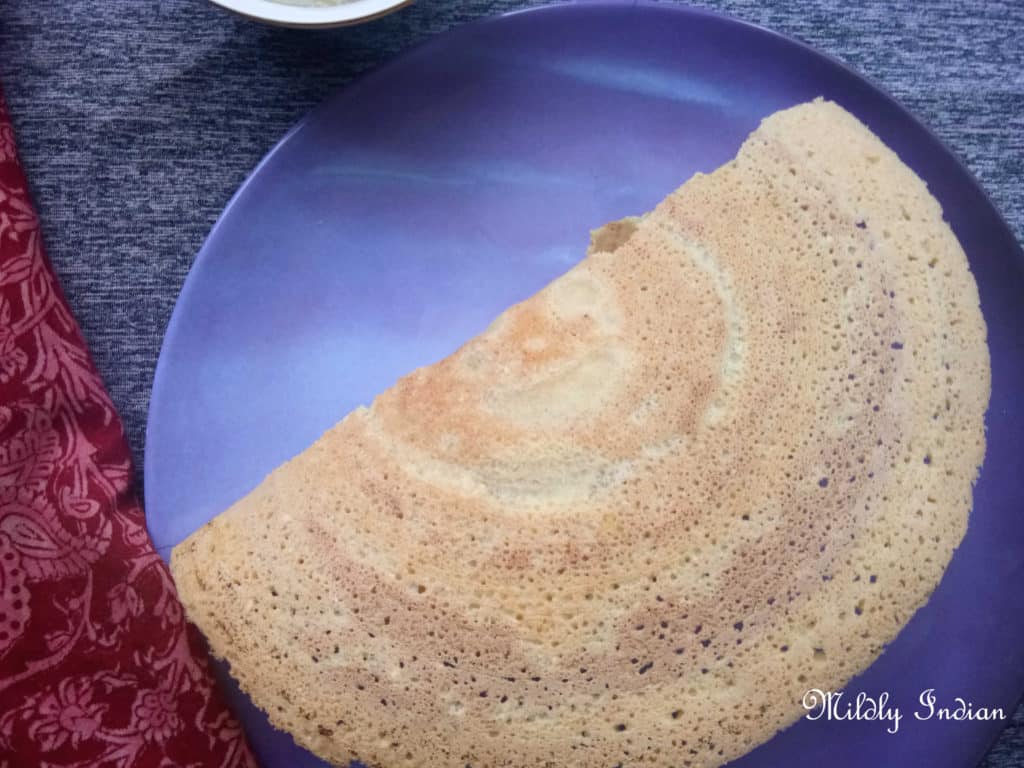 This crepe style, Jharkhand Chilka roti recipe is the best that I dug out of the internet. I couldn't find one authentic link I could tie this on to so went my way with a combination of all the ones I read.
This gluten-free, rice-based lentil crepe tastes so close to the South Indian Adai dosai, just a bit crispier.
Traditionally served at breakfast with a  chutney, the recipe had no trouble to be accepted as normal in my household. I have served it here with avocado green chutney.
The batter preparation does need overnight perp, When the batter is on,  warm breakfast swirls are ready in a jiffy.
So here we are with a nonfermented, crispy savoury crepe ready to be enjoyed.
 You could try out some of these lesser-known Indian recipes to
See you soon with new updates.
Drain the excess water and grind to a smooth paste with salt in the morning or later depending on when you want to make it.

To cook the rotis, use a flat pan and bring it up to medium heat.

Check the pan, when you sprinkle water it sizzles is a good indication the pan is ready.

Brush it with oil or drizzle a bit of oil along the sides.

Flip over when one side is cooked and detaches easily. Cook the other side too.
The batter keeps well in the refrigerator for a week. so a quick dinner option is available.