Oh, what the fudge! It's almond flour brownies!!
I am a bit partial to brownies than to cakes. Though baking cakes is an extremely satisfying hobby, here is why I like brownies a bit more. They are more forgiving, indulgently satisfying and always ready to show up when you try to get a midnight snack. They are more forgiving as they are not exacting recipes like a cake or really don't have to show up a rise. It is far fudgier and rewarding when they don't!! They successfully coat a good amount of tofu or beans in chocolate making them a bit more useful. They smile when the snack box opens to find a piece of almond flour brownie in it is the most rewarding.
So here is to yet another post on brownies.  (Earlier we had done tofu brownies!!)
One bowl, no fuss brownies.
I have tried quite a lot of brownie recipes. The ones which call for hot water, the ones which have a lot of ingredients in them so on and so forth. I do find that by the end of it my washing up pile takes far longer than it takes to make and eat the brownies. So here is the simplest, minimal wash up guaranteed fudgy almond flour brownies that you want to keep making often.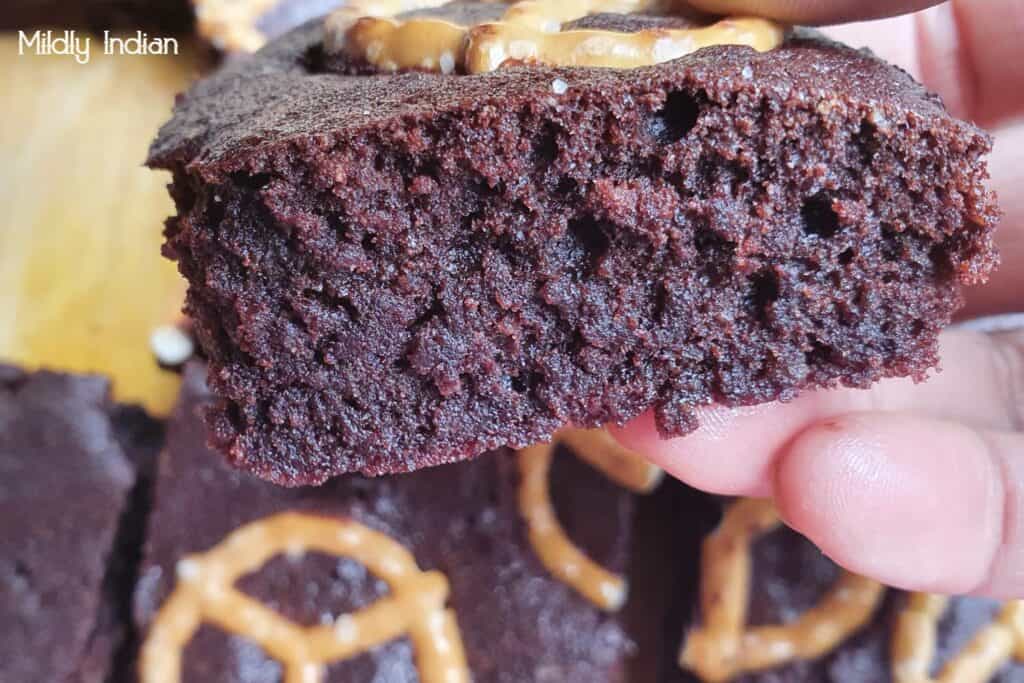 Ingredients you need to make these almond flour brownies including the step by step instructions are in this recipe card. hope you like it and will subscribe
Almond flour brownies.
Equipment
mixing bowls and spoons.

baking trays
Ingredients
1/2

cup

butter

melted, unsalted

1/2

cup

cocoa powder

3/4

cup

unrefined sugar

3

small

eggs

1

tsp

vanilla extract

1/2

tsp

salt

2

tbsp

whole wheat flour

1

cup

almond flour.
Instructions
Melt the butter and add to the mixing bowl.

Cream the sugar and the butter till it appears fluffy,

Now add the eggs, salt, vanilla and cocoa powder and mix till smooth.

Mix it well, add the almond flour, flour and mix smooth.

Line an oven-proof baking dish or tray. grease the sides.

Add the brownie batter to it.

Bake for 15 minutes or till the skewer comes out clean.

Once it is cool place the brownies on a board and cut them into pieces.

The brownies are now ready to serve.
Keep the variety of brownies coming.
With the almond flour brownies as the base recipe, you can create a lot of variations in flavour. Here are some useful ideas.
Pretzels- we have done pretzel topped brownies in the images here. I like the flip in texture as you bite through them.
Nut butter swirls– this you have to try. The best I found was homemade sun butter. The swirls have an extra nuttiness to the brownies.
Sea salt flakes- most brownie experts will tell you this is the best. Certainly,  the salt provides a deeper chocolate flavour.  Don't use table salt it doesn't do justice to the recipe.
Jam drops -tiny little bits of a baked jam against the dark chocolate almond flour brownie is gourmet. Try this berry jam recipe to use with it.
Storing the brownies
Now that we have set you up with these oh so chocolaty!! brownies there is no going back. The brownies stay good in an airtight box for 3 to 5 days. The question is will they really last that long between all the hands that try to get some?
If you are making a huge batch,  store the airtight box in the refrigerator. The brownies do freeze well if you are making a stash, however, they lose their fudginess.
Take this crowd-pleaser to your next game night meet or your family night and keep them spellbound. Double or triple this recipe based on your crowd size. Here are a few other ideas you can share Marbled banana bread, almond cookies, chocolate tiramisu truffles and Game night recipes. Let us know how you felt about them in the comments. Don't forget to share the recipe and tag #mildlyindian to your socials. Stay safe and don't stop baking coz if your baking fails, you can always make them into truffles and start again.